Rays ace Chris Archer owes his success to one simple thing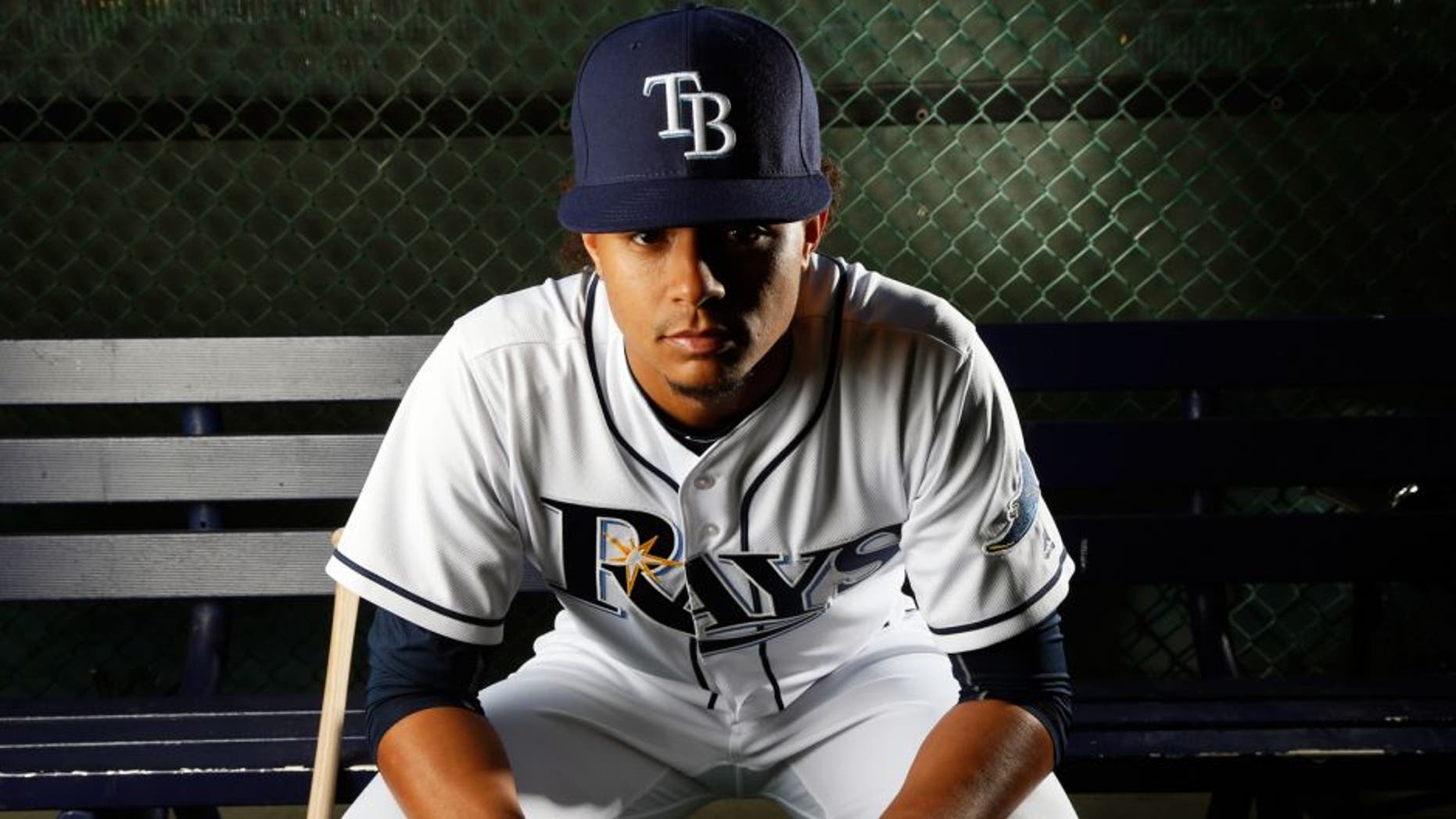 People would look. Of course, people would look. A white couple with a bi-racial child is going to attract attention in North Carolina -- anywhere in America, really.
"We would get funny looks. But we looked back at 'em," Ron Archer says. "We would acknowledge them, say hello. Then everybody would go on their own way."
What people in Clayton, N.C., saw were the grandparents of Rays ace Chris Archer, who became his adoptive parents when he was 2.
Only Donna Archer is a blood relation to Chris; her daughter from a previous marriage, Sonya, is Chris' biological mother. Ron Archer is not a direct relation; he is Chris' step-grandfather.
Yet, when you talk to Chris, when you ask him about his knack for saying the right thing and doing the right thing, about his emergence not only as one of baseball's best pitchers but also one of its best people, he says, "It comes from a few places, but the origin of it is my dad, the person who raised me, Ron Archer."
Chris, 27, does not wish to create a sappy narrative; his adoptive parents never acted as if anything was out of the ordinary, never made him feel as if he owed them anything.
He also wants to be considerate of Sonya, who gave birth to him as a single mother; her decision to pursue another relationship and allow Ron and Donna to raise him was, in Chris' words, "the greatest gift she could have given me."
Still, you ask Chris a question and he gives you an answer. The question is, "Where does this come from?" And no, the question is not about the life in his right arm.
It's about his continuous volunteering for visits to schools, hospitals, foster homes, even juvenile-detention centers. His initiative to visit Reviving Baseball in Inner Cities (RBI) programs not just in the Tampa Bay area, but also in road cities. His idea to sponsor two youth select-level baseball teams that require players to do compulsory reading and community service.
Archer, who started the Archway Foundation in Clayton to help empower young people, was the Rays' nominee last season for the Roberto Clemente Award, which honors the late Hall of Famer's legacy of generosity.
He also is the latest in a long line of Rays starting pitchers to emerge as a clubhouse leader, admonishing two young pitchers for failing to arrive early for the team's first day of full workouts, arranging for a painting to be made of center fielder Kevin Kiermaier as a way of thanking Kiermaier for his brilliant defensive play.
Where does all this come from?
Archer mentions other significant influences, from his former teammate David Price to his mentor in Clayton, Ron Walker. But he always comes back to Ron Archer, to his dad.
"He was man enough at 30 years old to say, 'I'm going to do this because this child -- who I am not blood-related to -- deserves the best possible life that he can have.' That's the origin," Chris says.
"If it was just a normal, 'He's taking in a child who looks like exactly like him,' it wouldn't resonate as much as it does. If I was raised by someone who looked like exactly like me but still wasn't my biological parent, it wouldn't carry as much weight as it does.
"He didn't say, 'There's this young black child who needs a good life.' He didn't see it like that. He saw it as a person, a human being."
******
Early on, when Chris was a baby and a toddler, Donna Archer would experiment with her husband, see how he responded to a child who was not his blood relative, a child born to a white mother and black father.
Every time Ron would walk into their home, Donna would put Chris in his arms. Every time Chris left a room, Donna would gather him up and do the same thing.
"It was an easy, good way to find out what direction we were going in," Donna recalls. "I had no doubts. But that's the way a momma does it, I guess."
And it worked. My, how it worked.
"They formed a bond ... I wish I had that bond," Donna says. "I don't have that same bond with him that his daddy does."
Donna, when asked to describe that bond, responds quite simply.
"I don't think that Ron has ever loved anything as much as he loves Chris," she says. "And I don't think Chris has ever loved anyone as much as he loves as dad."
Looking back, the initial decision to raise Chris was really no decision, Ron and Donna say. From the moment Chris was born, they loved him unconditionally. With or without Sonya, who left when she was 22, that bond was not about to break. Chris needed a permanent home.
Ron, who describes Chris as "my world," says the decision, "wasn't tough at all."
"Maybe it's just the way Southern people are -- we take care of our own," Donna says. "And if you make a commitment to something, you carry it out. You don't do 'half' do it. You do it the best you can do."
At the time, Ron was working for a local storage and moving company. He later spent 20 years working in hardwood floors, rising to supervisor, and is now semi-retired, helping out a friend part-time on his farm. He recalls Chris as "a normal kid, nothing outlandish," saying that a tight rein was not necessary, simply a watchful eye.
"Honestly, I'm not a man of a lot of words," Ron says. "I speak up when I need to. With Chris, there weren't a whole lot of times I had to speak up."
Chris recalls a dream that he had when he was 7 or 8. He had stolen something from a convenience store. Ron had found out and told the police, and the police had put Chris in jail.
When Chris told Ron of the dream, Ron said that he probably would done exactly what Chris had imagined. The message stuck with Chris: While Ron was there to protect him, he also would have done what was right.
"I don't remember that exact conversation, but I can see me saying that," Ron says. "We've always told Chris, 'You've got to be smart whenever you leave the house.' That just means there are consequences for everything you do and say. You have to be smart in what you choose to do."
One time, Chris wasn't so smart -- Ron cannot recall exactly what happened, but says, "it wasn't crazy or anything like that."
"I kind of reached out and popped him on the butt," Ron says. "He said, 'That didn't hurt.' And I said, 'I didn't mean for it to hurt, but I have your attention now, don't I?' From that time on, we could always sit down and talk."
It was a different kind of upbringing, but in many ways typical, too. The family, Donna says, experienced minimal problems in Clayton, a small town south of Raleigh. Many of Chris' friends were his friends from kindergarten through high school. They understood Chris' situation, stood up for one another.
In time, Chris grew close with Ron Walker, who was one of his junior-varsity baseball coaches. Walker, who is black, introduced Chris to African-American culture, gave him books to read, served almost as his big brother.
Chris says he is not in close touch with Sonya, his biological mother, but communicates with her from time to time, saying, "There is no bad blood, zero." He arranged and met for dinner with his biological father, Darryl Magnum, before the 2013 season but did not stay in contact with him.
When Chris talks about his desire to give back, he talks about the example of his former teammate Price, who recently donated $300,000 to help fund a baseball field for special-needs children in his hometown of Murfreesboro, Tenn.
He also talks about the inspiration of Ron Walker and Ron Archer.
"With what they did for me, I feel like I owe the world ... time. Maybe not the crazy amount of money -- I'm just not there yet. But the time," says Chris, who will earn $2.75 million this season in the third year of a six-year, $25.5 million contract that includes club options for two additional seasons.
"I feel like I was given this blessing. Now it's my turn to pass that on."
******
Even when he was in the low minor leagues, Chris recognized that he could make a difference.
In 2008, while playing for the Indians' Class A affiliate in Lake County, Ohio, he met a young girl named Mikayla on a voluntary team visit to a children's hospital. (Archer later was traded to the Cubs in a package for Mark DeRosa and then to the Rays in a package for Matt Garza.)
Later in the season, Mikayla sent Chris a letter, thanking him for coming, saying that she greatly appreciated it.
"I was like, 'Wow, I can have that type of impact on people?' Hanging out with her encouraged her a small amount, but it stuck with her so much that she wrote a letter to me," Chris recalls. "I thought, 'Getting to the big leagues would be really cool. Not only because it's my dream but because of the amount of people I can positively impact.' "
Chris, a fifth-round draft pick out of Clayton H.S. in 2006, entered professional baseball at 17 and spent six-plus seasons in the minors before making his major-league debut with the Rays on June 20, 2012.
He quickly came to realize that he could not make an impact if he were say, a janitor or a garbageman. Baseball gave him the platform. Baseball gave him the chance.
"He wants to help people. He really grasps that he's a role model," says Price, who is now with the Boston Red Sox. "Whether you want to be a role model or not, people look up to you. He gets that."
The subject of athletes as role models is tricky -- Charles Barkley said famously in a 1993 Nike commercial, "I am not a role model ... Just because I dunk a basketball doesn't mean I should raise your kids."
Archer was 4 when the commercial was released, but he is aware of Barkley's message -- and agrees with it, though more diplomatically.
"There has to be an influence in your life that is more direct, that shows you the path," Archer says. "You shouldn't admire someone for their physical ability only. Now, if there's physical ability that is matched by the mental ability and you see that they're doing good things, OK. But saying, 'I want to be just like this person because he can throw a baseball 95 mph,' I don't know if that should be the case.
"If you have a teacher who you look up to that is making an impact on the world and doing the right things, that's more of a role model than someone who is on TV throwing a baseball hard or making basketball shots."
Ron Archer, Chris says, is his "ultimate role model." The last thing Chris wants to do, Donna explains, is disappoint Ron, saying, "It crushes him."
The family stays close; Ron and Donna make a point to attend Chris' first and last appearance of each season. They saw him pitch about seven or eight times last year, visiting him not only at Tropicana Field but also in Baltimore and Cincinnati, where Chris appeared in his first All-Star Game.
Chris says that Ron sends him text messages after every game. The messages are never about pitching, no matter how Chris performs. Even after a bad game, Ron will say, "Hey bud, I love you."
"I'm just so proud of him," Ron says. "I want to let him know that every time."
Chris knows. Always has.
"One of my main goals in life (is to please him)," Chris says. "And not to get into spirituality or anything, but that's still going to exist even when he isn't physically on this earth. I'm still going to live the right way because of the things he taught me. I'll know he's overseeing me somewhere.
"If I can be like him, I'm good."