Rashad Evans: When I'm no longer chasing gold, that's the day I retire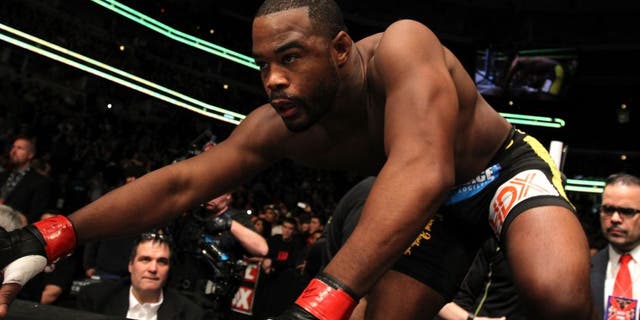 From the day Rashad Evans first stepped into "The Ultimate Fighter" house in 2005, he had one goal in mind: to be a champion and nothing less would suffice.
Three years later, Evans attained that goal when he defeated Forrest Griffin at UFC 92 to become light heavyweight champion. Evans' reign lasted five months until he lost the belt to Lyoto Machida by knockout at UFC 98. However, he remained at the top of the division for the next four years before falling in a title fight against Jon Jones in 2012.
Since, Evans' career has been a roller-coaster with two wins, two losses and a mountain of injuries that kept him from competing regularly.
As Evans approaches his 37th birthday in September and his upcoming main event fight against Glover Teixeira at FOX UFC Fight Night on Saturday in Tampa, he knows it's do-or-die time if he wants to fight for a title again.
For Evans, there's only one reason to keep fighting, recapture the title.
"The biggest thing for me, I want to get the title shot. I not only want to get it, I want to win. That's where it is for me. I feel like this -- if you're not chasing gold, you're not really in a place where you should be competing," Evans told FOX Sports. "The UFC is not a place for the faint of heart. It's not a place where you just want to take a second-place ribbon or a ribbon for competing. That's not the place for that. There's other organizations where you can do that, but not in the UFC. It's the best of the best and I want to continue to try and be the best in the world.
"When I stop doing that, when I stop feeling that I can do that, that's when I hang it up and retire."
Evans is candid about his place in the sport, especially after a disappointing outing in his last fight. He was favored against Ryan Bader, but lost a lopsided decision in October.
The loss to Bader was a wake-up call because Evens knows you only get so many chances to prove you are still an elite fighter in the UFC.
"It was a reality check for me," Evans said about the loss. "It was one of those things where I had to do a gut check where I was like if I'm going to do this I want to do this the right way and make sure I'm competing at a certain level and I felt like maybe I came back a little too early but also it was a great learning experience because when you're out there competing against the best of the best, you've got to step up to fight the best of the best and there really are no excuses. Because at the end of the day, it doesn't matter what your excuse is -- it's still a loss on the record.
"It was a very humbling thing for me. I feel I'm better than Ryan Bader, but it's a bitter pill to swallow. I've just got to deal with it."
Evans felt forgotten after not fighting for two years due to several knee surgeries. After losing to Bader, Evans sunk down into a deeper hole as he realized that fans still remembered his name -- they just no longer believed he was one of the best fighters in the world.
"Getting ready for this fight, I realized somehow, someway, people just lost faith in me," Evans said. "It's a sad reality but it's because people don't think I can do it anymore. They say 'oh you're too old or you don't fight enough, you're inactive' or whatever.
"I've been on a long road with this whole injury thing and it was something that really humbled me and really let me know my whole impermanence with this whole fighting business. It also gave me perspective."
As he prepares to face Teixeira, that feeling of abandonment made Evans realize that he needs to regain control of his legacy.
"It gave me a great idea and understanding that I don't have that much time and I'm on borrowed time as it is. If I get a chance to compete at the highest level, feeling great, then I'm going to make the most of it," Evans said.
"That's what I want to do -- make the most of it and leave my heart in the Octagon. There's no way I can lose if I do that."
Evans isn't going to paint the fight with Teixeira in shades of finality, but he also knows that if he still wants to make an impact in the light heavyweight division, the time is now.
Evans understands why people might doubt him, but he promises to prove a lot of naysayers wrong with his performance against Teixeira.
"The UFC has given me a great opportunity to have this matchup and I'm glad Glover stepped up and took this fight. Now I have another opportunity to go out there and rewrite some of the things I've done wrong and some of the things that haunted me in the past," Evans said.
"I have to make a huge statement in this fight and I want to make a huge statement in this fight. For me, it's bigger than just this fight. For me, it's about really just shutting down everybody who ever said I can't do it."