Rashad Evans predicts Daniel Cormier will beat Jon Jones at UFC 197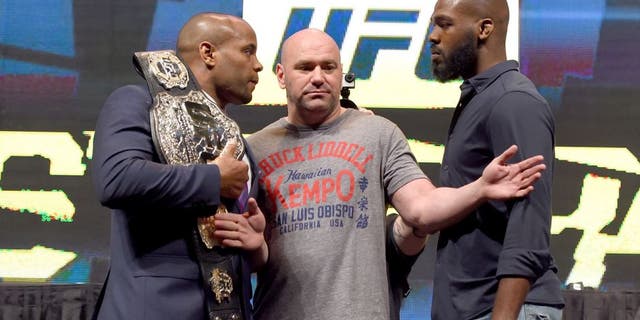 Rashad Evans knows Daniel Cormier and Jon Jones better than most so he has an educated take on the upcoming rematch between the two light heavyweights set for UFC 197 on April 23.
While Cormier currently holds the title at 205 pounds, he will enter the rematch with Jones as a decided underdog after losing to the former champion by unanimous decision in early 2015.
Much of the world believes the second fight with Jones and Cormier will ultimately end the same as the first, but don't count Evans among those people.
"I am going to go on record and I'm going to go with the upset on this one -- I'm going to go with DC," Evans told FOX Sports while picking Cormier for the win. "For some reason I just feel like DC's going to get this fight. I just feel like he is."
There are several reasons why Evans is going with Cormier in the upset over Jones, but at the top of the list were his recent wins over Anthony Johnson and Alexander Gustafsson.
Evans trains with Johnson on a daily basis so he knows first hand how tough it is to deal with him but he says watching Cormier gut out a hard fought win over Gustafsson this past October was ultra impressive and enough to convince him that he could beat Jones in a rematch.
"I do see a way that DC beats Jon," Evans explained. "I think the pace DC fought in his last fight, coupled with a few things that he could do better as far as when he takes a guy down and being heavy on top, making sure that they carry his weight when they get back up because that exhausts the guys. That way he's not spending energy.
"I felt like DC did a hell of a fight that fight (against Alexander Gustafsson), fought a really good pace, but a lot of times during that fight he really made it 50/50 as far as the effort he's putting in versus the effort his opponent is putting in. I felt like where his opponent was using 70-percent of his energy and he was only using 40-percent, I feel like he really would have been able to dominate Gustafsson in a way that Jon wasn't able to."
Jones beat Gustafsson in a razor-thin decision in a bout that's largely considered one of the greatest light heavyweight fights of all time. Cormier also eked past Gustafsson during their fight at UFC 192 but Evans was blown away by how much the former two-time Olympian had improved since falling to Jones just nine months earlier.
Evans also questions the long layoff that Jones has dealt with over the past year while facing a suspension when he was involved in a hit and run accident in New Mexico that cost him the UFC light heavyweight title.
Jones was reinstated this past October, but by the time he faces Cormier for a second time he will have been out of action for nearly 16 months and that kind of ring rust can hinder even the best fighters in the world.
"I think that DC now is a better DC than the first time that Jon fought him. Also I think the layoff is not easy to come back from and Jon's never really had to face this. Jon's never really faced this layoff. So mentally going into the fight, there's some things different. There's some things different as far as USADA (United States Anti-Doping Agency) thing, and it just has a different feel," Evans said.
"(Jones) has only been gone a year but things just change so fast and it's hard to say what Jon is going to step into the cage. We've only seen one -- the brave, audacious, amazing Jon Jones. We've never seen a Jon Jones that had to really contemplate any kind of technique, any kind of move, will he return and be that same free flowing fighter that's made him one of the greatest fighters in UFC history?"
It all adds up to a win for Cormier according to Evans, who believes that it's finally his time to conquer Jones and solidify his spot as the best light heavyweight in the world.
"Mentally, coming into this fight, I think (Cormier) is in a different place. I'm a huge Jon Jones fan as far as his talent and everything in the Octagon, but I just worry that Jon under this new mindset, this new Jon Jones, is he going to still be able to go out there and do the things that we've seen him do so easily?" Evans questioned. "At some point, people do start to show that they are human and things do affect them so I wonder what's the real outcome to how he's internalizing everything that's happened in his personal life?
"I do believe he's so dynamic, but will he return as that same dynamic fighter that we've come to know?"
Evans also took time to clarify a recent comment he made where he mentioned that if Cormier did fall to Jones in the rematch that he should consider retirement.
In reality, Evans was speaking more to Cormier's obsession with being the best in the world whether it's wrestling or fighting and if he's no longer going to be in the running for a championship in the UFC, he just doesn't see him moving forward any longer.
"What I was really trying to say with that whole 'DC retiring' is the fact that I've known DC for years. I knew DC before he even put on any MMA gloves or anything like that. I just know competitively speaking, if DC isn't fighting for the gold, DC won't do it," Evans said.
"He's already had such a long career when it comes to wrestling that he's not just going fight if he's not going to have another chance to fight Jon Jones. That's what I meant by that."
Cormier will have his chance to prove Evans right when he meets Jones in the main event at UFC 197 on April 23 in Las Vegas.