Rams' Gurley, Donald second in fan balloting for Pro Bowl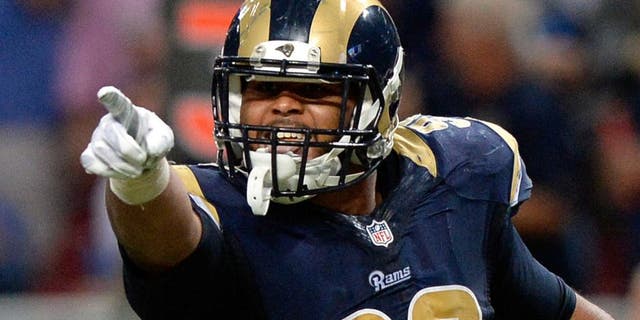 Aaron Donald is second to Cincinnati's Geno Atkins in Pro Bowl balloting. Jeff Curry USA TODAY Sports
St. Louis Rams rookie running back Todd Gurley is the second-leading vote-getter among running backs in fan balloting for the Pro Bowl.
Gurley, who burst onto the NFL scene by becoming the first rookie to rush for at least 125 yards in each of his first four career starts, was second to Atlanta Falcons running back Devonta Freeman with 75,592 votes.
Ranking fourth in the league with 664 rushing yards, Gurley is trying to follow in the footsteps of defensive tackle Aaron Donald, who earned a trip to the Pro Bowl as a rookie last season.
Donald is in line for a second consecutive trip to Hawaii, ranking second among defensive tackles with 48,125 votes. Geno Atkins (54,816) of the Cincinnati Bengals leads the fan balloting at the position.
Through eight games, the 6-foot-1, 284-pound Donald has registered 28 tackles and 4.5 sacks, halfway to the total of his rookie campaign.