Rams continue to focus on getting struggling offense untracked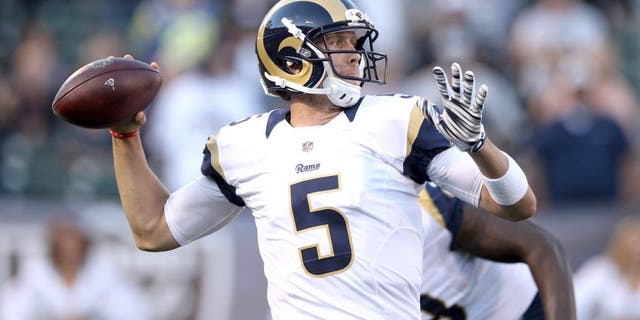 Quarterback Nick Foles hopes Wes Welker will impact the rest of the receiving corps. Ezra Shaw Getty Images
Getting a stagnant offense untracked was the focus of Wednesday's practice for the St. Louis Rams.
"We're not satisfied," coach Jeff Fisher told reporters. "But, we just need a couple breakout games, and then we'll get caught up. Not satisfied with the first-down production, and the third-down efficiency, and the points scored, but we'll get caught up."
Wide receiver Wes Welker, signed by the Rams on Tuesday, practiced for a second straight day, although Fisher said it's too early to tell if he will be ready for Sunday's matchup against the Chicago Bears.
Quarterback Nick Foles, who has failed to reach 200 yards passing for seven consecutive games, said Welker's addition should alleviate the team's third-down struggles. St. Louis is last in the league in third-down conversions, including a woeful 4-for-37 over the past three games.
"Just his ability to get open, his ability to play. Really his ability to impact the receivers will be great," Foles said. "I think just having him in there to teach the young guys maybe how to run different routes versus different coverages, or little things he's picked up along the way, or just the wisdom of anything is huge for those guys."
Defensive end Robert Quinn and right tackle Rob Havenstein, who each missed Sunday's loss at Minnesota, are expected back at practice Friday after sitting out Wednesday. Running back Todd Gurley also missed practice, but Fisher said it was just a rest day for the rookie.
MORE NEWS: Want stories delivered to you? Sign up for our NFL newsletters.