Pujols and Aybar help Angels beat A's 8-1, vault into AL Wild Card position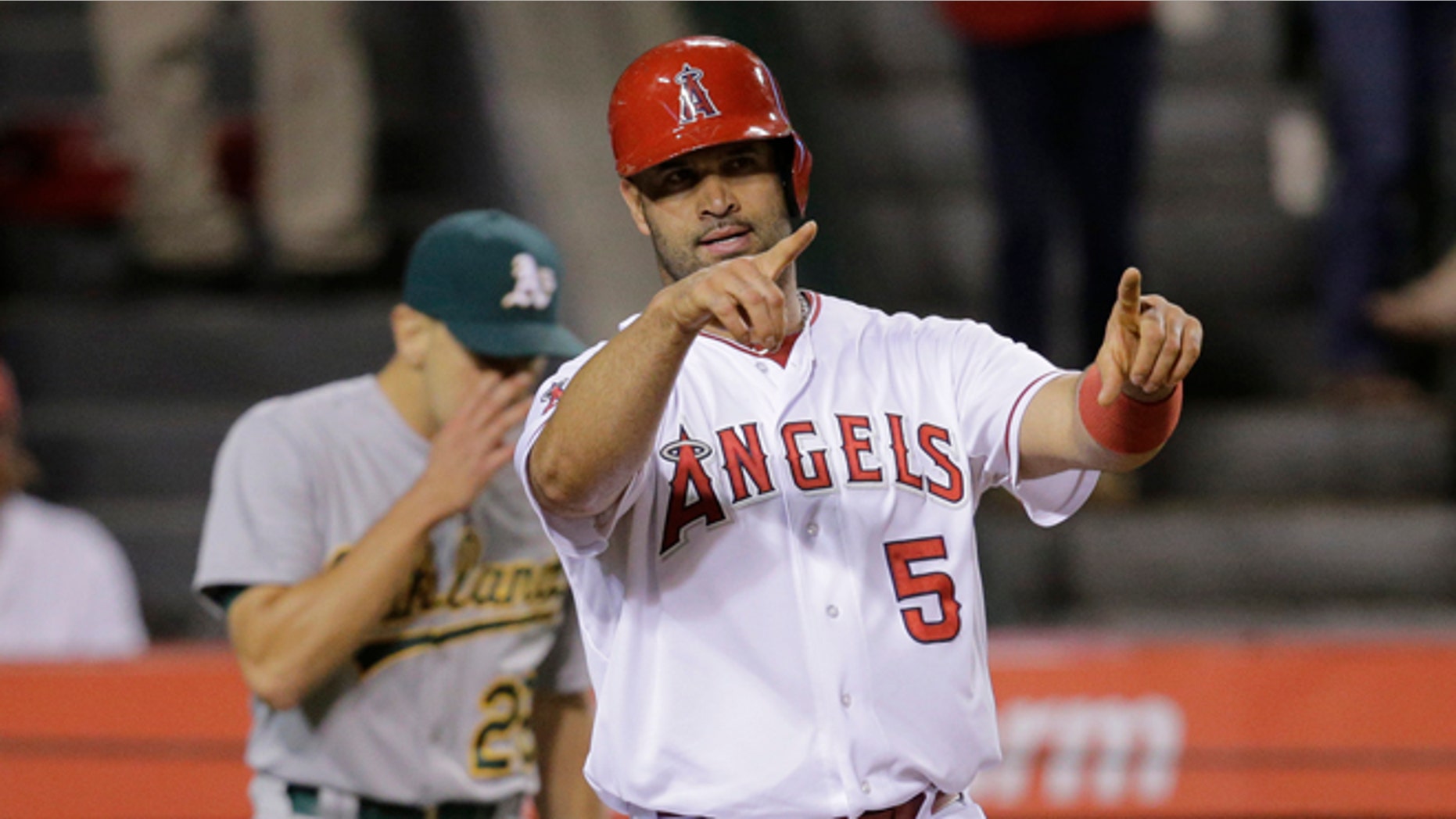 ANAHEIM, Calif. (AP) – The shouts and cheers rose from the dining room and rolled down the hallway in the Los Angeles Angels' clubhouse when the Mariners squeezed the final out to beat Houston.
After a roller-coaster summer and a brilliant September, the Angels have finally caught up to the Astros in this crazy AL playoff race.
Albert Pujols had an RBI double among his three hits, Erick Aybar drove in three runs and the Angels took over the lead for the second wild-card spot with their seventh consecutive victory, 8-1 over the Oakland Athletics on Tuesday night.
A few minutes after matching their longest winning streak of the season, the Angels (83-74) moved a half-game ahead of the Astros (83-75) when Houston lost 6-4 at Seattle.
"It's a good feeling. We're in a good spot right now," said Johnny Giavotella, who had two hits and drove in a run. "We've got five games to play, and we're in control of our destiny. We're going out and playing the best baseball we can, and then we're on the top step with each other — every game, every pitch."
Nick Tropeano (3-2) struck out 11 during 6 2-3 innings of three-hit ball for the Angels, who have won 10 of 12 overall during their majors-best 18-8 run through September.
The Angels remained two games behind the AL West-leading Texas Rangers (85-72), who beat Detroit. The Minnesota Twins (81-75) were rained out in Cleveland, dropping them 1 1-2 games behind Los Angeles in the wild-card race.
With four games in Texas to close the season, the Angels can dictate their playoff standing no matter the result of the wild-card race. Rebounding splendidly from an awful August, the Angels have chased down the AL leaders with less than a week to play — but still plenty to lose.
"We've been treating it like it's our last game of the season for the last two weeks," Pujols said. "That's what we had to do. We can't focus on who's in front of us or who's behind us. We just stay focused on us."
Aybar had a two-run triple during a four-run rally in the fourth inning, and David Freese had two RBI singles in a rare comfortable victory for the Angels. Los Angeles won by more than one run for just the second time during its winning streak.
Tropeano was outstanding in a big moment for a fill-in starter who has provided depth in the Angels' rotation all season long. He nearly doubled his previous career high in strikeouts and left to a standing ovation from the Big A crowd.
"I'm going to do anything I can to help this team win, if that's in the bullpen or if it's like tonight," Tropeano said.
Max Muncy homered for the last-place A's, who have lost four straight and nine of 10.
Chris Bassitt (1-8) yielded eight hits and six runs before getting chased in the fourth for Oakland.
"I tried to blow my fastball right by everybody instead of getting the good sink that I usually do," Bassitt said. "I was throwing through that sink, and everything was flat, so they were making me pay for it."
Mike Trout and Pujols had back-to-back doubles in the first inning, with Trout scoring his 100th run of the season. The 24-year-old reigning AL MVP is the first player in Angels history to score 100 runs in four separate seasons.
Pujols keyed the Angels' fourth-inning rally with a leadoff infield single and a stolen base, running impressively on a sore foot that has limited him to designated-hitting duties for weeks. Los Angeles got all four RBIs with two outs.