Peyton Manning's protege says he's a completely different QB in Year 3 of apprenticeship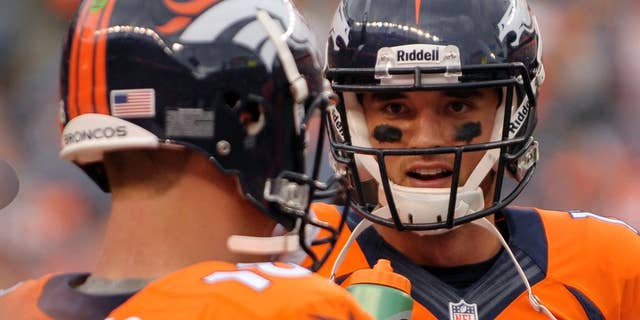 NEWYou can now listen to Fox News articles!
ENGLEWOOD, Colo. – There was a time when Brock Osweiler wanted to seek out Aaron Rodgers to pick his brain about how he waited so patiently for his shot while serving an extended apprenticeship under Brett Favre.
Peyton Manning's protege, however, decided to figure it out for himself.
After all, mimicking one great quarterback is plenty.
Although he has more mobility than the five-time MVP, Osweiler does his best imitation of Denver's star quarterback on the few occasions he gets onto the football field.
"Last time I checked, we have the exact same playbook," Osweiler said. "I pride myself in knowing the entire game plan, the entire playbook and if something's ever to happen to him or whatever the case might be and I'm in the game, you know we're not going to have to change what we do."
The Broncos want Osweiler to show a better grasp of the offense this summer, and he showed some flashes in Denver's exhibition opener, bouncing back from a stare-down interception to throw a 34-yard frozen rope for the winning score in Denver's 21-16 win over Seattle.
"That was a heckuva throw on that touchdown," Manning said. "That interception, I was watching from the sideline, and I was saying throw it to the same guy, myself. It was one of those that the guy looked open when you throw it."
This came, appropriately, after a 46-minute lightning delay in the first quarter.
"I was like 'Shoot, I've been waiting six months to play,' and a lightning delay happens," Osweiler said. "That's part of the game. You just have to be patient. There are certain things that take place that you can't control. That's one of them."
Another is waiting for Manning to call it a career.
Osweiler is the only backup Manning has ever had who was drafted with the explicit intent of one day succeeding him.
And every summer, GM John Elway's most scrutinized draft pick has provided plenty of fodder for his supporters and detractors alike with his up-and-down play in the preseason.
Osweiler realizes it's time to shine.
"I feel like a completely different quarterback," he said. "I feel like I'm playing at a much higher level than I did last year and especially my rookie year. I have very high goals for myself and very high expectations."
Osweiler, who has played in nine games and thrown 20 passes in his cameo NFL career, said his greatest growth came through working with the starting offense last season on the half-dozen Wednesdays that Manning took off to save his legs.
"It was huge," Osweiler said. "It allowed me to work with the first string offense, which as a backup you don't get a lot of opportunities to do. You don't take a lot of snaps with the starting center. You're not throwing to Demaryius (Thomas) and Julius (Thomas), who maybe run different routes or have different timing than the second group of guys that I'm used to.
"So, to get those reps last season really helped me progress in this offense and just feel comfortable being out there with the 1s."
That helped him more than any of the copious notes he's taken while watching Manning for 2 1-2 years or the mop-up duty he's done about once a month during his NFL career.
"The preseason the last two years has essentially been my regular season," said Osweiler, whose most extensive playing time came in the regular season finale at Oakland last year, when Manning took the second half off after building a 31-0 lead.
In his first appearance this summer, Osweiler completed half of his 12 passes for 85 yards in 2 1-2 quarters.
"I know how I'm capable of playing and the level I'm capable of playing to," Osweiler said. "I just want to show that to our coaching staff, my teammates and the rest of the Broncos organization."
Notes: Only six months removed from ACL surgery, CB Chris Harris Jr. doesn't plan to play at all in the preseason. ... TE Jacob Tamme was excused from practice for personal reasons. ... Former Broncos Brian Dawkins and Jason Elam stopped by practice, where an Air Force helicopter sporting a giant Broncos banner on the side did a flyover.
___
AP NFL website: www.pro32.ap.org and www.twitter.com/AP_NFL
___
Follow AP Pro Football Writer Arnie Melendrez Stapleton on Twitter: http://twitter.com/arniestapleton