Pettine never thought of inserting Manziel, even with McCown's hand injury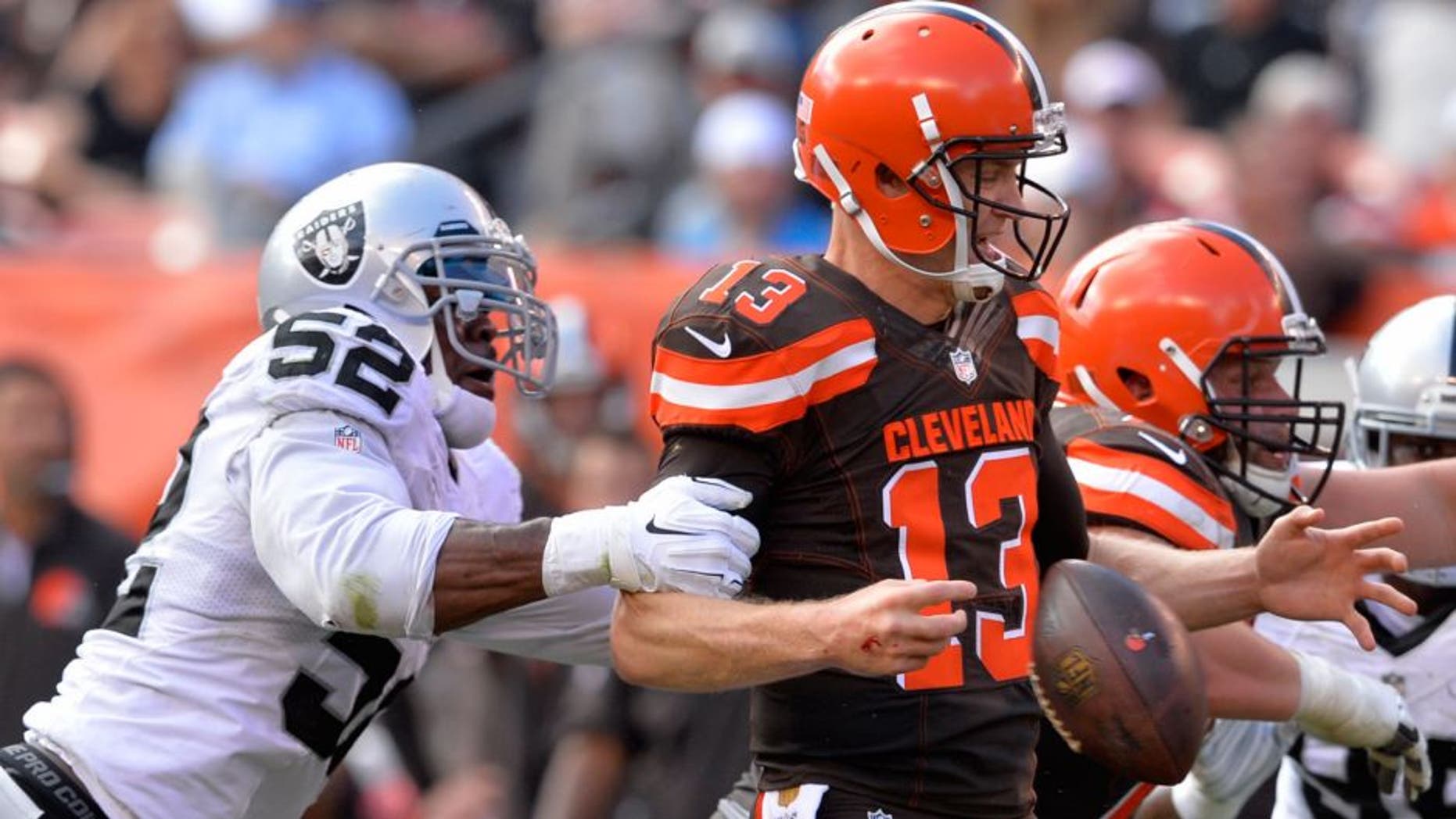 Browns fans were chanting Johnny Manziel's name during Sunday's 27-20 loss to the Oakland Raiders, but head coach Mike Pettine wasn't listening.
Starting quarterback Josh McCown got off to a slow start in his return to the lineup from a concussion, and he also suffered some damage to his throwing hand. Neither was enough for Pettine to have any thoughts of benching McCown in favor of Manziel.
"No, none," Pettine said. "As I said during the week, you can't put a player in a situation where he feels like he's playing with a short leash. Then it just becomes self-fulfilling. We want our quarterback to play well, we have to play better around him."
McCown, who was just 7 of 15 for 104 yards at halftime, heard the chants for Manziel as well, but did his best to tune them out.
"I understand the situation that I'm in and this part of it," McCown said. "He's an exciting young player that I know people want to see play. I have to just focus on where we are and what we're doing. We had our own problems and our own issues just trying to move the ball and so that's really where my focus is."
McCown also tuned out the cut to his hand, unaware when or how it happened. He believes it was stepped on during a sack, but said it would be fine with some special treatment despite a little swelling on Monday.
"Rub a little dirt on it," McCown said via the Akron Beacon Journal.
Injured hand or not, McCown nearly rallied the offense back from a 20-3 second-half deficit, falling just short when Raiders safety Charles Woodson intercepted on a long pass to Travis Benjamin in the final minute. McCown finished 28 of 49 for 341 yards and two touchdowns with the one interception.
As long as his doesn't get worse, McCown will lead Cleveland (1-2) into San Diego this Sunday to play the Chargers (1-2).
h/t: Akron Beacon Journal