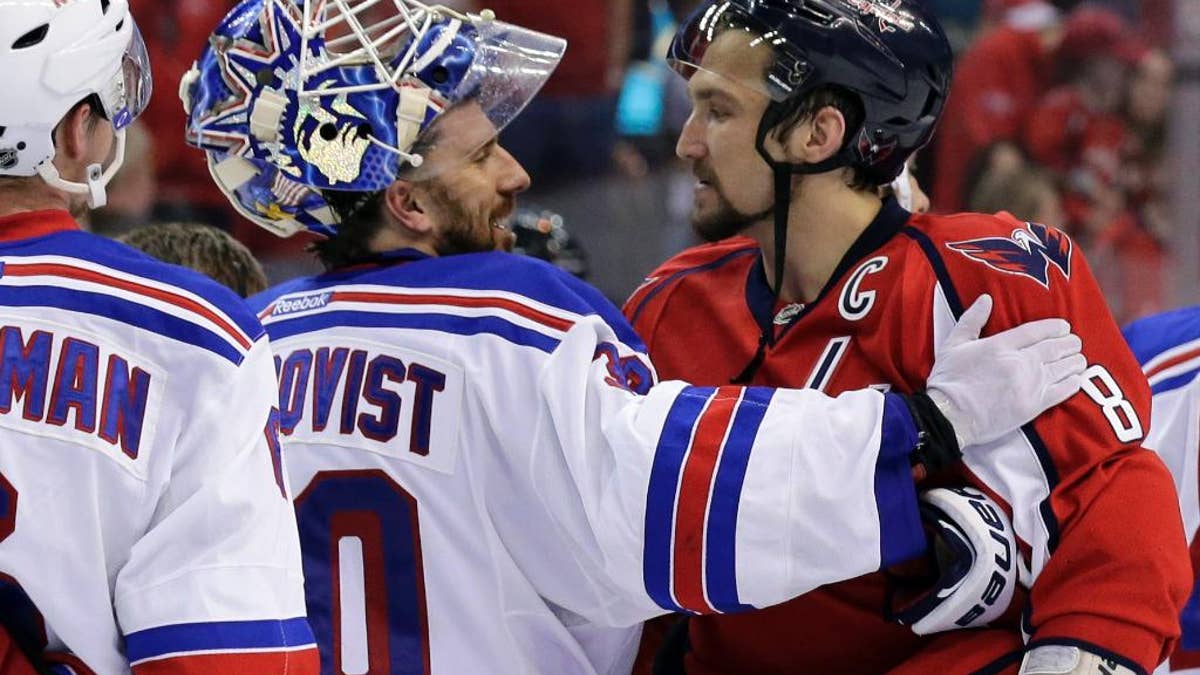 GREENBURGH, N.Y. – The New York Rangers weren't wasting any time on Alexander Ovechkin's prediction of a Game 7 win for the Washington Capitals in the Eastern Conference semifinals.
Ovechkin said it on Monday and the Rangers didn't care Tuesday. The only thing they talked about after practice was being prepared for winner-take-all game tonight at Madison Square Garden.
The Rangers usually are. They have won their last five Game 7s dating to 2012, including a win in Pittsburgh last season that capped a rally from a 3-1 deficit and the last two series against Washington (2012 and '13).
In the 2013 series, the Rangers overcame deficits of 2-0 and 3-1 to win. They are one win away from overcoming a 3-1 deficit in this series.
While the Capitals have Ovechkin leading the way, the Rangers have Henrik Lundqvist. The goaltender is 5-0 with a 0.80 goals-against average and a .973 save percentage in his last five Game 7 appearances.
"His focus and his preparation are by far one of the best I have seen in this game," Rangers coach Alain Vigneault said. "For him and, I can say our group, these are moments to play for and I think everybody is looking forward to it."
Game 7s are the dream of children playing hockey, with hopes of scoring the winning goal or coming up with the big save.
When they get older, it's a job, no matter how well you have done.
"The past is the past," Lundqvist said. "You don't think about it, you just go in there and you focus the same way you focused the game before. It's great memories to have to win important games. Tomorrow is a new opportunity for the team here, so you have to be in the moment. You can't think about the last year and whatever. That doesn't really matter, You stay in the moment."
Lundqvist expects to have butterflies before the game. He gets them every game, whether it's the season opener or the playoffs.
"When you start the playoffs, I talked about, you have to see it happen, you have to see good things happen to you and your team, and then you have to go out there and work for it," Lundqvist said. "It starts with believing. We were in a tough spot in this series and we believed we could force another game, and another game, and now are here."
Lundqvist refused to comment on Ovechkin's prediction, other than to say he was just trying to get himself ready for Game 7. The Capitals were doing to same thing in Washington.
"We're just going in there to concentrate for three periods, maybe four, maybe five," Ovechkin said. "Whatever it takes."
History is working against the Capitals. In all previous series that they led 3-1, they have been pushed to Game 7 four times and they're 0-4.
Since Ovechkin, Nicklas Backstrom and Mike Green made their playoff debuts in 2008, this is the ninth time in 11 playoff series that Washington has gone to a Game 7. The team is 3-5 in the previous eight. That core group has never made it out of the second round of the playoffs.
"There's an opportunity here and that's the key word — opportunity,' Green said. "None of us wants that to go to waste. We want to create something special here, especially with his group of guys. It's been a lot of fun and it's not over yet."
A closer look at the only game on the NHL playoff schedule:
Capitals at Rangers, series tied 3-3, 7:30 p.m. EDT, NBC Sports Network
NO VIDEO
Capitals coach Barry Trotz was asked whether he's gone back and watched any of the team's past Game 7s.
"No, because they're not the same team and I wasn't a part of it, so, no. And I won't, because it has no relevance on this series at all. Zero. Nothing," Trotz said.
RICK NASH ON RISK VS. REWARD
"It's a happy medium of making sure you're tight defensively but you've got to take chances to get the offensive battles," said Rick Nash, who led the Rangers with 42 goals during the season. "When it's Game 7 and everything on the line, sometimes it's tough to take those."
OVECHKIN AND BACKSTROM
Ovechkin led the NHL in goals with 53 this season and linemate Nicklas Backstrom was No. 1 in assists with 60. For all of their regular-season success in this year and others, they do not have particularly impressive individual numbers in Game 7s.
In eight previous Game 7s, Ovechkin and Backstrom have combined for three goals and four assists — but neither has scored a goal during the past five Game 7s. Backstrom has zero points in any of his last six Game 7s, while Ovechkin has no goals and two assists in his last five.
Ovechkin's last goal in a Game 7 came all the way back in 2009, and it was a meaningless late score in a 6-2 home loss to the Pittsburgh Penguins.
___
AP Sports Writer Howard Fendrich contributed to this report.