Nuggets, Bulls, Bucks reportedly meeting with Dwyane Wade in NYC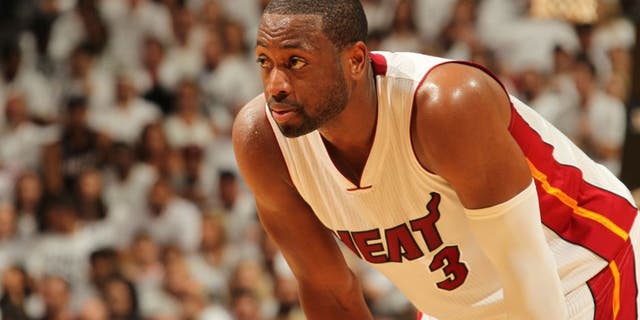 NEWYou can now listen to Fox News articles!
Disgruntled free agent Dwyane Wade is expected to hear from at least three suitors today, including one that was off the table just yesterday.
He might be getting another meeting with the Miami Heat as well.
According to The Vertical, Wade is expected to formally meet with the Denver Nuggets -- who are expected to have a two-year, $52 million offer in hand.
Also expected to meet with Wade are reps from the Chicago Bulls, his hometown team.
And apparently, a meeting with the Milwaukee Bucks is also back on the table. Wade played his college ball at nearby Marquette.
Wade's contract negotiations with the Heat have taken a contentious turn this offseason, with the star guard appearing to be miffed at the team focusing more on re-signing Hassan Whiteside and pitching Kevin Durant than working on a new deal for him.
The Heat's most recent offer is said to be two years at $20 million per, but Wade is reportedly seeking at least $50 million after taking pay cuts in the past to help the team fill out the lineup.
But according to Yahoo's Adrian Wojnarowski, Heat owner Micky Arison might meet with Wade one-on-one on Wednesday in a last-ditch effort to salvage the situation.
There were rumblings on Tuesday about LeBron James potentially trying to sway Wade into joining him in Cleveland, but later reports contended that was not the case.