Notre Dame could have its best NFL draft weekend in more than a decade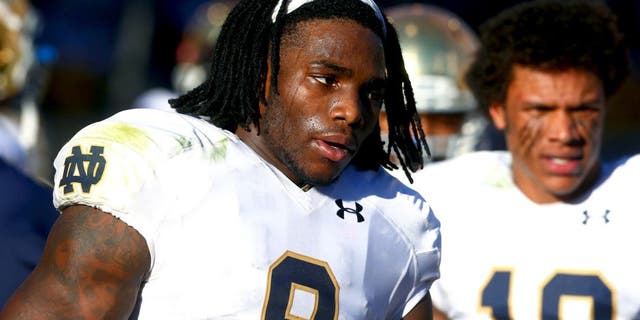 Notre Dame is in line to have a pretty good year when it comes to the NFL draft.
Just how good could it be for the Fighting Irish?
Ten players from the 10-3 2015 team have been invited to the NFL Scouting Combine and Pro Football Focus has identified eight players who have a good shot at being picked.
If those eight players -- Jaylon Smith, Sheldon Day, Ronnie Stanley, Will Fuller, C.J. Prosise, Nick Martin, KeiVarae Russell and Chris Brown -- are all picked this spring, Notre Dame will match the 2014 draft class in terms of size.
That is the largest group of Fighting Irish picked in one year since 10 went in the 1994 draft. That group was headlined by first-round picks Bryant Young, Aaron Taylor and Jeff Burris.
The eight mentioned above are scheduled to be at the Combine in Indianapolis later this month along with fellow former Irish Romeo Okwara and Elijah Shumate.
If all 10 are drafted, Notre Dame will not only match its largest class of the seven-round era but also match the most for a three-year period in over a decade.
Ben Koyack was the only Notre Dame player picked in the 2015 draft, so 10 going this year would leave ND with 19 over the past three.
The last time at least that many Fighting Irish players were taken in a three-year period was 2001-03 when 19 were also picked.
Notre Dame also had 19 players drafted from 1994-96, and 24 players were drafted from 1993-95.
To find the last time more than 10 Fighting Irish were drafted one has to go all the way back to 1969. That year George Kunz and Jim Seymour led a group of 11 players chosen in a 17-round draft.
Last week Mike Mayock of the NFL Network listed which Fighting Irish he sees among the top five available players at their position.