No Respect: David Shaw says QB Kevin Hogan is the 'Rodney Dangerfield of college football'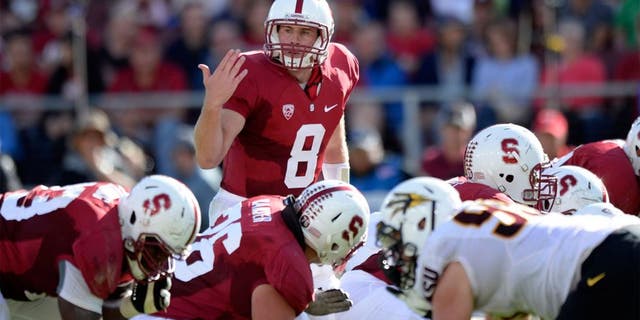 Stanford head coach David Shaw is clearly getting tired of people asking about his opinion in QB Kevin Hogan. Shaw loves Hogan and believe that he is one of the most underrated QB's in college football.
"Kevin is the Rodney Dangerfield of college football," said Shaw, according to John Reid of The San Jose Mercury News. "Hogan is the winningest quarterback in college football playing right now. He's the only guy to win two conference championship games, yet I'm always defending him. I'm reassuring people he can play. He's played well in some of the biggest games we've had in school history."
Hogan is 24-8 as a starting QB and has led Stanford to two Pac-12 titles and two Rose Bowls.
"At Oregon, at UCLA, in bowl games, the guy has made play after play," Shaw said. "He has been outstanding most of his career, in two-minute drills, on third downs, in fourth quarters, in big games. When they talk about the great quarterbacks in the Pac-12, they don't even mention his name."
The thing that Shaw loves most about Hogan is that he knows what he's going to get out of him every single game.
"Kevin was on a magical run for two and a half years," Shaw said. "Now he has been through some rough parts. Sometimes, I think you're even more secure once you've had hard times. He's not going to be shocked by anything. He has seen it all, on and off the field. He's just a leader now. Bring everything you got, I've seen it all."
(h/t San Jose Mercury News)