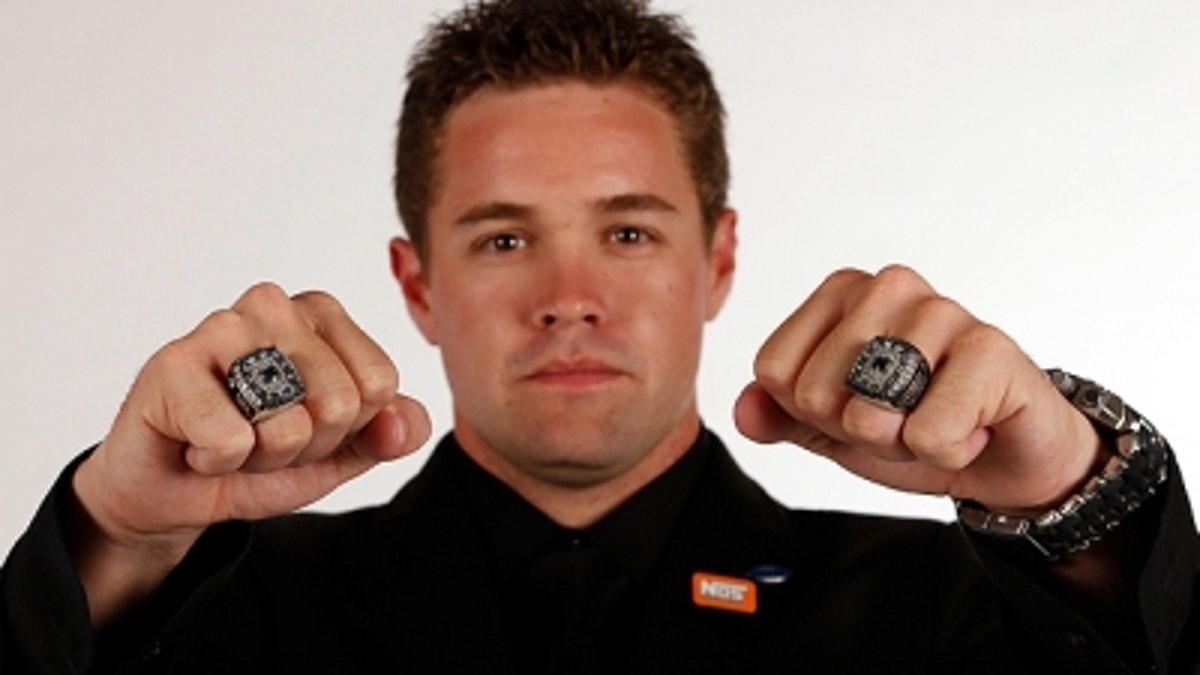 With a second consecutive championship in hand, Ricky Stenhouse Jr. departs the NASCAR Nationwide Series with credentials suggesting future superstardom.
Stenhouse, who'll join Roush Fenway Racing teammates – and past NASCAR Nationwide champions – Carl Edwards and Greg Biffle as a full-fledged NASCAR Sprint Cup Series competitor in 2013, is just the sixth competitor in series history to win back-to-back titles.
The 25-year-old Olive Branch, Miss., competitor is the first to win consecutive championships since Martin Truex Jr. in 2004-05. Dale Earnhardt Jr. (1998-99), Randy LaJoie (1996-97), Larry Pearson (1986-87) and Sam Ard (1983-84) are the other back-to-back champions.
Winning a NASCAR Nationwide Series championship is a special achievement, and could foreshadow future greatness. Two previous champions – Brad Keselowski and Bobby Labonte – have gone on to win a NASCAR Sprint Cup title. Nine of the past 10 champions are current NASCAR Sprint Cup drivers, of which five qualified for the 2012 Chase for the NASCAR Sprint Cup.
Although Stenhouse excelled, his accomplishments in the No. 6 Roush Fenway Ford weren't sufficient to wrest owner championship honors from the No. 18 Toyota of Joe Gibbs Racing. With multiple drivers behind the wheel – including Joey Logano, who supplied seven victories – JGR won its fourth owner crown in the past five seasons.
Top Drivers
Ricky Stenhouse Jr. – Hands down, Stenhouse had the season's top resume among points-eligible competitors, championship trophy notwithstanding. He went from a two-win season in 2011 to six victories and led the points standings eight times. Stenhouse never fell out of the top three after recovering from a three-race stretch in late May-early June during which he finished 25th or worse. Five of his six victories came on intermediate tracks – Atlanta, Chicagoland, Kansas, Las Vegas and Texas. He also won for the third consecutive time at Iowa in May and posted a top-five finish on a road course (Watkins Glen) and superspeedway (Talladega).
Elliott Sadler/Joey Logano (Honorable Mention) – Sadler fought the good fight and nearly won a championship for the second consecutive year. The driver of the No. 2 Richard Childress Racing Chevrolet led an amazing 25 times during the 33-race season, never ranking lower than second. He won four times. Logano, the NASCAR Sprint Cup outlier who couldn't earn driver points but literally locked up the owner championship for Joe Gibbs Racing, won nine times in a partial season of 22 races. In his final season with JGR, Logano also led the series with six Coors Light Poles.
Comeback Driver of the Year
Sam Hornish Jr. – Here's a guy who was without a full-time ride in 2011. And this year, he contended for a championship for parts of the season. Hornish's first victory in the next-to-final race of 2011 supplied momentum that carried the former open-wheel champion to his best season in NASCAR. The Ohioan wasn't able to repeat that Phoenix triumph but Hornish did the next best thing, driving the No. 12 Penske Racing Dodge to a fourth-place championship finish. Hornish, who became a double-duty driver midseason, benefited from the extra track time recording second-place finishes at Indianapolis, Montreal and Kentucky.
Michael Annett (Honorable Mention) – The Iowan finished among the top 10 in points for the third time in four seasons but with six top-five and 17 top-10 finishes he reached the elite level – on stage at the Champion's Awards banquet – for the first time. But this wasn't exactly a driver "comeback," in the truest sense of the word. But it certainly was for owner Richard Petty. Annett, driving the No. 43 Richard Petty Motorsports Ford, ranked fifth at season's end, boosted by a run of eight consecutive top-10 finishes from Bristol in late August through Kansas in October. The last time owner Richard Petty had a car in the top five in the final points standings for any of the three national series was in 1983, when he drove the No. 43 to a fourth-place finish in the final NASCAR Sprint Cup points standings.
Top Team
Joe Gibbs Racing – JGR fielded a trio of entries during the 2012 season, captured the owner championship for the fourth time and posted nine victories and 28 top-five and 52 top-10 finishes. Four of its drivers – Joey Logano, Denny Hamlin, Ryan Truex and Darrell Wallace Jr. – accounted for nine Coors Light Poles.
Roush Fenway Racing (Honorable Mention) – With only a single full-time entry – the No. 6 of champion Ricky Stenhouse Jr. – Roush Fenway's presence in the series was below recent seasons. No matter. RFR battled Joe Gibbs Racing to the final race before falling a few points short in the owner standings. Carl Edwards added a victory to Stenhouse's exploits giving RFR seven wins overall in 2012. Stenhouse and Trevor Bayne combined for five Coors Light Poles.
Top Breakthrough Performance
Austin Dillon – Austin Dillon almost accomplished the undoable: win both the NASCAR Nationwide Series championship and the Sunoco Rookie of the Year in the same season, all following a year in which he became the NASCAR Camping World Truck Series' youngest champion. It didn't quite work out that way, although Dillon's quest in the No. 3 Richard Childress Racing Chevrolet went down to the final laps at Homestead. Childress's grandson settled for rookie honors and a third-place overall ranking. He won both races at Kentucky Speedway and led the series in top-10 finishes with 27.
Danica Patrick/Cole Whitt (Honorable Mention) – JR Motorsports' two competitors each enjoyed success in 2012. Both recorded top-10 championship finishes. Patrick's 10th-place performance marked the first time a female competitor has finished among the overall top 10 in a NASCAR national series. She'll move to the NASCAR Sprint Cup Series in 2013 after posting four top-10 finishes. Whitt, who finished second in Sunoco Rookie of the Year standings, placed seventh overall with four top fives and 14 top 10s. He opened the season with a fourth at Daytona a finish he later matched at Talladega and Michigan.
Top Races
Virginia 529 College Savings 250 at Richmond International Raceway (April 27) – The finish was unbelievable. Kurt Busch and Denny Hamlin went door-to-door on the final lap with Busch taking the victory by 0.062 seconds. The victory was the first in the series for Kyle Busch Motorsports. The race, which featured 13 lead changes, marked the coming out party for 18-year-old Ryan Blaney, who finished seventh in his first series start.
Ford EcoBoost 300 at Homestead-Miami Speedway (Nov. 17) – You could say they saved the best for last, giving NASCAR Nationwide Series fans plenty on which to chew while awaiting the beginning of the 2013 season. Regan Smith drove his No. 5 Junior Motorsports Chevrolet to his first victory after a five-year absence from the series. Smith was one of 10 drivers who swapped the lead 13 times – including Kyle Busch, who won the Coors Light Pole and finished second snapping an eight-year run in which he'd won at least one race. All three title contenders – Stenhouse, Sadler and Dillon – also managed to lead a lap during the 300-mile affair.
Pioneer Hi-Bred 250 at Iowa Speedway (May 20) – Reigning champion Ricky Stenhouse Jr. completed the trifecta in the year's first of two visits to the 0.875-mile short track. Stenhouse swept both Iowa events in 2011 and won for a third consecutive time, ringing up a perfect 150.0 Driver Rating in the process. He may have been statistically dominant but fans saw each of the top six drivers in the standings and all four manufacturers lead a lap. In the end, Stenhouse was out front for 209 of 250 laps and beat Elliott Sadler by 1.465 seconds in a mirror image of the season championship.