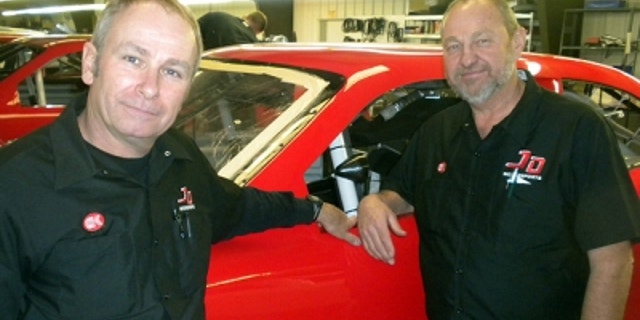 Interstate 85 cuts through the heart of stock car racing country in the Carolinas. At almost any exit in and around the Charlotte, NC area, it's possible to turn left or right and wind up in the parking lot of a multi-million-dollar facility that churns out winning race cars like a fine-tuned factory.
But the road doesn't stop there, and neither does the racing. One of the country's busiest interstates also runs across the crown of South Carolina, home to former racing giants like David Pearson, Bud Moore, Butch Lindley and Cotton Owens and now part of the undercard of NASCAR racing.
In Gaffney, perhaps best known for its peach-shaped water tower hard by I-85, the racing torch is carried by JD Motorsports, a Nationwide Series team owned by Gaffney resident Johnny Davis. Davis has been involved in motorsports for three decades and continues to wrestle with the big boys despite low-level funding.
A few more miles down the interstate, in Spartanburg, is Jeremy Clements Racing, home to driver Jeremy Clements and the legacy of the Clements brothers – Crawford and Louis, 1960s-era racers whose names continue to carry weight within the NASCAR community. Jeremy, 27, is Crawford's grandson.
Clements, driving for his family team, and Davis, who plans to field a pair of cars this season, enter the 2012 Nationwide Series schedule with hopes and dreams distanced from the stars of the NASCAR firmament. As Davis puts it, "You can't beat cubic dollars."
The Roushes and Hendricks and Childresses of the racing world chase speed with money – piles of it, even in a depressed economy. For Davis and Clements, racing in the backwater, it's more about survival, making it to the next week – and the next season – and showing some gains along the way.
The JD Motorsports shop is located off the beaten path in a rural section of Cherokee County, very close to the North Carolina line. In fact, an upset race car driver with a strong right arm perhaps could toss a helmet across the border.
One turns off the main road and drives past an abandoned and crumbling rug factory to reach the team's shop, one that will never be confused with the high-dollar, floors-so-clean-you-could-eat-off-them plants of the Charlotte-area Cup operations.
Davis has a handful of employees. Rick Hendrick has more than 400.
But, in the area that counts, where the race cars live, Davis can boast a long row of impressive vehicles, some ready to race, others in different levels of preparation for races in the late winter and early spring.
"It doesn't look like Roush's shop or Gibbs' shop (Sprint Cup teams) because almost all the resources go into the race cars and parts and pieces," said veteran driver Mike Wallace, who will race JD Motorsports' Chevrolets again this season. "The race cars never break. That's the good part about it. The parts and pieces are good components."
And therein rests the method to the Davis magic of keeping a mid-level Nationwide Series team afloat in an era of financial madness. He buys gently-used parts from richer teams and extends their utility for another race or two or three.
"He knows what he needs," Wallace said of Davis. "It looks like he has a lot of junk, but he'll take some junk – maybe a whole truckload of it – if that's what it takes to get the half he needs. He's a wheeler-dealer."
So Davis might be seen almost any day in the backrooms of a leading Sprint Cup shop making a deal or two for used rods or axles or transmission parts.
"Sometimes you can buy them for 30 cents on the dollar," Davis said. "It just depends on how much of that stuff they accumulate, how big their pile is.
"It's getting tougher, but you can do it. There are a lot of parts out there that Cup teams will sell me at discounted prices. They only run stuff one race – most of them. They can't afford to take the chance on it breaking. They know the history of the parts and the fact that they probably won't break, but from the dollars-and-cents standpoint and for what they're chasing, they can't afford to take a chance."
Davis will take that chance, save the money and race with fingers crossed.
"We've had only one failure in the past two years doing that," he said. "We've always been known as a race team that somehow continues to survive in this hard economy."
His engine bill – he buys engines from Clements Racing Engines down the road in Spartanburg – was $200,000 last year. If he leased more powerful engines from a Cup operation, his cost would increase six times. "That's more than my entire budget last year," he said.
So Davis, whose team has been boosted this year by the addition of veteran crew chief Newt Moore and four mechanics who left positions in the tough Charlotte-area racing market as several major teams downsized, continues to race on the edge, looking to slip in the back door to a win and hoping for a top-15 finish in points.
It's a struggle, but Davis despises the idea of not making the attempt. He went down that road once – for about a week.
"I sat down at the end of the 2007 season and quit," he said. "I was going to sell everything I had. But I was like a lost puppy in here, trying to figure out what I was going to do for enjoyment. The hardest thing to do is walk away from something you love, and I love this more than anything I've ever done.
"I was so empty inside that day. I said, 'To hell with this, I'm going to race somewhere.' I'm not going to be this miserable figuring out what to do next."
So Davis refired the engines for the 2008 season and hasn't looked back. In fact, he's looking ahead.
The team has added a second car for this season. The No. 4 Chevrolet will be driven by Danny Efland, Darryl Harr and possibly Chrissy Wallace, Mike's daughter.
"We're trying to improve the team, and to do that you need two cars," Davis said. "You get more information, more feedback. Our main focus will be the 01 car (Wallace's), but we're working on marketing deals to get the 4 going strong, too.
"We know our hill has a lot of incline to it. We've tried to hire people with a winning attitude, not a second-place attitude. I think you're going to see good things because of the people."
Down the interstate in Spartanburg, Jeremy Clements Racing is preparing for what will be its second full-time season in the Nationwide Series. Clements, a dirt-racing superstar hoping to eventually ride in Sprint Cup, finished 15th in Nationwide points last season while racing with his family's bare-bones operation.
The team has five full-time and three part-time employees and shares a shop with Clements Racing Engines, the family's operation that sells engines across a broad sweep of auto racing, from dirt late models to the Nationwide Series.
Clements said the team got its footing last season and should be stronger this year. He had a top finish of 14th last season.
"Last year we basically had two and one-half cars," he said. "Now we have five. It's a big step, but we know these cars a little better now. My expectations are definitely higher."
The team's limited funding hits particularly hard in one area – tires. Clements frequently races on "scuffs," used tires the team buys from Sprint Cup teams. His weekly tire bill is about one-fourth what it would be if he raced on new tires at each event, and the difference shows.
"Take the Atlanta race (last year)," Clements said. "We bought stickers (new tires) except for the last set. Everybody pitted for the last stop, and there were 14 cars on the lead lap. I had the scuffs, and they passed me like I was sitting still. I finished 14th, the last car on the lead lap."
That's the reality of racing with limited resources. But Clements, whose driving talents have attracted the likes of Joe Gibbs Racing, which has hired him to run tests and practice, continues the grind, hoping for a big break or enough sponsorship money to lift his operation to the next level.
"You've got to do what you've got to do to keep racing week in and week out," he said. "I'm a racer. I race to win. Knowing sometimes you have to race for 15th because you don't have stickers or because you've used up the motor the past two races – it's tough.
"This is tough to do, but, if you're not there, you're going to be forgotten. You have to keep fighting the war."
Like Johnny Davis, Clements has had the experience of facing a future without racing. He didn't like the view.
Eight years ago, just as his driving career was starting to lift off, he crashed during a dirt late model race in Winston-Salem, NC. The car's driveshaft broke and slammed into the cockpit, mangling Clements' right hand.
He went through 10 surgeries to repair the damage as doctors essentially rebuilt the inner workings of his hand by taking tendons and bones from his hip and foot. He didn't race for a year. Doctors said he probably wouldn't race again – period.
"When they told me I'd never race again, I was devastated and figured I'd prove them wrong," Clements said. "I wanted to race. The thing didn't scare me. I just needed my hand."
He returned the following season and now runs toward a brighter future.
In the backwaters of NASCAR, hope is regenerated with the start of each new season.
Mike Hembree is NASCAR Editor for SPEED.com and has been covering motorsports for 30 years. He is a six-time winner of the National Motorsports Press Association Writer of the Year Award.