NFL Commissioner Roger Goodell's wife used secret Twitter account to defend husband
The wife of NFL Commissioner Roger Goodell used a secret Twitter account to defend her embattled husband from critical posters on the social media site.
The account, @forargument, did not have a profile picture or followers and hadn't shown any activity since it was activated in 2014, The Wall Street Journal reported.
But the account started tweeting to defend Goodell during the past few months, however.
At one point, the account tweeted at ProFootballTalk, a sports blog run by NBC, after the blog posted "it was on the commissioner" to solve the "national anthem issues."
TRUMP: NFL SHOULD HAVE SUSPENDED COLIN KAEPERNICK FOR KNEELING
"Please do better reporting. He is already doing this. You are behind," @forargument tweeted.
The Wall Street Journal investigated and learned the account was Jane Skinner Goodell's. The publication stated it discovered the account was Goodell's, in part, by looking at her followers and investigating the connections. @forargument followed "four accounts connected to the high school attended by the Goodells' twin daughters," The Wall Street Journal reported.
On Thursday, Goodell released a statement regarding the matter.
TRUMP SAYS 'ABOUT TIME' AFTER NFL'S GOODELL CALLS ON PLAYERS TO STAND FOR ANTHEM
"It was a REALLY silly thing to do and done out of frustration—and love," Goodell said. "As a former media member, I'm always bothered when the coverage doesn't provide a complete and accurate picture of a story. I'm also a wife and a mom. I have always passionately defended the hard-working guy I love—and I always will. I just may not use Twitter to do so in the future!"
The Twitter account has since been taken down. Goodell's account tweeted 14 times to outlets such as ESPN, NBC Sports and the Journal, The Wall Street Journal reported.
Brian McCarthy, a spokesman for NFL, defended Goodell's account.
"Sounds like what she did is what every spouse in America would want to do," McCarthy told The Wall Street Journal.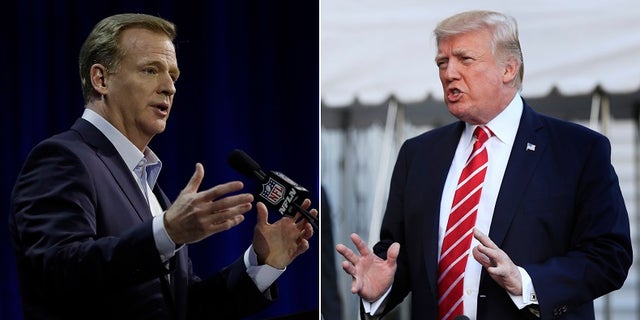 Goodell, who co-hosted Fox News' "Happening Now" until she retired in 2010, has been married to Roger Goodell since 1997. Goodell is not the only person to use a secret social media account to combat bad press. Last month, it was discovered NBA star Kevin Durant reportedly used secret social media accounts as well.
Goodell and the NFL have been embroiled in a debate involving players protesting during the playing of the national anthem. President Trump has repeatedly waded into the matter, making it a national issue. Last month, Trump told a rally in Alabama that owners should get rid of players who kneel during the anthem.
On Tuesday, Goodell said in a letter to team owners he believed players should stand for the national anthem, adding the league may consider a rule change requiring players to stand.
The Associated Press contributed to this report.