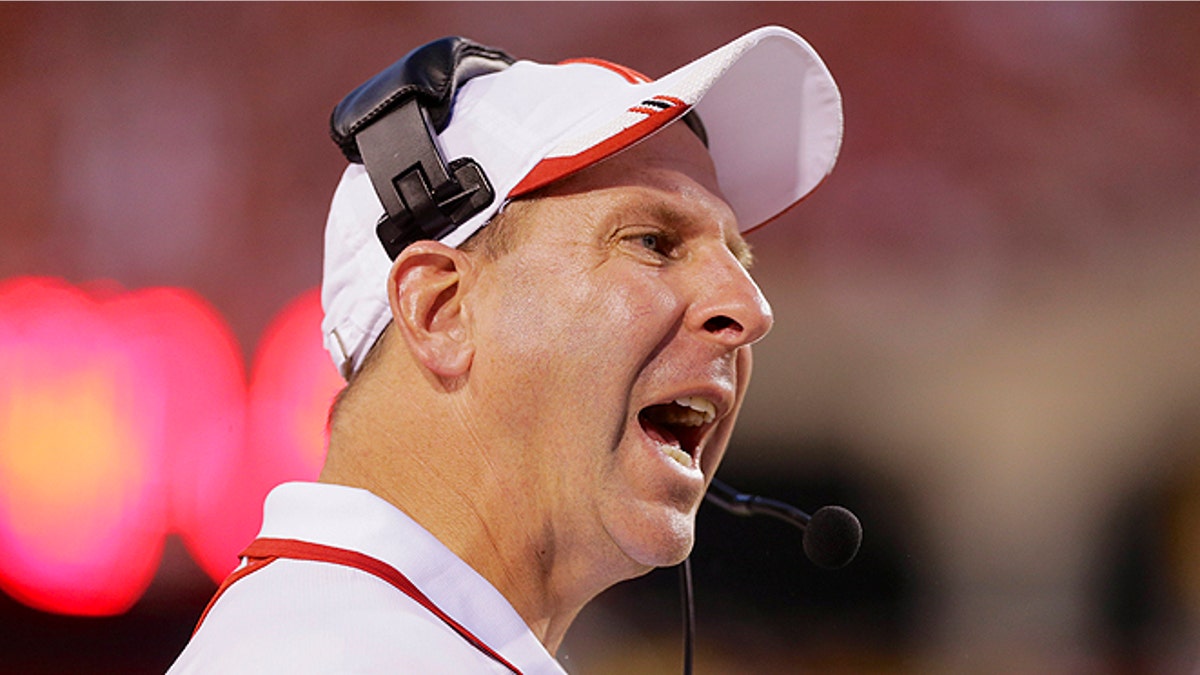 Nebraska is ready to move on from Bo Pelini's profane rant against fans two years ago.
Chancellor Harvey Perlman and athletic director Shawn Eichorst said in a joint statement Wednesday that they believe the football coach was sincere in his apology for what he said in an audio leaked to the Deadspin.com sports website this week.
There was no mention of any disciplinary action taken against Pelini.
"The comments made by Head Football Coach Bo Pelini in 2011, published Monday, are unfortunate and deeply concerning to us, as they would be to anyone who loves this university," the statement said. "Our coaches, staff and student-athletes must be held to a high standard and Coach Pelini's remarks were unfair to the legions of Nebraska fans and not what we expect from a representative of this university."
Perlman and Eichorst declined interview requests. Messages were left for Pelini.
Pelini's rant has captivated a Cornhuskers fan base that has sold out an NCAA-record 328 consecutive games since 1962.
Pelini became unhinged minutes after the Huskers had beaten Ohio State 34-27 in Lincoln in October 2011. Nebraska erased a 27-6 second-half deficit in the biggest comeback in program history.
The Deadspin audio caught Pelini speaking off air with Husker Sports Network play-by-play man Greg Sharpe and associate athletic director for community relations Chris Anderson.
Pelini criticized people who left the stadium in the third quarter, when the Huskers trailed by 21 points. Pelinirepeatedly used expletives while talking on the audio about "fair-weather" fans and how the day was coming that he would be gone and he wondered how the team will fare without him. He also used profanity while criticizing two Omaha World-Herald sports writers.
The Deadspin audio surfaced Monday, two days after the Huskers squandered a 21-3 lead and lost 41-21 to UCLA and on the same day Pelini said at his news conference that the program didn't need the support of Tommie Frazier, the 1990s Huskers great who had tweeted that Pelini should fire his defensive staff.
Pelini said in an interview on SiriusXM Radio on Wednesday that he had an "idea" of who leaked the audio.
Management of the Husker Sports Network has not returned calls from The Associated Press.
Former athletic director Tom Osborne, in a statement released Wednesday, said he told Perlman and Eichorst on Monday that he was aware of the recording more than a year ago and addressed the matter with Pelini at the time.
"While the comments were certainly not good, I realized that Bo had gone through an emotional week and an emotional game and was in a setting where he thought his comments were entirely private," Osborne said. "I visited with Bo on a weekly basis and did not find that his attitude toward the fans or the press as expressed by those comments were at all in keeping with what I knew his true attitude to be."
The statement from Perlman and Eichorst noted that Pelini, long known for his volatility on the sideline, has improved his demeanor over the past two years.
"Coach Pelini has given us his assurance that he understands the seriousness and inappropriateness of his comments," the statement said. "We believe he is sincere in his apology and in his regret. We are prepared to put the matter to rest. Our football student-athletes, coaches and staff deserve all of our support and we know the Nebraska faithful will be there for them."
Pelini is 51-21 in six seasons at Nebraska but has had a run of lopsided losses on the national stage. His contract runs through the 2015 season. He's being paid $2.975 million this year.
Osborne said Pelini's record is among the best in college football since 2008 and that the players' behavior, for the most part, has been excellent.
"I recognize that there have occasionally been controversies but I have seen a willingness to change, reflect and improve in Bo over the years," Osborne said. "I am very hopeful that the players, coaches and fans will pull together as unity of purpose has been one of our major assets over the last 50 years."