NBA Round-Up: Knicks' Slide Continues, Spurs Out of Sync at Home, and More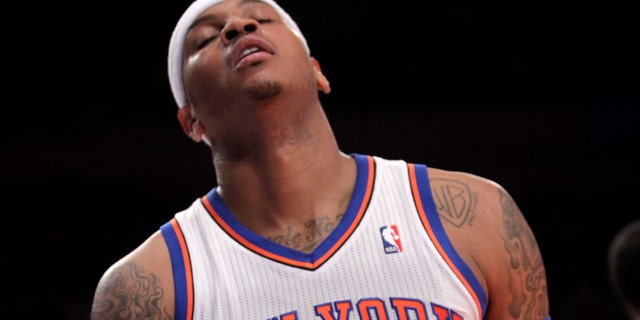 Panic Under Garden Bright Lights
Just a few weeks ago the New York Knicks were being mentioned as a probability to come out of the Eastern Conference playoff race as perhaps the fourth or fifth team aside from the heavyweights - Chicago, Miami, Orlando. Some even thought they would be good enough to leapfrog and take that third spot in the standings by beating out the Atlantic Division-leading Philadelphia 76ers. And of course you had Linsanity.
Fast forward to today and the Knicks are now in the mist of a five-game losing streak and sitting five games under .500, trying to hold on to that eighth and final spot for dear life with just 25 game left in the season. It might seem like a lot games but the way they've been playing, nothing is a lock at this stage of the game.
Carmelo Anthony was even booed during the pregame introductions and later benched along with Amar'e Stoudemire in the fourth quarter in New York' loss to the Sixers yesterday.
It's something Anthony surely must not have envisioned when he first came to the Knicks in quest of a championship.
Wolves' Rubio Ends Season with Injury
"We've got to find a way to get it done right now. It's coming down to the end of the season. Our backs are against the wall and we've got to figure it out. It's not fun though," Anthony said.
"Playing out there is not fun. There's no type of confidence out there. When we get down, it just seems like our whole energy goes out the door."
After going winless in their four-game road trip that started with an overtime loss at Boston last Sunday and culminated Friday with a loss to Milwaukee, who is breathing down their necks, the Knicks are now back to that same ol' story once again with the fans calling for coach Mike D'Antoni's head after the latest loss.
Anthony wasn't sure why he didn't play in the last quarter but brought up the point that perhaps D'Antoni was trying to save him for tomorrow night's game at Chicago.
With just a 1.5 game lead on the ninth-place Bucks, its certainly not the time to be sitting anyone out especially in such a short season where every game counts.
Nuggets Get Nene Back, Await Rudy Fernandez
Denver starting center Nene Hilario made his return to the lineup after sitting out 10 games with a strain in his calf. Nene slowly has made a comeback by playing in all of the Nuggets' three games last week.
Coach George Karl took it easy on his big man, playing him for 15 minutes last Monday night in their win over Sacramento. Hilario had six points, four rebounds and blocked two shots but bounced back nicely Wednesday and Friday night, being more of his typical self by scoring 13 and 12 points, on each of those nights respectively.
Mexicana Flight Attendants Turned Calendar Girls Feud after Success
He saw more minutes last night. In 26 minutes he scored 15 points, grabbed nine rebounds along with four assists and four steals and a block shot in the loss to Memphis.
Another Nugget still trying to make his way back is Rudy Fernandez. The Spaniard has also missed 10 games due to a lower back strain. Back during the 2009-10 season with the Portland Trail Blazers, Fernandez missed six weeks after undergoing a microdiscectomy to relieve leg pain that was caused by a nerve root in his lower back.
A valuable option off the bench for Karl and the Nuggets, Fernandez has averaged 9.3 points in 27 games.
Patiently he stays waiting to join the Nuggets.
"With the new treatment, I'm feeling better," Fernandez said according to the Denver Post. "For sure, I go day by day, but the last couple of days I'm feeling better. … I miss basketball."
Raptor's Floor Leader Out For a While
The lone bright spot this season for the Toronto Raptors, the fourth-worst team in the NBA this season, has been the constant play of point guard Jose Calderon.
With their top scorer Andrea Bargnani making his return after missing 20 games, thanks to re-aggravating a left calf injury, the Spaniard sprained his right ankle after stepping on Detroit's Brandon Knight's foot as he dribbled up the court the second quarter. Calderon had to be helped out by two teammates off the court and x-rays taken were negative.
Calderon, who is averaging 10.5 points and 8.5 assists, good for third place in the league, also missed last night's loss at home against Milwaukee and is day-to-day.
Raptors coach Dwane Casey said he would go with Jerryd Bayless at the point and also Gary Forbes. Leandro Barbosa could also see some time there too.
Ginobili Unhappy With Home Woes
By now we're all familiar with the annual rodeo road trip that the San Antonio Spurs embark on every season as they're displaced from their home court in favor of the San Antonio Stock Show & Rodeo that held at the AT&T Center dating back to 2003.
Despite going 8-1 and tying a NBA record for most wins on a nine-game road trip, the Spurs have been a totally different team as of late in their friendly confines. They won seven straight during the trip before losing and then getting back in the win column heading into the NBA All-Star break.
The Spurs command just a two-game lead in the Western Conference standings, over the Los Angeles Lakers and hold a 2.5 game lead over Memphis in the Southwest Division but have lost three games at home during an seven-game homestand that concludes this Wednesday against Orlando.
Yet winning all those games during the road trip could quite well mean nothing if they keep playing they way they've done so in the loses to Chicago, Denver and the Los Angeles Clippers.
As reported in the San Antonio Express-News, to Ginobili the three defeats are one two many and really shrinks their lead in a tight-packed Western Conference playoff race where a few losses here and there could affect playoff positioning.
One, it can happen. Two, maybe. Three is too much," Ginobili said.
They can still come out looking well with a bad Washington Wizards team on deck for tonight and then the Magic.
Adry Torres, who has covered MLB, NFL, NBA and NCAA basketball games and related events, is a regular contributor to Fox News Latino. He can be reached at elpiloto137@gmail.com or follow him on Twitter: @adrytorresnyc.
Follow us on twitter.com/foxnewslatino
Like us at facebook.com/foxnewslatino