NBA Commissioner Adam Silver says he expects players to stand for national anthem
NBA Commissioner Adam Silver said Thursday he expected players in the league to stand during the national anthem.
Silver's announcement follows weeks of protests in the NFL and even on the baseball diamond, with many players choosing to kneel during the playing of the anthem. The demonstration, started last season by ex-San Francisco 49ers quarterback Colin Kaepernick, is in place to protest perceived racial injustices.
"Many of our players have spoken out already about their plan to stand for the anthem," Silver said at a news conference in New York City. "And I think they understand how divisive an issue it is in our society right now."
The NBA enacted a rule decades ago that requires players to stand for the anthem: "Players, coaches and trainers should remain reasonably still, stand tall in a straight and orderly line, and act in a respectful manner through the period," The Washington Post reported.
TRUMP RESCINDS NBA CURRY'S WHITE HOUSE INVITE AFTER 'STATEMENT' REMARK
Silver said the playing of the national anthem has always been a time for respect and reflection — even in a league where 25 percent of the players are not American — and recalled that many teams locked arms last season.
Silver said he wanted players to continue showing unity during the anthem – but to do it while standing.
"We have a rule that requires our players to stand for the anthem," Silver said. "It's been our rule for as long as I've been involved with the league, and my expectation is that our players will continue to stand for the anthem."
Silver did not say what would happen if players, coaches or trainers refused to stand during the anthem but said if it occurred they would "deal with it."
CNN ANALYST ANA NAVARRO TWEETS, DELETES DOCTORED PIC OF LEBRON JAMES HATING ON TRUMP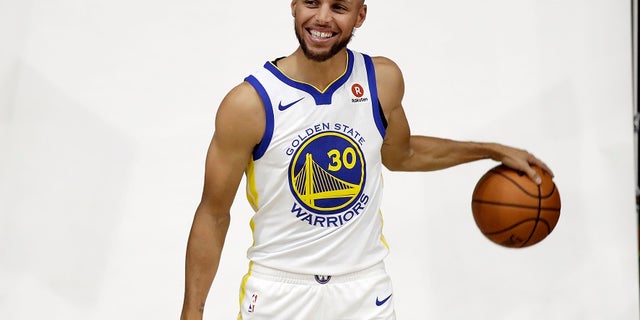 Silver's announcement comes almost a week after President Trump rescinded Golden State Warriors star Stephen Curry's invitation to the White House after Curry suggested to ESPN on Friday he did not want to go to the event in Washington to honor his team's NBA championship.
On Sunday, more than 200 NFL players knelt or sat during the national anthem after Trump said at a rally in Alabama last week: "Wouldn't you love to see one of these NFL owners, when somebody disrespects our flag, to say 'get that son of a b---- off the field right now? Out! He's fired! He's fired!"
The comment drew criticism from multiple NFL players, as well as NFL Commissioner Roger Goodell.
The Associated Press contributed to this report.