Much has changed in less than a year for Ohio State O-line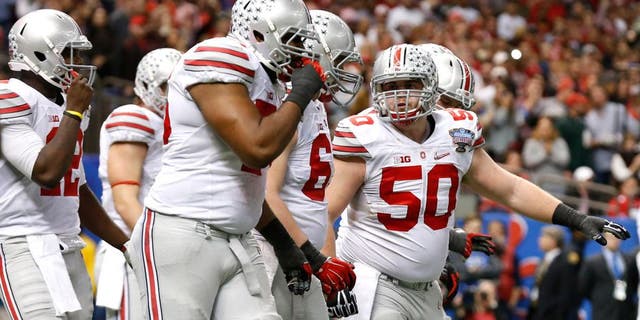 Just because Ed Warinner is not one for much boasting doesn't mean he lacks pride in what he does. Or, perhaps more importantly, pride in what his players do.
So it came as little surprise Monday when he spoke at length about how much the Ohio State offensive line he coaches has developed in the nearly full year since the Buckeyes were upset at home by Virginia Tech.
He also hinted the front might have taken more heat than it deserved after the 35-21 loss last season.
"Not every sack or every negative yardage play is the O-line's fault, but that's inherently what happens when you guys write about that, or for those who don't really understand what's going on," Warinner said.
"It's hard to block eight guys with six people, so there are usually going to be two people that are free. So sometimes it's we didn't get them ready and we didn't have good schemes for them as coaches or our answers weren't executed well."
A little bit of everything went wrong for the Buckeyes that night last September. A young quarterback missed some throws, a young running back missed some holes and inexperienced receivers dropped passes. A newly installed defense sprung a few untimely leaks, too, but much of the narrative centered on the play of the offensive line after the Hokies tallied seven sacks and held the Buckeyes to 108 yards rushing.
The coaching staff took its share of the blame, too, as Meyer and his assistants repeatedly explained they did not expect to see Virginia Tech use a "Bear" defensive front to cover up OSU's interior linemen and bring extra defenders into the box, as Warinner referenced Monday.
Future Buckeye opponents tried to mimic the strategy, at least in part, but to little avail, as the staff installed some counters to the Bear front and the line grew into a more cohesive unit adept at executing multiple blocking schemes.
Now they are considered one of the best offensive lines in the country as the 2015 season begins.
"Obviously, they're a mature group, very close group, a very veteran, weathered group that's gone through a season like we had last year -- finishing strong, playing well at the end of the year," Warinner said. "We have two guys who were voted captain in that group. So they're kind of the leaders, I would say, in how we do business and our mentality, but we're way further ahead because at this point now we're trying to make each one of them better in little details. Last year we were teaching them how to play, how to practice, how to get lined up, executing assignments. We're in more detail now of how to take it to the next level. They're great kids. It's great to have it."
The captains he referenced are center Jacoby Boren and fellow senior Taylor Decker, the left tackle. Boren was a first-year starter a year ago when the Hokies came to town, as were guards Pat Elflein and Billy Price and right tackle Darryl Baldwin.
Baldwin is gone, set to be replaced by senior Chase Farris, but the rest are all back after coming together to spearhead a ground game that became dominant late in the season.
The Buckeyes ran for 301 yards against Wisconsin in the Big Ten Championship Game and 281 more against Alabama in the Sugar Bowl. They topped it off with 296 rushing yards against Oregon in the College Football Playoff National Championship Game.