Montero's pinch-hit grand slam lifts Cubs past Dodgers in NLCS opener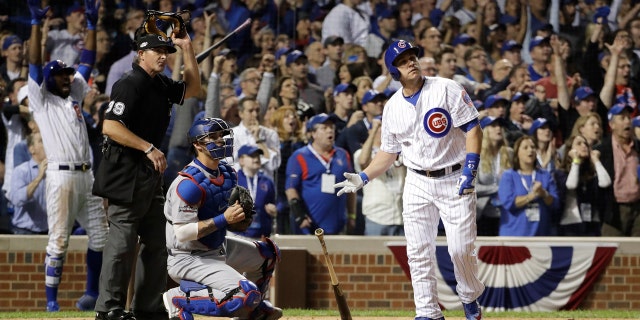 CHICAGO – Miguel Montero snapped an eighth-inning tie with the third pinch-hit grand slam in postseason history, and the Chicago Cubs beat the Los Angeles Dodgers 8-4 in their NL Championship Series opener Saturday night.

Pinch-hitter Chris Coghlan was intentionally walked with two outs in the eighth, loading the bases and bringing up closer Aroldis Chapman's spot in the batting order.

Cubs manager Joe Maddon sent up Montero, who drove an 0-2 slider from Joe Blanton into the right-field bleachers for his first hit of the playoffs. The crowd of 42,376 at Wrigley Field roared as Montero rounded the bases and kept cheering until the veteran catcher popped out of the dugout for a curtain call.

Dexter Fowler homered on the next pitch as the Cubs rebounded quickly from a shaky performance by their bullpen. Hector Rondon allowed Andrew Toles' RBI double in the ninth before Chase Utley lined into a game-ending double play.

Game 2 is Sunday night, with the Dodgers once again in need of a clutch performance from ace Clayton Kershaw. Major league ERA leader Kyle Hendricks pitches for the Cubs, who are three wins from their first pennant in 71 years.

Jon Lester pitched six solid innings, Javier Baez stole home with a daring dash to the plate and Fowler busted his belt on a flashy catch in center field to help Chicago take a 3-1 lead after seven innings. But the Dodgers rallied in the eighth, when Maddon brought in Chapman with the bases loaded and no outs.

Chapman struck out Corey Seager and Yasiel Puig before Adrian Gonzalez lined a 102 mph fastball back up the middle for a tying, two-run single. Gonzalez clapped his hands at first after delivering Los Angeles' first hit in 12 at-bats with the bases loaded in the playoffs.

But everything changed in the bottom half of a crazy eighth, leaving both managers to answer for a couple of difficult decisions. Lester was lifted for a pinch hitter after just 77 pitches, and the intentional walk to Coghlan put the go-ahead run at third.

Andre Ethier had for a pinch-hit homer for Los Angeles, helped by a strong wind going out to left and left-center on a warm night at Wrigley Field. Kenta Maeda lasted just four innings in his fourth straight shaky outing dating to the regular season.