Monmouth bench mob loses its mind after improbable comback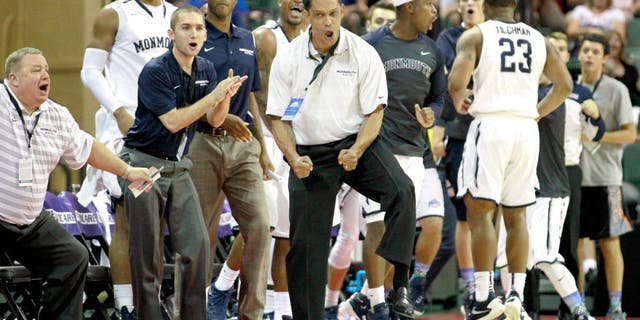 NEWYou can now listen to Fox News articles!
Monmouth was trailing Rider, 76-62, with 4:02 remaining.
The Hawks rallied in the final minutes to make it a one-possession game. Monmouth leading scorer Justin Robinson capped an improbable 17-2 run with a step-back 3-pointer from the top of the key with less than four seconds left to put the Hawks up one. The Broncs failed to get off a shot as Monmouth landed a 79-78 comeback victory on Friday night.
With the win, Monmouth holds a game and a half lead over Iona in the MAAC standings, and keeps its hopes of an at-large bid alive.
The Hawks have a pair of RPI top-25 wins this season over USC and Notre Dame, but losses to Army, Canisius and Manhattan leave them little room for error if they were to slip up in next month's MAAC Tournament.
Monmouth will be the favorite to win the MAAC's automatic bid, but it'll have to go through the likes Iona, Siena and Saint Peter's first.