MLB Quick Hits: Big night for Marlins' Realmuto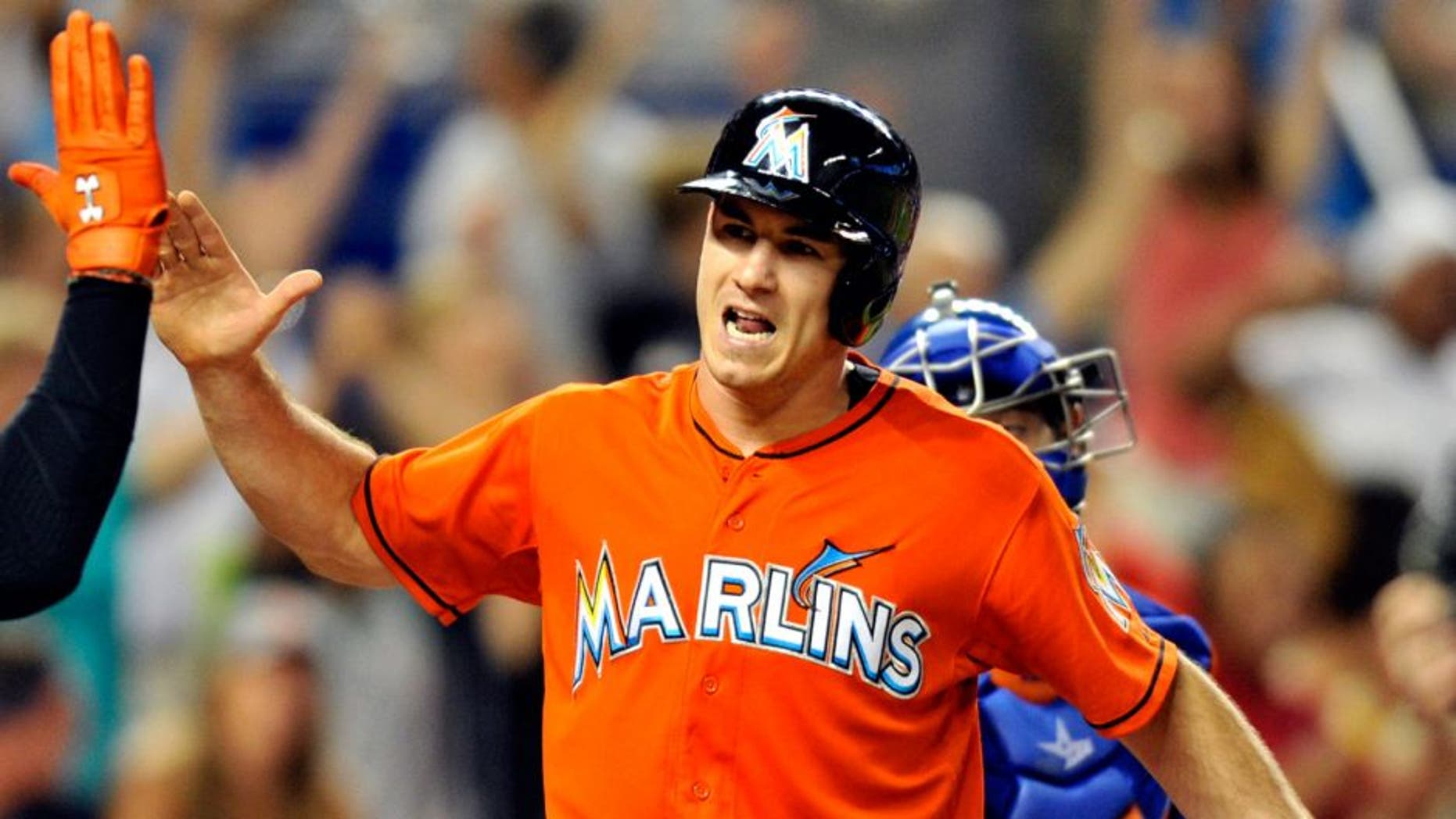 Marlins C J.T. Realmuto hit two home runs on Tuesday - a traditional homer in the second inning, and an inside-the-parker in the fourth. Realmuto's nine home runs rank him T-16 among catchers, while he's ninth in runs (44), 12th in BA (.249), T-16 in RBI (41) and first in stolen bases (six).
Those numbers aren't spectacular, but Realmuto has been a top-15 fantasy catcher this season, and is owned in just 4.2 percent of FOXSports.com leagues. If you need a backstop for your stretch run, you could do worse.
In other news ...
Marcus Stroman returns to the mound on Saturday for the Blue Jays, filling in for Mark Buehrle. Stroman's pitch count will be about 100, and even though it's his first game back after a four-walk outing at Triple A on Monday, I'd roll with him for fantasy purposes if I could.
Why did you come off the DL if you were going to pitch like that, Carlos Carrasco? Ugh.
Yankees SP Nathan Eovaldi (elbow) is probably done for the regular season. Teammate Brett Gardner missed Tuesday's game due to a jammed shoulder, and is day-to-day.
Also day-to-day: Nelson Cruz (quad), Adam Jones (shoulder), Yasmani Grandal (shoulder), Jimmy Rollins (knuckle). Grandal's injury is the one that could linger.
Phillies rookie SP Aaron Nola pitched seven shutout innings on Tuesday. Nola is now 6-2 with a 3.56 ERA, a 1.14 WHIP and 51 strikeouts in 60 2/3 innings. He'll certainly be worthy of mixed-league ownership - maybe as an SP4 - in 2016.
Twins closer Glen Perkins might get a shot to relieve pain in his lower back. Replacement Kevin Jepsen is owned in just 11.4 percent of FOXSports.com leagues, and could hold the job for the rest of the season.
Nats 1B Ryan Zimmerman is being called day to day with an oblique injury, but obliques tend to hang around. Find a backup plan ASAP if you own Zimmerman.
After being skipped, Mets SP Noah Syndergaard is scheduled to pitch Saturday. The team isn't saying when Matt Harvey will pitch next, or if he's already in Operation Temporary Shutdown after Tuesday's bad outing.
Kyle Schwarber (ribcage) was able to pinch hit on Tuesday after missing a week, and hopes to play today.
Let's go with J.A. Happ (owned in 24.3 percent of FOXSports.com leagues) at Cincinnati as today's streaming starter. Happ has allowed two earned runs in 30 innings over his last five starts, with 26 strikeouts against five walks. In my next life, I want to be a castoff pitcher who gets sent to the Pirates.
DFS advice (based on 50/50 games, salaries from DraftKings): The pitching options aren't deep tonight. I'll go with Happ ($7,000) and James Shields ($9,400), who's much better at home. I know Josh Tomlin has been great lately, but for $10K? Nah ... BvP alert: Reds 2B Brandon Phillips ($4,100) is 7-for-14 with three home runs against Happ ... LHB crush Julio Teheran. Maybe he's a slumpbuster for Ryan Howard ($3,300)? ... Phillies 2B/OF Odubel Herrera ($3,200), who has averaged 8.6 DK points over his last 10 games, is also a solid play ... Matt Wieters' ($2,700) bat has perked up lately, and his price is right against CC Sabathia ... Evan Longoria ($4,000) is a near-lock against rookie southpaw Kyle Lobstein ... Need a cheap OF? Tampa's Mikie Mahtook ($2,200) has been hitting near the top of the order, and earned 12 DK points on both Monday and Tuesday.
See you back here tomorrow morning.