Mike Jackson: I'm a more dangerous opponent for CM Punk than Mickey Gall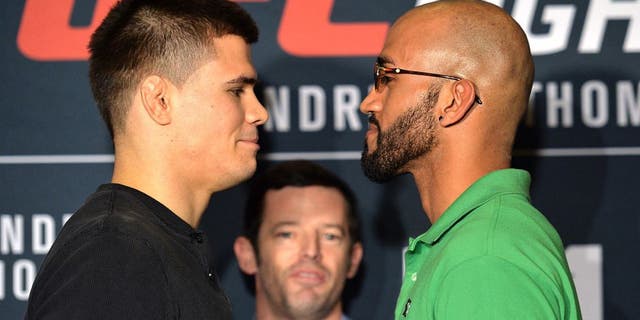 When Mike Jackson first got the call that the UFC was interested in signing him to fight a guy named Mickey Gall with the winner moving on to face CM Punk in his debut, it all sounded very surreal.
Jackson was a part-time fighter at best, who spent most of his time dedicated to covering MMA as a reporter rather that competing in the sport. He had even been credentialed as media to a few UFC events in Texas where he interviewed fighters but never had any plans to join them in the Octagon.
So when he first received the offer, even Jackson was a little confused about why he was getting this opportunity but he quickly realized that this wasn't the time to question things and instead answered the call to accept the UFC's invitation.
"Many people know that I cover a lot of MMA, primarily in Houston and I travel a little bit to other parts of the state, but I work for Legacy Fighting Championships and I'm good friends with Mick Maynard, who is the promoter. He has a great relationship with Dana White, as you can tell over the last few months we've seen quite a few fighters to the UFC," Jackson explained when speaking to FOX Sports.
"Mick gave me a call and this is a once in a lifetime opportunity and he asked if I would be willing to fight this kid Mickey Gall. They kind of told me 'you win this fight, you're getting CM Punk' and I was like 'what?'. It kind of threw me for a loop. Once I processed everything that was going on, you can't turn this down."
According to Jackson, he actually wasn't the first person the UFC called to offer the fight with Gall but he was the first to accept.
While Jackson isn't going to pretend that he's on the same level as fighters who have been competing to get into the UFC for years, when opportunity knocked on his door, he just had to answer. Now he's a UFC fighter about to make his professional MMA debut on the biggest stage in the world.
"When I first began training in 2008, and anyone who starts training, the ultimate goal is to get into the UFC. But for me, after training for a few years and figuring out that I wasn't necessarily going at the pace that a lot of guys who compete in the UFC are going, I knew that wasn't going to be an end goal for me," Jackson stated.
"I have several training partners who are in the UFC or have been in the UFC and I know what their skills are. Overall skill sets, these guys are well above mine but this particular fight, these special kinds of circumstances come up. How could I say no to this?"
When he was first presented with the offer to fight Gall at UFC Fight Night in Las Vegas this weekend, Jackson was told that the winner would go on to face the former WWE superstar in his debut bout inside the Octagon later this year.
Eventually, UFC president Dana White amended that statement and said that if Gall was victorious, he would go onto face Punk but the same offer didn't necessarily extend to Jackson.
While he didn't exactly get offended by the change in offers, Jackson promises with his performance on Saturday night that he'll get White to rethink his plans and give him the fight with Punk once he beats Gall impressively.
"As far as not being guaranteed the same shot he is, I think that's bad for business on the UFC's part. I understand why, they spent a lot of money sending a camera crew out with Dana White to go out here and watch these shows so I understand from an investment point of view. Being who I am, I understand the business side of this," Jackson said.
"But once that's said and done, I'm definitely the more marketable fighter. I have a better personality, I have the fan base and my fan base isn't just local like Mickey Gall. I have fans all over the world and one more caveat to this -- who wouldn't want to see CM Punk versus Michael Jackson in the Octagon at UFC 199? CM Punk versus Mickey Gall, that doesn't do it. CM Punk versus Michael Jackson sells tickets."
Whether it's Jackson or Gall, the MMA reporter turned UFC fighter doesn't see Punk's debut going very well for the former professional wrestler but he hopes to cash in on that opportunity as well once he's finished on Saturday night.
Jackson knows from covering the sport how a great fight needs to be promoted.
He believes a fight with Punk is exactly what the UFC needs for his debut although he warns that White better cash in that lottery ticket as soon as the fight is scheduled because Jackson promises to make short work of the former wrestler and send him packing from the ranks of MMA's elite fighters.
"Once this fight is behind me, once I get the victory, Dana White will come to his senses and it only makes sense to capitalize on this," Jackson said. "This is a once in a lifetime opportunity for CM Punk because he can't defeat me or Mickey Gall. I think stylistically, Mickey Gall would be a better matchup for CM Punk but me, I'm the more dangerous opponent for CM Punk.
"I have one-punch knockout power and this little experiment Dana White is doing is going to come to an end really quickly. It's best to get as lucrative as you can off this fight."