Michael Lewis: Rafa Marquez Must Go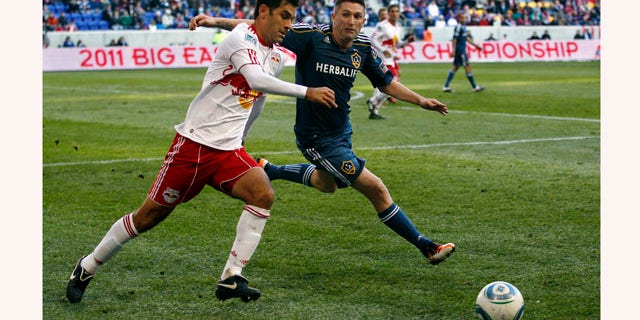 Rafa Márquez has worn out his welcome and then some.
The star defender's recent infantile antics have become a source of embarrassment, not just for himself, but for the New York Red Bulls as well.
It is time for the Red Bulls to send the captain of the Mexican National Team packing, and save his $4.6 million salary that has been essentially wasted on a player who obviously is disinterested in playing and helping the team.
You only need to look at what transpired after the Red Bulls' 1-0 playoff loss to the LA Galaxy at Red Bull Arena in Harrison, N.J. on Sunday.
If Márquez has played his last game with the Red Bulls, he forever will be remembered for the ball-throwing incident.
Immediately after referee Alex Prus blew the final whistle, Márquez instigated an ugly incident by throwing the ball at Galaxy star midfielder Landon Donovan.
LA midfielder Juninho retaliated and elbowed Red Bulls defender Stephen Keel in the face. Keel fell to the ground. Márquez and Juninho received red cards and both will be suspended from Thursday's second leg of the total goals series.
Nothing like coming through for your team when you're needed the most.
When it comes to confrontations with U.S. internationals, Márquez has become a thug.
Take a look at his rap sheet:
* In Mexico's humiliating World Cup 2-0 loss to Mexico at the 2002 World Cup, he head-butted Cobi Jones in the waning minutes.
* During a 2-0 World Cup qualifying loss to the U.S. in Columbus, Ohio in February, 2009, Márquez went studs up into goalkeeper Tim Howard while he was catching a cross.
* The Tim Ream incident, in which he threw his teammate under the bus. Márquez wasn't selected for the Red Bulls' next game after his comments, sort of an unofficial one-game suspension by coach Hans Backe.
* And now Donovan.
Red Bulls captain and striker Thierry Henry said he spoke to Márquez "briefly" after the game.
"He said he threw the ball or something like that," he said. "I don't know but at that time I was clapping to our fans. . . . That's not what you want to see at the end of the game. I would like to say that. Sometimes in the heat of the moment, stuff like that happens."
Márquez? Who knows what he was thinking.

He refused to talk to the media -- again.

We'll get to Márquez's silence in a minute.
Márquez's performance on the field has been embarrassing for someone of such an alleged international stature and has been nothing short of a disaster for the Red Bulls.
His lackadaisical play in the middle of the defense put more pressure on his line-mates, particularly Ream, his former central defending partner.
When Márquez was called on to take corner kicks, free kicks or penalty kicks, the fans behind the goal were in more danger of getting hit by an errant attempt rather than the Red Bulls securing a goal, his kicks were so off-target.

Márquez recently was ultra-critical of Ream under the bus with some critical comments, calling his teammate's errors, "infantile mistakes." That is a no-no in professional sports.
Well, now who is looking infantile?
If the Red Bulls management is smart -- and the way they have worked out trades and deals this year, that is disputable -- the front office should find a team, most likely one in Mexico, one that would be willing to take on the underachieving Márquez. I doubt any team in MLS would want to have such a disruptive force on the team, even clubs with such large Mexican populations (LA, Chicago Fire, Houston Dynamo and FC Dallas).
One thing is certain; Márquez hasn't become popular with the media covering the team, having refused to talk to the press for more than a month.
If a player doesn't talk to the media, he isn't communicating with the fans. Most players will get a pass for a game or two. In fact, Márquez has proven better slipping members of the media than man markers on the field.
If you are a designated player and earn some $4.6 million a year playing soccer, especially in the United States, it is a player's responsibility to meet with the press -- despite the good, bad and ugly -- after the game (the Red Bulls certainly have not gotten their money's worth out of Márquez).
If he can't do that, a player should abdicate his lofty position as a well-paid designated player and find another team somewhere else.
If Márquez has played his last game with the Red Bulls, he forever will be remembered for the ball-throwing incident. It was uncalled for.
When the Red Bulls needed him the most, Márquez won't be available.
But look on the bright side. His absence may be addition by subtraction for the Red Bulls, who at one time had a 10-game winless streak (0-3-7) when Rafa started, mostly at center back.
Since he was moved to a midfield spot in which he could inflict less damage, the Red Bulls are 3-2-1 since a 1-1 draw at Toronto FC. On the brighter side, the Red Bulls are 4-3-7 in games in which he doesn't play. So, perhaps there is some hope for the team in Carson, Calif. on Thursday night.
The sooner Márquez is gone from this team, the better.
Good riddance.
Michael Lewis, who has covered international soccer for three decades, can be reached at SoccerWriter516@aol.com.