Miami Dolphins are going back to the future with their scouting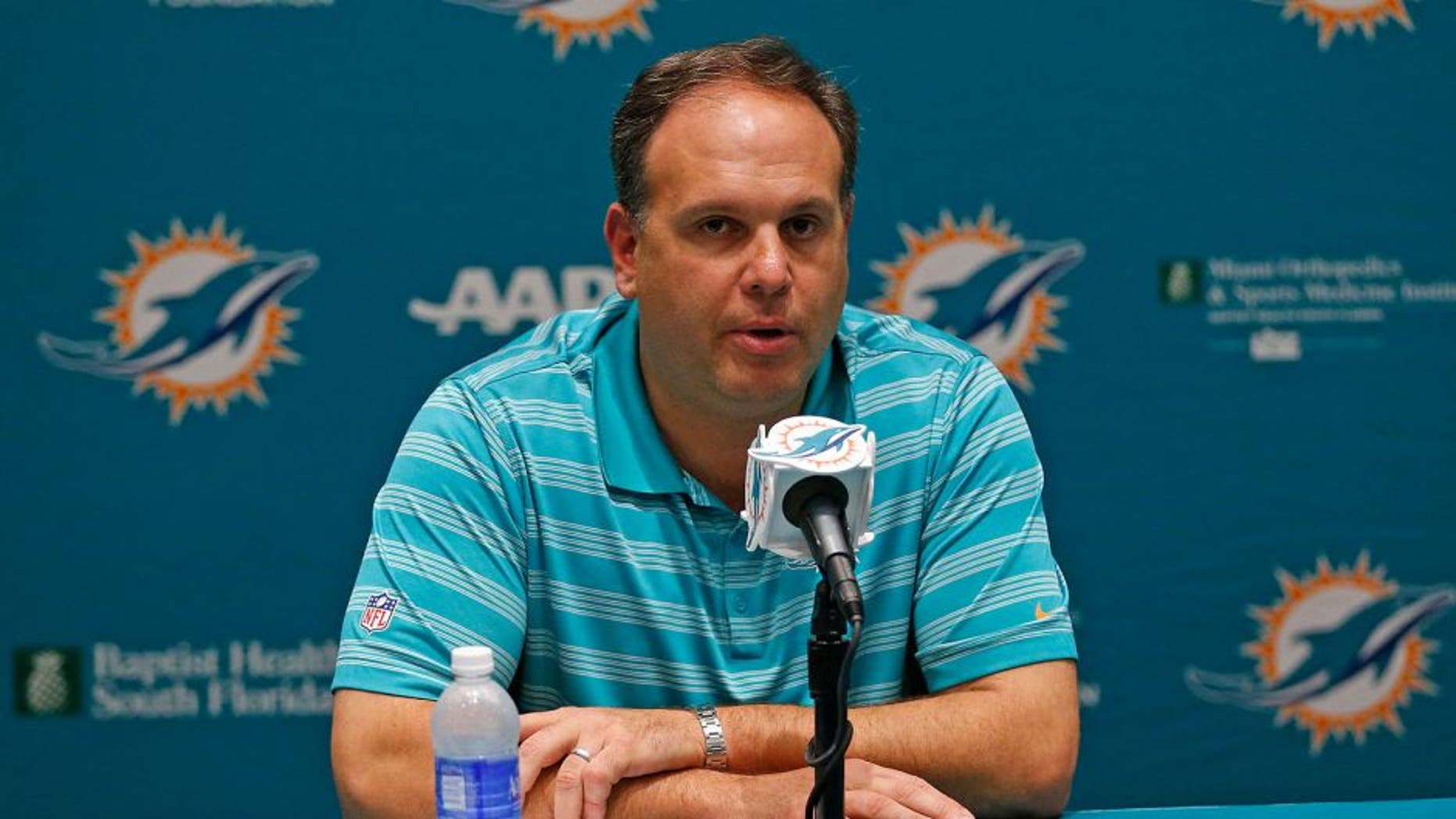 A new general manager has led to the return of an old scouting formula for the Miami Dolphins.
Dolphins executive vice president of football operations Mike Tannebaum said Wednesday that Miami is again using the "typing system" that was in place until Dennis Hickey was replaced as general manger by Chris Grier, who was a long-time Miami personnel assistant.
"Chris and I both believe in it," Tannebaum told me on SiriusXM NFL Radio. "Basically, we try to look at prototyping of what we think each player should have in term of requisite height, weight and speed for each position. They get a letter grade as well as a number grade.
"The idea is it helps set the foundation of the conversation. Is he too tall? Too short? Whatever it may be. That was all Chris' idea and I agreed with it."
One thing the Dolphins will continue to use is a mental quiz given to draft prospects at the NFL Scouting Combine in Indianapolis called siQ (sports IQ), ESPN reported. Players answer questions about football scenarios such as formations and what on-field decisions should be made while looking at plays on an Ipad.
Whatever scouting techniques and tools the Dolphins use moving forward, better draft results are needed if the franchise is to end a playoff drought that stands at seven seasons and counting. Outside linebacker Dion Jordan, the No. 3 overall pick in the 2013 NFL draft, was the biggest bust of the past four classes. After little production and two multi-game suspensions in his first two seasons, Jordan was banned for the entire 2015 campaign under the league's substance-abuse policy.
Other high to mid-round selections that failed to pan out for Miami in drafts between 2012 and 2015 were tackle Jonathan Martin (2012 second round), tight end Michael Egnew (2012 third round) and cornerback Will Davis (2013 third round). The jury is still out on cornerback Jamar Taylor (2013 second round) and guards Dallas Thomas (2013 third round) and Billy Turner (2013 third round).
And then there's quarterback Ryan Tannehill, whose steady development since being Miami's 2012 first-round pick ended with a disappointing 2015 campaign. The Dolphins are hoping that new head coach Adam Gase can get the same kind of positive results tutoring Tannehill as he did in recent seasons working with Denver's Peyton Manning and Chicago's Jay Cutler as an assistant.
The Dolphins also have assembled a new support staff for Tannehill led by new offensive coordinator Clyde Christensen, who just completed his 20th season as an NFL assistant working as Andrew Luck's quarterbacks coach in Indianapolis. Tannenbaum said he hopes these changes help Tannehill improve at some of the "subtleties of the position."
"Sometimes the most important play a quarterback can make is on third-and-four in the fourth quarter is the hard count or when to throw the ball away," said Tannenbaum, who signed Tannehill to a six-year, $96 million contract extension during the 2015 offseason. "There are some more little things Ryan can work on. But organizationally, we're very (committed to) Ryan. We're glad he's our quarterback."