Maurer saves Padres' 6-3 victory over slumping White Sox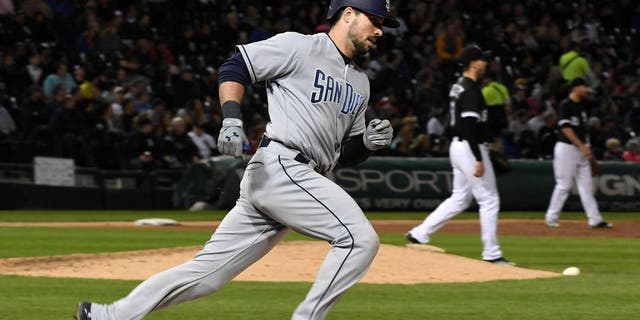 CHICAGO (AP) -- By the time Brandon Maurer got the ball on Friday night, his rough outing at Texas was way back in the rearview mirror.
Just a little speedbump in a long season.
Maurer worked around a leadoff single while recording his fifth save, helping the San Diego Padres to a 6-3 victory over the slumping Chicago White Sox.
Austin Hedges, Matt Szczur and Wil Myers homered for San Diego in the 10th game ever between the teams. Allen Cordoba had three hits, and Jhoulys Chacin (4-3) pitched into the seventh inning.
Maurer also pitched Thursday night and allowed four runs in the ninth inning of the Padres' 5-2 loss at Texas, including Mike Napoli's game-ending, three-run shot. Yolmer Sanchez opened the White Sox ninth with a leadoff single, but Maurer then retired three in a row.
"That's the only thing you're hoping to do is have the lead in the ninth and get out there and kind of redeem yourself a little bit," Maurer said.
Hedges drove in three runs with two out. He grounded a two-run double down the third base line in the third, giving the Padres a 3-0 lead. He delivered again in the fifth, hitting a drive to left off Miguel Gonzalez (3-3) for his eighth homer.
"He's an offensive threat anytime he's in the box," San Diego manager Andy Green said. "A pitcher makes a mistake, he's got the kind of power that can make somebody pay for it."
Leury Garcia connected twice for the White Sox, who have dropped six in a row and nine of 11 overall. Manager Rick Renteria met with his coaches for about 20 minutes after the game.
Garcia had four homers in 183 career games coming into the day.
"We've been in trouble the last couple games, but we keep battling, we keep playing hard, and we know it's going to turn around," Garcia said.
Garcia's fourth homer of the season chased Chacin and trimmed San Diego's lead to 5-3 with one out in the seventh. But the Padres used four relievers to close out their second win in their last nine games.
Jose Torres and Kirby Yates finished off the seventh before Ryan Buchter worked the eighth and Maurer closed it out. Buchter got some help from his defense when first baseman Yangervis Solarte went into the stands for a terrific catch on Matt Davidson's foul popup for the final out of the inning.
Gonzalez allowed five runs and eight hits in five innings. The right-hander also walked four and struck out two in his third straight loss.
"It felt like every inning they had someone on," he said. "I didn't have my best stuff tonight. I was just off, just felt tight."
MANY HAPPY RETURNS
Szczur homered on the first pitch of the game in his return to Chicago after he was designated for assignment by the Cubs last Saturday. It was his third start in four games with the Padres, who acquired him in a trade on Monday.
"It was an easy transition for me," Szczur said. "All the guys are great, and it's been enjoyable so far."
IN MOURNING
The White Sox will play the series with a short bench while starting shortstop Tim Anderson is back home in Alabama for the funeral of a close friend. The team was not able to use the bereavement list for Anderson because he did not lose a relative.
"Like I said, good for the organization for doing something like that for him," Renteria said. "Yeah, we're going to be one short but that's OK. We'll deal with it."
TRAINER'S ROOM
Padres: It sounds as if RHP Jarred Cosart (right hamstring strain) will be activated from the disabled list at some point this weekend. "Not happening today, obviously," Green said. "My initial thought is probably pushing it to Sunday."
White Sox: C Geovany Soto (right elbow inflammation) is scheduled to visit a doctor on Monday.
UP NEXT
Padres right-hander Trevor Cahill (3-2, 3.06 ERA) tries to win his third consecutive start in the second game of the series on Saturday night. Rookie right-hander Dylan Covey (0-3, 8.28 ERA) gets the ball for the White Sox, looking for his first major league win in his sixth start.