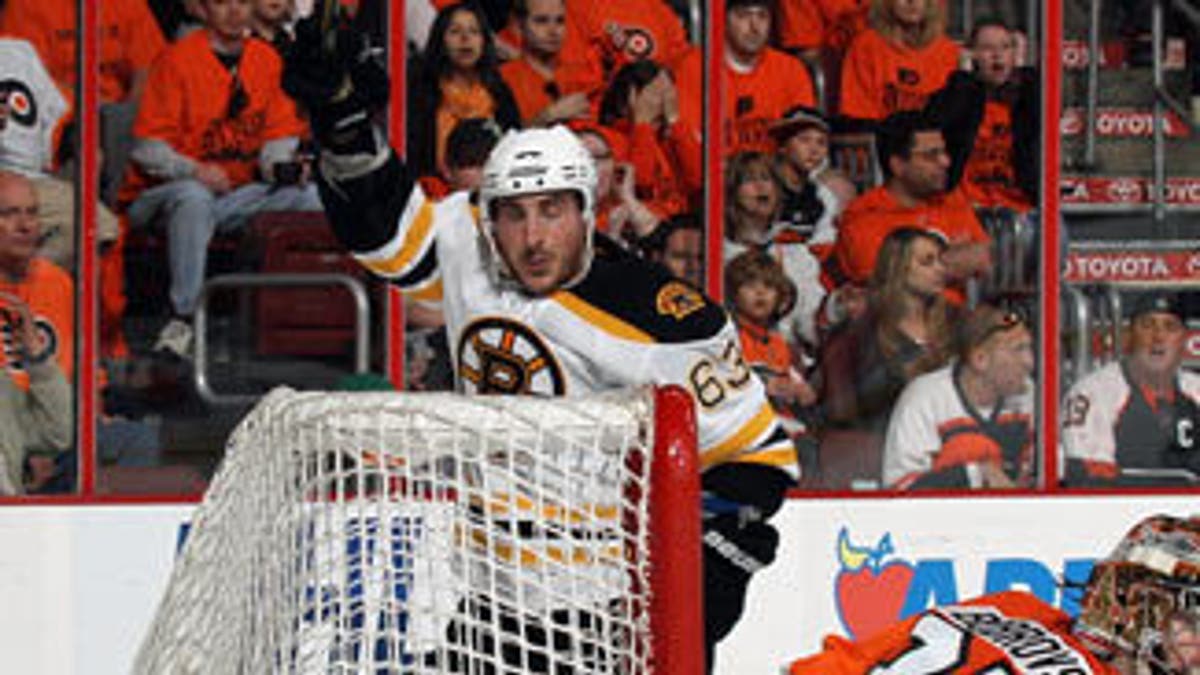 PHILADELPHIA -- Playing against Brad Marchand can be about as fun as dealing with a mosquito bite. It's an agitating, irritating experience, and it's made even worse when he does the things he did in Game 1 of Boston's Eastern Conference Semifinal series against the Philadelphia Flyers.
Marchand scored a pair of goals, assisted on another and got the Flyers riled up by playing his yappy, sandpaper style -- even drawing a penalty on Chris Pronger that evened up what was going to be a Flyers power play during Boston's 7-3 victory.
Marchand tied for fifth among rookies with 21 goals this season, his first in the NHL, but he developed a reputation as a first-degree pest. Playing that role, however, is far harder than it might seem.
"I feel like he's done a good job of that," linemate Patrice Bergeron said. "He's smart enough to know when it's time and when it's not. Even though he's a rookie, he was with us most of the year last year, he's learned that role. I feel like he's been doing pretty good. He's been doing great on the ice, but the role you're talking about (agitating role), he's been much better."
Marchand understands how to straddle that line, but knows it's an ever-evolving role.
"I've been talked to by a lot of guys on our team, and the coaching staff," Marchand said. "It is tough. The refs are trying to key in on it and make sure guys don't do a lot of it, on both sides. There is a time to do it and a time not to do it.
"I think it's just going to be a timing factor. They have a lot of guys over there who play the same kind of role. You want to try to use that to your advantage and try to get them off their game, but they're pretty good at it, too. If you let them get the better of you, you don't want to be the one taking penalties."
Instead of using his mouth to anger the Flyers, he used his stick. He drew an assist on linemate Mark Recchi's goal early in the second that made it 3-1, and late in the period he was standing just off the right post when the rebound of Bergeron's tip came right to him and he lifted it under the crossbar. Then late in the third, after the Flyers scored to cut the Bruins' lead to 5-3, he turned a Matt Carle turnover into his third goal of the postseason.
The line of Bergeron, Marchand and Recchi is expected to play a more defensive role in this series; their offensive contribution was a welcome addition.
"I think that we definitely have to play a shut-down role," Marchand said. "Same time ... we're very happy any time we chip in. We're expected to. Tonight was one of those nights we were happy with the success."
Marchand was a solid contributor in the opening round as well – he had a goal and 4 assists in Boston's seven-game win against Montreal.
"He's been great," Bergeron said. "He was great against Montreal and tonight he was really good."
Bruins coach Claude Julien has been pleased by what he's seen from Marchand in all aspects of the game.
"Brad has gotten much better," he said. "We're going to stand here and say there's always room for improvement, but he's been so much better at being able to ride that fine line. He's one of those guys that can be a pest, but he's also a very good hockey player. We need him as much on the ice as anything else. But you never want to take away one of the things he does well. You've got to let him do it and as long as he doesn't cross the line I have no issues with that."
Marchand said he didn't do a lot of talking during Game 1, but he's fairly sure that will change as the series goes on.
"You want to stir the pot and get them going," he said. "Tonight I wasn't doing a ton (but) we'll see how the series goes on. … I think we're going to see more of it as the series goes on just because it's going to be an emotional series."
Contact Adam Kimelman at akimelman@nhl.com.