Lyoto Machida suspended 18 months for doping violation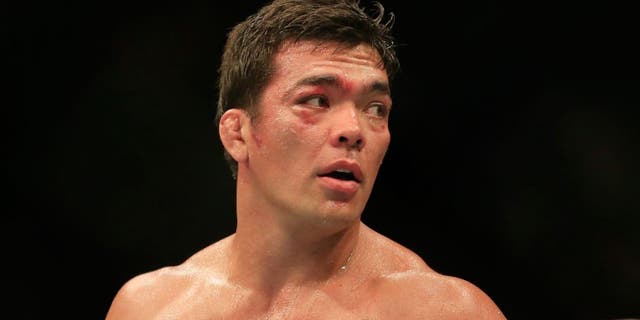 Former UFC champion Lyoto Machida has been suspended for 18 months after admitting use of a banned substance as well as failing a subsequent drug test administered by USADA (United States Anti-Doping Agency).
Machida accepted the sanction according to USADA officials in a release sent to FOX Sports on Wednesday.
"During an out-of-competition test conducted on April 8, 2016, Machida, 38, declared the use of a product containing 7‐keto-dehydroepiandrosterone (7‐keto‐DHEA) on his sample collection paperwork. 7‐keto‐DHEA is a prohibited substance in the class of Anabolic Agents and prohibited at all times under the UFC Anti-Doping Policy, which has adopted the WADA Prohibited List," USADA officials wrote in the release.
"Upon notice from USADA of his potential violation, Machida immediately confirmed his use of the product, which listed 7-keto-DHEA as an ingredient, and fully cooperated with the subsequent investigation after advising USADA that he did not realize 7-keto-DHEA was a prohibited substance when he used the product."
According to USADA, Machida then failed the out of competition drug test that showed proof that he used the banned substance ahead of his last scheduled fight this past April when he was scheduled to face Dan Henderson in Florida.
"Machida's sample was analyzed at a World Anti-Doping Agency (WADA)-accredited laboratory and reported to USADA for an elevated 7β-hydroxy-DHEA to DHEA ratio, which is consistent with his declared use of a prohibited substance," USADA officials said.
Machida was pulled from the fight with Henderson and the bout was cancelled.
Now the former light heavyweight champion has been suspended for 18 months, retroactive to April 8, 2016, which means he would be eligible to return to action in October 2017.
USADA officials stated that because Machida admitted to taking the banned substance prior to the test, it led them to reduce his sentence from a standard two year suspension down to 18 months as a result.
It's been a particularly rough run for Machida over the last couple of years after he moved to middleweight and eventually fought for the title against Chris Weidman in 2014.
Since that fight, Machida has gone just 1-2 while suffering a submission loss to Luke Rockhold as well as a knockout to Yoel Romero before the failed drug test knocked him out of action for the remainder of 2016 and now most of 2017 as well.