Lt. Gov. enlists Texas Rangers to find Tom Brady's missing Super Bowl jersey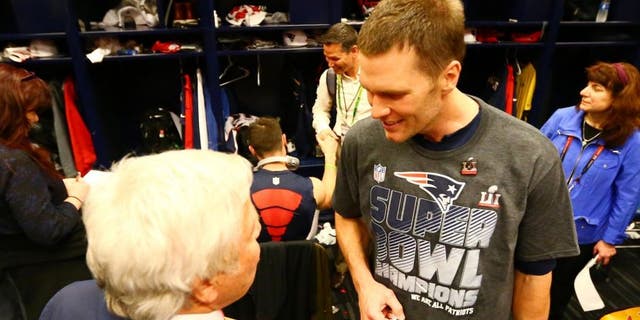 The jersey that Tom Brady wore in the Patriots' historic Super Bowl LI comeback has gone missing and no one knows where it is. Brady confirmed the unfortunate news on Monday morning, saying it was taken from his bag in the locker room.
He asked everyone to keep an eye on eBay and to let him know if it turns up. Word has obviously gotten out about the fact that his jersey is nowhere to be found, and Texas Lt. Gov. Dan Patrick is pulling out all the stops to find it.
He issued a statement on Monday, enlisting the Texas Rangers -- no, not those Rangers (we'll hear from them later) -- to retrieve Brady's jersey after it was taken from NRG Stadium in Houston.
"In Texas we place a very high value on hospitality and football. Tom Brady's jersey has great historical value and is already being called 'the most valuable NFL collectable ever.' It will likely go into the Hall of Fame one day. It is important that history does not record that it was stolen in Texas. I've called Colonel Steve McCraw to ask that the Texas Rangers work with the Houston Police Department on this case.
"I'm a Texans and Cowboys fan first, but the unquestionable success of the Super Bowl in Houston last night was a big win for our entire state and I don't want anything to mar that victory. Whoever took this jersey should turn it in. The Texas Rangers are on the trail."
The Houston Police Department is already on the case, according to Patrick, and now he's putting the Rangers on the case. After catching wind of the request, the Texas Rangers -- yes, the baseball team -- responded on Twitter.
Fear not, Tom. Multiple law enforcement agencies and a MLB team are working leads. Your jersey will be safe and sound in no time.