Los Angeles Angels back Mike Trout after commissioner's comments on 3-time MVP's marketability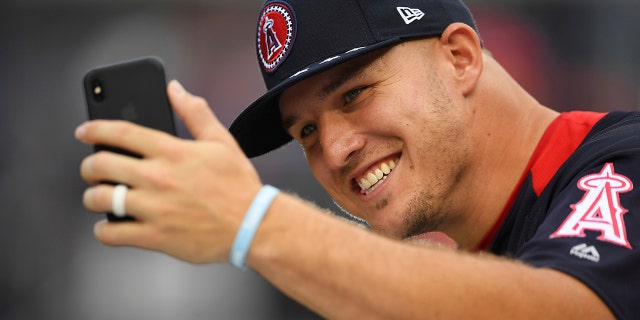 A day after Major League Baseball commissioner Rob Manfred took a surprising public shot at one of the most lauded and popular players in the game, the Los Angeles Angels made it clear they had Mike Trout's back.
Trout, 26, is in his eighth MLB season with the Angels and has already racked up a careers-worth of accomplishments: American League Rookie of the Year, 2-time AL Most Valuable Player, 7-time All-Star, 2-time All-Star Game MVP, .306 lifetime average and 226 home runs. For five consecutive seasons, from 2012-2016, he finished either first or second in MVP voting.
So Manfred raised more than a few eyebrows when he criticized Trout's marketability during his annual press conference Tuesday before the MLB All-Star Game, according to the Orange County Register.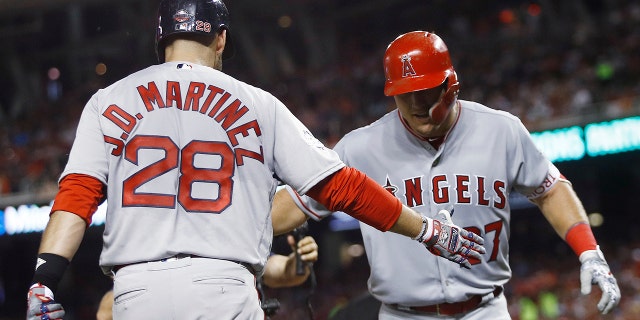 "Mike is a great, great player, and a really nice person, but he's made certain decisions with what he wants to do and what he doesn't want to do, and how he wants to spend his free time and how he doesn't want to spend his free time," Manfred said. "That's up to him. If he wants to engage and be more active in that area, I think we could help him make his brand really, really big, but he has to make a decision that he's prepared to engage in that area. It takes time and effort."
Despite Manfred's critique, Trout has endorsement deals with several companies, including Nike, Subway, Old Hickory Bat Co. and Eastbay, according to the Register.
A few hours after the Manfred remarks, Trout hit a home run during the third inning of the All-Star Game and also conducted an interview with the game's broadcasters while playing the outfield.
On Wednesday the Angels responded by releasing a statement that made it clear the organization stood shoulder-to-shoulder with their franchise player. But while the point of the statement was thinly veiled, the Angels didn't mention Manfred by name.
"Mike Trout is an exceptional ambassador for the game," the statement said. "Combined with his talent, his solid character creates a perfect role model for young people everywhere. Each year, Mike devotes a tremendous amount of his time and effort contributing to our Organization, and marketing Major League Baseball. He continually chooses to participate in the community, visiting hospitals, schools, and countless other charities."
The team added: "One of Mike's traits that people admire most is his humility. His brand is built upon generously spending his time engaging with fans, both at home and on the road, while remaining a remarkable baseball player and teammate.
"In addition, Mike spends quality time as a husband, son, brother, uncle, and friend. We applaud him for prioritizing his personal values over commercial self-promotion. That is rare in today's society and stands out as much as his extraordinary talent."
Trout also issued a statement of his own, saying he was ready to move on from the controversy.
"Everything is cool between the Commissioner and myself. End of story. I am ready to just play some baseball!" Trout said.