Lobos come from behind to beat Aggies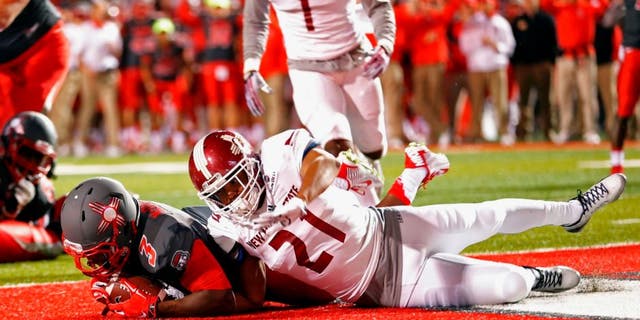 NEWYou can now listen to Fox News articles!
ALBUQUERQUE, N.M. -- Teriyon Gipson scored the go-head touchdown early in the fourth quarter to cap New Mexico's come-from-behind, 38-29 victory over New Mexico State on Saturday night.
New Mexico State's Larry Rose III rushed for a career-high 260 yards and three touchdowns, but it wasn't enough to prevent New Mexico from winning its fourth straight game in the rivalry.
The Lobos (3-2) scored 24 straight points despite missing two field goals to turn around a 15-point, second-half deficit.
Down 29-14 early in the third quarter, New Mexico's Richard McQuarley scored on a 6-yard run, and Jhurell Pressley ran for a 32-yard touchdown before Gipson scored on a 36-yard run with 10:19 to play. Gipson finished with 142 yards on 19 carries. Pressley ran for 99 yards on 18 carries.
The Lobos' Maurice Daniels sacked Nick Jeanty for a safety with 2:00 left to cap the scoring.
Lobos quarterback Lamar Jordan added 157 yards rushing, including a 70-yard scoring run in the first quarter. He missed on his first seven pass attempts and finished 5 of 17 for 45 yards passing.
Rose amassed 251 yards in the first three quarters before he was stymied in the fourth quarter. His total was the third best in school history.
New Mexico had two interceptions, and nickel back Lee Crosby forced a fumble and recovered it in the end zone for a touchdown. Crosby also finished with a team-high nine tackles, including a sack and two others for losses.
New Mexico State (0-4) had a 22-0 scoring outburst of its own wrapped around halftime, with Rose going in on runs of 67 and 51 yards. Larry Davidson connecting on three field goals.
Both teams topped 400 yards of total offense, with most of that on the ground on a breezy night that made passing difficult.