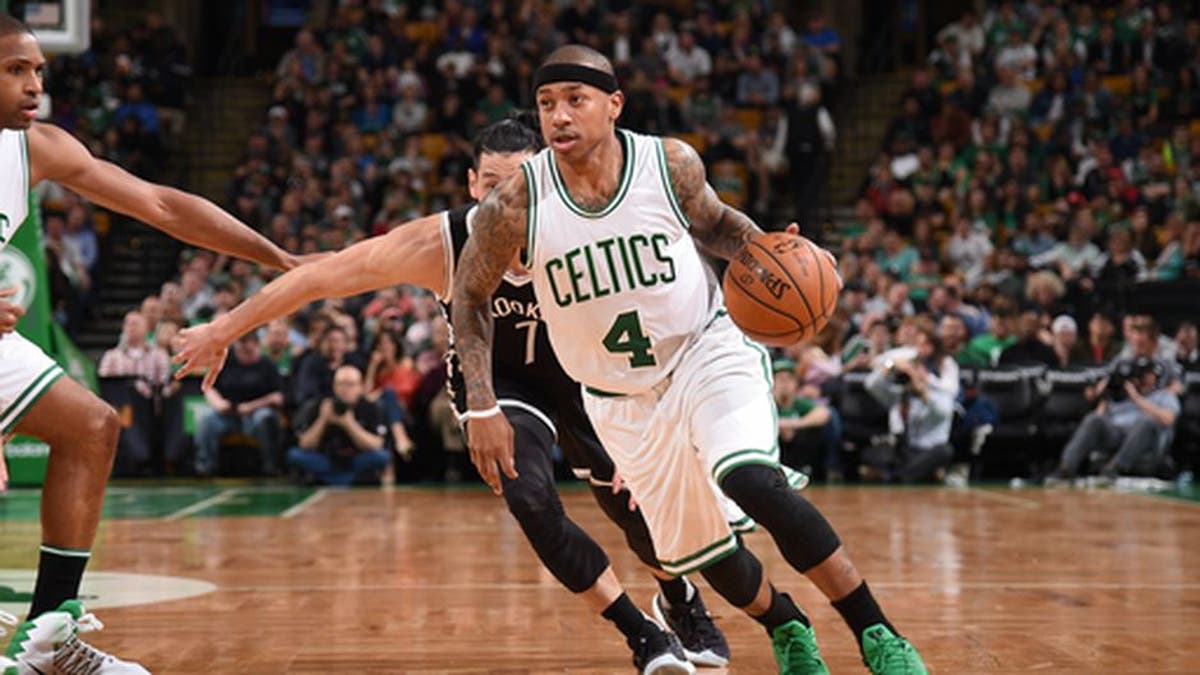 BOSTON (AP) -- There's a cloud trailing Isaiah Thomas these days. In his basketball world, though, there's also been light. And, on occasion, even some levity.
Minutes after Thomas posted a 33-point, seven-assist effort to lead Boston to a Game 4 road win over Chicago, the Celtics guard was asked what he thought about Bulls coach Fred Hoiberg's contention that he was getting away with dribbling the ball illegally.
The question made Thomas chuckle.
"That's not the reason why I'm an impossible cover," Thomas quipped. "I don't know. I guess he's gonna just keep saying it."
Thomas' response also made his two sons, seated next to him on the podium, cackle with laughter.
"It's not that funny," Thomas, by then himself smiling, said to his kids.
Maybe that's because by now the 5-foot-9 All-Star is more than accustomed to people questioning his ability.
It's been only a week since the death of Thomas' younger sister, Chyna Thomas, in a car accident triggered what the 28-year-old has called the "hardest week of my life."
But, with the top-seeded Celtics headed back home for Game 5 on Wednesday having successfully tied their first-round series with Chicago, Thomas is answering the biggest challenge of his career the only way he knows how -- by not letting anyone diminish the stature he's built in Boston.
"Not one man can guard me. And that's just the confidence I have," Thomas said.
Aside from being Boston's first All-Star since Kevin Garnett and Rajon Rondo in 2012-13, he's the first undersized guard to excite Celtics' fans since Nate Robinson. Off the court, Thomas acknowledges "mentally and emotionally I'm not here," but on the court he's again producing like the player Boston will need to be at his best if it hopes to dethrone the Cleveland Cavaliers as Eastern Conference champions.
"I'm just feeding off what (my teammates) give me," Thomas said. "They give me a lot of confidence. I can't do it without those guys."
Maybe not, but he continues to be the engine of a Boston team that is finally starting to look like the East's No. 1 seed.
With two 33-point games in four games against the Bulls, Thomas is currently averaging 25.5 points and shooting 45.8 percent from the field -- both playoff career highs.
It's becoming contagious for his teammates, who also have rallied over their past two wins after acknowledging being emotionally drained themselves during Games 1 and 2.
The biggest example has been veteran Gerald Green, who coach Brad Stevens inserted into the starting lineup for Game 3 after his team was beaten up physically in back-to-back losses to Chicago.
With tears in his eyes, Green said before that game that he was dedicating his entire postseason to Thomas, calling him "one of my closest friends in the league."
Green has responded with instant energy. He scored eight points in Game 3, and posted 18 points and seven rebounds in Game 4, while going 4 for 9 from the 3-point line.
"It's just something that we're gonna have to get through," Green said. "It's definitely gonna motivate me to get through this postseason. I'm playing this postseason for him."
There are also new visible representations of their support for Thomas. The team is wearing a black stripe on its jerseys to honor Chyna. It's a gesture usually reserved for the passing of team officials or former players,
Garnett is keenly familiar with what the full embrace of Celtics Nation feels like, having helped bring it its last championship in 2008.
Watching from afar he said he sees a player that is hurting emotionally, but is plenty capable of using his pain to inspire himself and the city. It also may be been what prompted him to send the team a special video message, which Thomas shared with them before Game 3.
"There's no better outlet than to have an outlet, first off. And let it be sports, where he can still be inspired," Garnett told The Associated Press. "He can still go out and play. And he's going to play like that."
Garnett said he is anticipating seeing "a special playoffs" from Thomas.
"It's going to carry the Thomas name, Chyna's legacy, everything she stood for," Garnett said. "It's going to be in every shot, it's going to be in everything that he does."
Thomas said the court has been his sanctuary.
"Being here, I guess, is what makes me sane," Thomas said. "It makes me feel somewhat normal through this tough time."
-- --
AP Basketball Writer Jon Krawczynski in Minneapolis contributed to this report.