Lionel Messi plans to sue Spanish newspaper linking him to 'Panama Papers'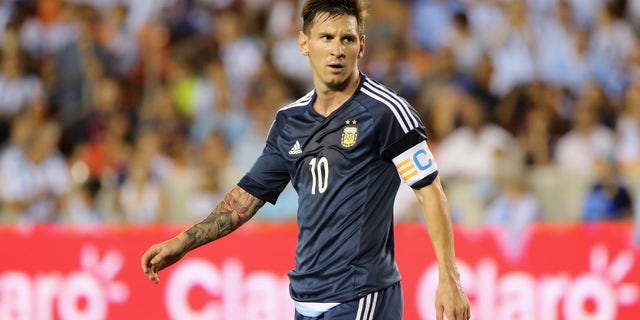 NEWYou can now listen to Fox News articles!
Lionel Messi is reportedly planning to sue a Spanish newspaper for defamation after he was linked to tax evasion practices exposed by the so-called Panama Papers.
The newspaper El Confidencial said the Argentinian soccer star was involved in "setting up a tax fraud network" through a Panamanian company – Mega Star Enterprises – with the alleged purpose of avoiding taxes on image right deals.
The accusations against Messi emerged after the leak of more than 11 million documents from Panama-based law firm Mossack Fonseca, which has international offices providing offshore financial services.
According to the Mirror, a British newspaper, El Confidencial produced documents with the signatures of Messi and his father Jorge when acquiring the company a day after they were indicted by Spanish authorities for unpaid tax fraud.
Messi's family dismissed the accusations, confirming that they are considering legal action against "media outlets that have published this news," Goal.com reported.
"In response to the news released by various media outlets in which Lionel Messi is held responsible for the forming of a company with the aim of 'putting in place a new web of tax fraud', the Messi family wishes to make it clear that Lionel Messi has not carried out any of the actions he is accused of, the accusations of having created a new web of tax fraud and, even, money laundering, are false and libelous," the statement read.
It continues: "The Panamanian company referred to in the reports [Mega Star Enterprises] is a completely inactive company, which never held open accounts nor funds and which comes from the former company structure put in place by Messi's previous financial advisers, the fiscal consequences of which have already been normalized, with all the income that comes from exploitation of his image rights, prior to and after the procedure carried out in the courts, having been declared before the Spanish Treasury."
The family said the information published is "based on mere conjecture and come from biased documentation, which has been released using the Messi surname and his reputation as a demand."
"The Messi family has instructed their lawyers from the Cuatrecasas Goncalves Pereira legal firm to analyze the possible filing of legal action against the media outlets that have published this news," the statement concluded.
Barcelona said it was fully behind its player.
"FC Barcelona has sent its affection and support to the player and to his whole family," the team said. "The Club makes all of its judicial means, fiscal and administrative, at the family's disposal in order to make his actions and honor clear in this case."
Hundreds of businessmen, criminals, celebrities and sports stars are named in the investigation report brought to light by an international coalition of media outlets with the Washington-based International Consortium of Investigative Journalists.
The consortium said the documents – based on a cache of 11.5 million records – involve 214,488 companies and 14,153 clients of Mossack Fonseca. The nonprofit group said it would release the full list of companies and people linked to them early next month.
According to La Nacion in Argentina, the Spanish tax agency has decided to investigate the new claims against Messi and his father.
"The known information is being analyzed for possible tax fraud whose statute of limitations has not lapsed," a source told the newspaper.
In a separate case, Messi and his father are accused of defrauding Spain's tax office of $4.4 million in unpaid taxes from 2007-09. A trial has been set for May 31.
Spain's tax office has announced that it will investigate all the tax filings for all Spanish residents mentioned in the documents.
Ramon Fonseca, one of the founders of the investigated firm, confirmed to Panama's Channel 2 television network that documents in question were authentic and had been obtained illegally by hackers.
However, he said most people named in the reports were not his firm's direct clients but accounts set up by intermediaries. He said the firm did not engage in any wrongdoing.
"This is an attack on Panama because certain countries don't like it that we are so competitive in attracting companies," he told AFP.
"This is a crime, a felony," he said.
Other high-profile people mentioned in the papers includes President Mauricio Macri of Argentina, aide to former Argentine President Cristina Krichner, the sister of former Spanish king Juan Carlos I, Spanish director Pedro Almodovar, and people close to Russian President Vladimir Putin.
The Associated Press contributed to this report.
Like us on Facebook
Follow us on Twitter & Instagram