Kyle Busch on Stenhouse: 'Just had to hold him off, and we didn't'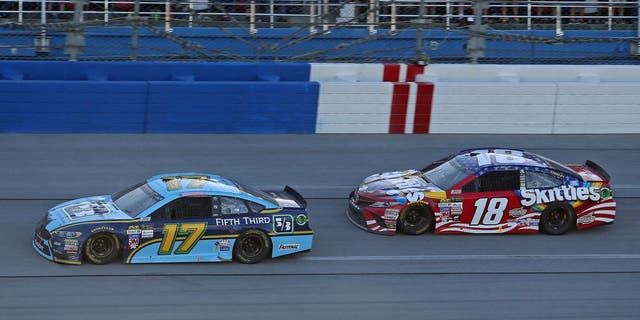 Kyle Busch has one career victory at Talladega Superspeedway in what is now the Monster Energy NASCAR Cup Series.
He was on the cusp of making it two Sunday when it all unraveled for him on the final lap of a green-white-checkered overtime finish.
Busch was leading in his No. 18 Joe Gibbs Racing Toyota coming into Turn 2 after getting yet another in what was a series of terrific restarts when the No. 17 Roush Fenway Racing Ford of Ricky Stenhouse Jr. caught him, battled him door-to-door briefly and then passed to the inside of him for what turned out to be the race-winning move.
I don't really know where it all happened or transpired or how many to go it was, but (the) 17 got a run from behind off of Turn 2, and I don't know what his help was or anything like that, but he actually ran into the back of me, Busch said. You'd think that that momentum would propel me forward some, and he just turned left and went right by me.That was pretty impressive, I guess, or I was just that slow and in his way.
Busch also got passed by Jamie McMurray in the No. 1 McDonalds-sponsored Chevrolet coming to the checkered flag, and ended up finishing third.
It was really just kind of crazy there, Busch said. I didn't even know how McMurray got to the middle off of Turn 2.I was on the outside of the 48 (of Jimmie Johnson), and he just muscled us right on through there, and so all in all, it must be all those Big Macs.
Busch led a race-high 47 laps Sunday, and took some solace in that. He last won at the 2.66-mile Dega track in spring of 2008, but now has two second-place finishes and a pair of thirds in the 17 races he's run there since then.
Overall we had a great car, he said. We were up front the beginning part of the race, kind of fell back through the middle stage of the race, and then got back up there at the end. We were in the dog seat and the position to win. We just had to hold (Stenhouse) off, and we didn't do it.