Kobe is ready to prove people wrong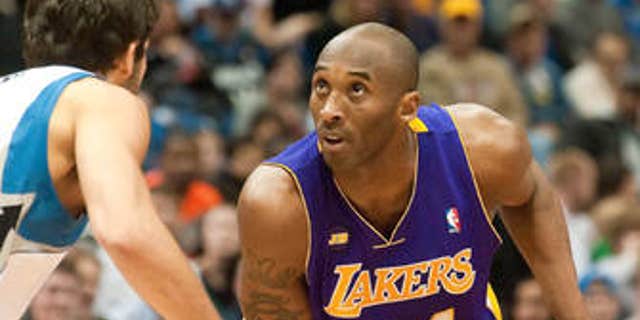 Most 35-year-old NBA players would be happy to be starting on a team's roster, let alone be ranked as one of the 25 best players.
But when Kobe Bryant was asked about being ranked 25th by ESPN, he suggested the people who agree are in need of examining. He was ranked No. 6 by them last year and dropped 19 spots. Kind of drastic.
What are you saying about the folks who wrote it then, Kobe? Check what he told an LA Times reporter:
Kobe Bryant just said anyone who thinks he's 25th best player in the world needs drug testing
-- Eric Pincus (@EricPincus) October 24, 2013
I'm not sure about the drug testing, but Kobe has reason to grind his teeth about this ranking.
Yeah he's 35 and rehabbing that torn Achilles, which will take time to heal, but just last season Kobe finished second in the league with 27.3 points per game and was also in the top 10 in player efficiency rating. He's the only player to average that much scoring starting the season at 34 years old.
There is no reason Joakim Noah and John Wall should be ranked higher than Bryant. Period. No disrespect to those guys, but seriously though?
I'm just hoping he eventually doesn't result to the rap artist route to prove he's still got it. Remember when Roy Jones tried to remind the world with this record? It wasn't good.
ESPN probably did that on purpose just to have Kobe come back better than ever. That's the only logical explanation I can come up with. They must want to serve as a fire starter for the Mamba.
This ranking was just poking at the sleeping giant. He made it clear from the change in his Twitter avatar to '1225' for ESPN predicting the Lake show would finish 12th in the West and Bryant's rating.
Kobe says that's just a reference to his pet being born on Dec. 25, but c'mon, man. Anyone who believed that should be the ones getting tested for drugs.
If you want Bryant to go out peacefully without a fight, don't doubt him, because he will use that as motivation. But if you want to see the Mamba rise to the top like he's done year in and year out, by all means, keep talking.
Rank him behind Samaki Walker, why don't you?
Follow Nick Creegan on Twitter
The original article can be found at FOXSports.com: Kobe is ready to prove people wrong.