King Felix Hernandez Loses 4th Straight For First Time Since 2008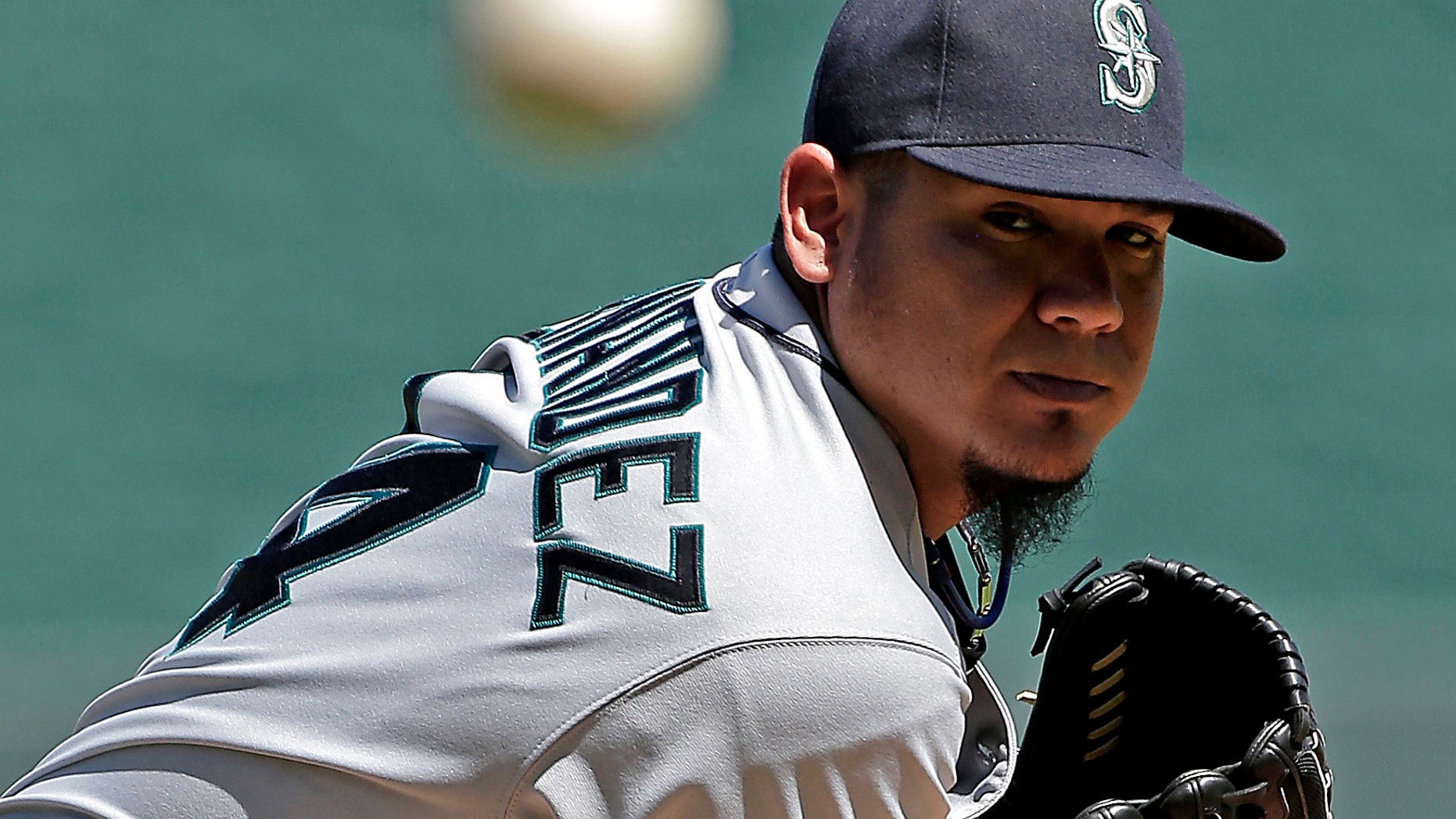 Felix Hernandez has got it bad. A bad back that is.
Monday "King Felix" lost his fourth straight start, the first time that has happened since 2008, as the Kansas City Royals beat the Seattle ace 3-1.
Hernandez (12-9) left in the seventh inning with lower back cramps, although the condition is not expected to be serious.
The right-hander was led off the mound by Mariners manager Eric Wedge and trainer Rick Griffin after his third pitch to Alex Gordon with two outs. Hernandez threw 105 pitches overall.
"The second pitch to Gordon I felt it cramping," Hernandez said. "It's just a cramp. It'll be OK."
Hernandez has a 7.84 ERA during his losing streak, and is 1-5 with a 6.42 ERA in his past six starts. The 2010 AL Cy Young Award winner has only one victory in eight starts since a July 21 win at Houston.
Hernandez pitched better against the Royals than he has in recent starts, holding them to six singles and three runs.
"All his stuff was good," Mariners catcher Mike Zunino said. "He did a good job mixing his pitches up and used all four pitches today. He was good."
Hernandez fanned the side in the first and finished with six strikeouts, bringing his season total to 200. It is his fifth consecutive 200-strikeout season, which matches Randy Johnson's club record from, 1991-95.
"Felix had outstanding stuff," Royals manager Ned Yost said. "He really was on top of his game."
Will Smith (2-1) pitched 4 1-3 innings of scoreless relief to pick up the victory, allowing just one hit, after starter Danny Duffy failed to make it through four innings. Five of Smith's strikeouts took only three pitches.
Greg Holland pitched a one-hit ninth for his 37th save in 39 opportunities.
The Royals broke a 1-all tie with a two-run fifth, which Jarrod Dyson led off with an infield single and advanced to third on Alcides Escobar's hit-and-run single to right. Dyson scored on Hernandez's wild pitch and Escobar scored on Emilio Bonifacio's sacrifice fly.
Duffy, who had elbow surgery last year, departed after 3 2-3 innings and 91 pitches. Duffy allowed one run on five hits and four walks, while striking out four before being replaced by Will Smith.
Brad Miller's two-out triple in the fourth scored Abraham Almonte, who had doubled.
Hernandez, however, could not hold the lead. He gave up three consecutive hits with one out in the fourth with Mike Moustakas' single bringing home Eric Hosmer.
"It was tough luck," Hernandez said. "A lot of groundballs to the outfield. It happens. I commanded the fastball better."
Duffy threw 68 pitches in the first three innings and stranded six runners. He struck out Kendrys Morales and Justin Smoak swinging to end the first with two runners on base.
Michael Saunders led off the second with a bunt single and Duffy walked Zunino on nine pitches before retiring the next three batters.
The Mariners went 1-for-11 with runners in scoring position and stranded 10 runners.
Based on reporting by The Associated Press.
Follow us on twitter.com/foxnewslatino
Like us at facebook.com/foxnewslatino