JPP doesn't get the stats, but he delivers big in 2015 debut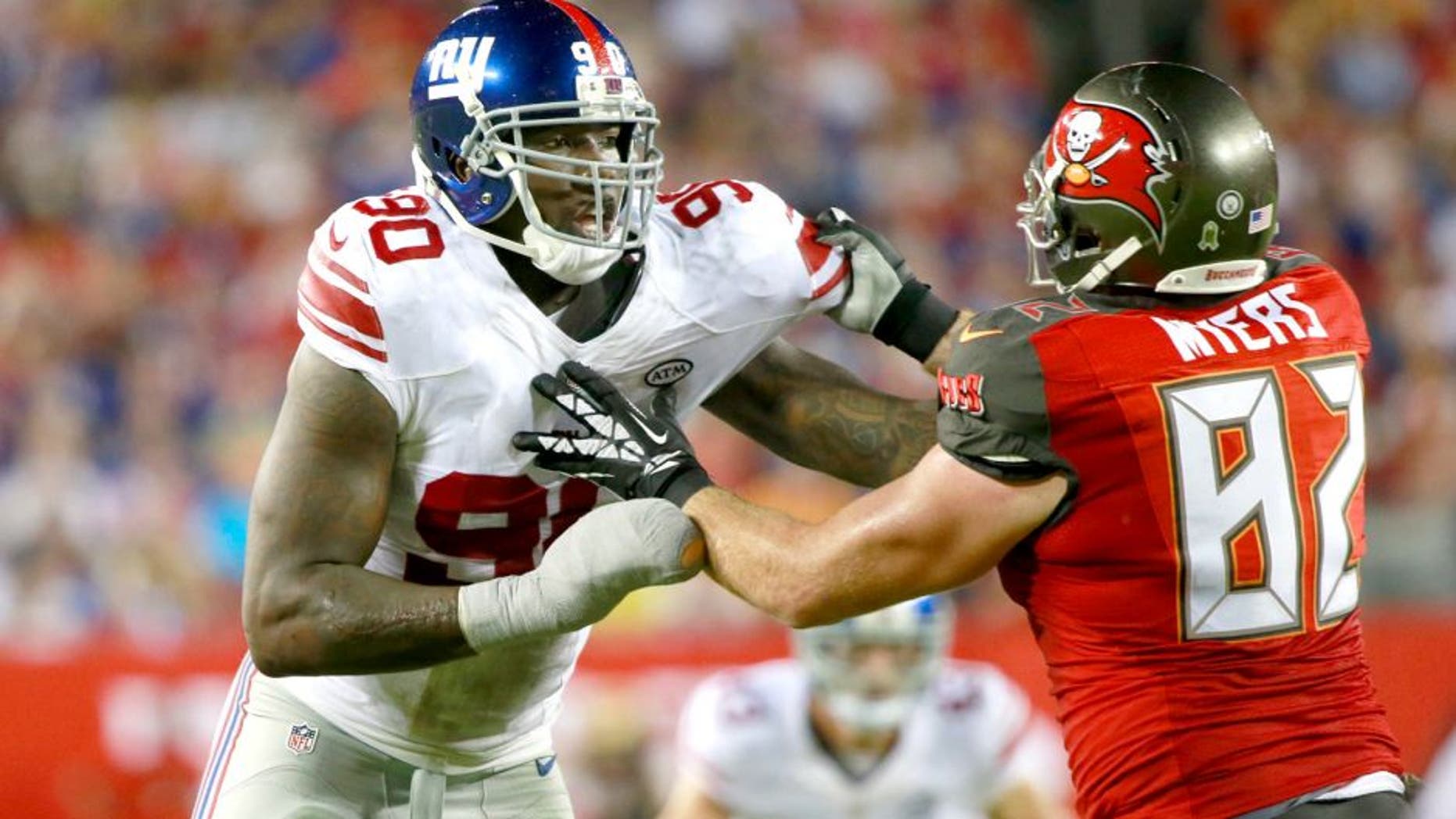 Jason Pierre-Paul (90) made an immediate impact in his first game back. Kim Klement USA TODAY Sports
It's not wise to judge a defensive player on how many sacks he accrues when quarterback hurries and hits often lead to positive plays for the defense. In New York Giants defensive end Jason Pierre-Paul's 2015 debut, he didn't get a sack, but he did rack up some key quarterback pressures when it counted most -- in the fourth quarter of the Giants' 32-18 win over the Tampa Bay Buccaneers.
On the stat sheet, Pierre-Paul finished with two solo tackles and two quarterback hits in total. After missing the entire offseason and the first eight games of the regular season with a hand injury suffered during a fireworks accident, it's no surprise that it took Pierre-Paul until the fourth quarter to start generating pressure on opposing quarterback Jameis Winston. That's when Pierre-Paul finally began to feel like his old self again.
"Fourth quarter," Pierre-Paul told reporters when asked about when he felt comfortable, per The New York Post.
"It's time to close the game," Pierre-Paul said. "When it comes down to the fourth quarter, you gotta give everything you got."
Pierre-Paul started the first defensive snap and rotated out of the game at times throughout. However, he finished with 46 snaps on defense (unofficial counts vary), and he played down the stretch in the Giants' critical defensive series.
After the game, his teammates spoke about what it meant to have No. 90 back on the field.
"I thought his presence was felt the entire game," linebacker Devon Kennard said.
Third year defensive end Damontre Moore didn't stop short of comparing Pierre-Paul's performance in his first game back extraordinary.
"Amazing," Moore said. "It wasn't anything less than spectacular. And when I say spectacular, not because he had a three-sack game, or 20 tackles or stuff, but when I say spectacular and amazing, I mean just to see what he went through and he came back from and he had to go back out there and play with the high intensity level and actually make an impact -- that's what you call your miracles right there."
There were a few other teammates who were considerably happy with what they saw from Pierre-Paul, and quarterback Eli Manning was one of them. He looks forward to what the defensive end can do after more practice time.
"We wanted him to get a sack, but I definitely saw him chasing the quarterback around and getting him out of the pocket and making him move," Manning said. "So he was a presence, and that's just after two weeks of practicing."
Pierre-Paul's snap count and production will likely rise as the season wears on. He looked no worse for wear sporting his new heavily-bandaged right hand. The Giants will need him to be as close to the old Pierre-Paul as possible as injuries continue to mount along the defensive line and linebacker corps.