Jorge Posada Reflects on His Retirement from Baseball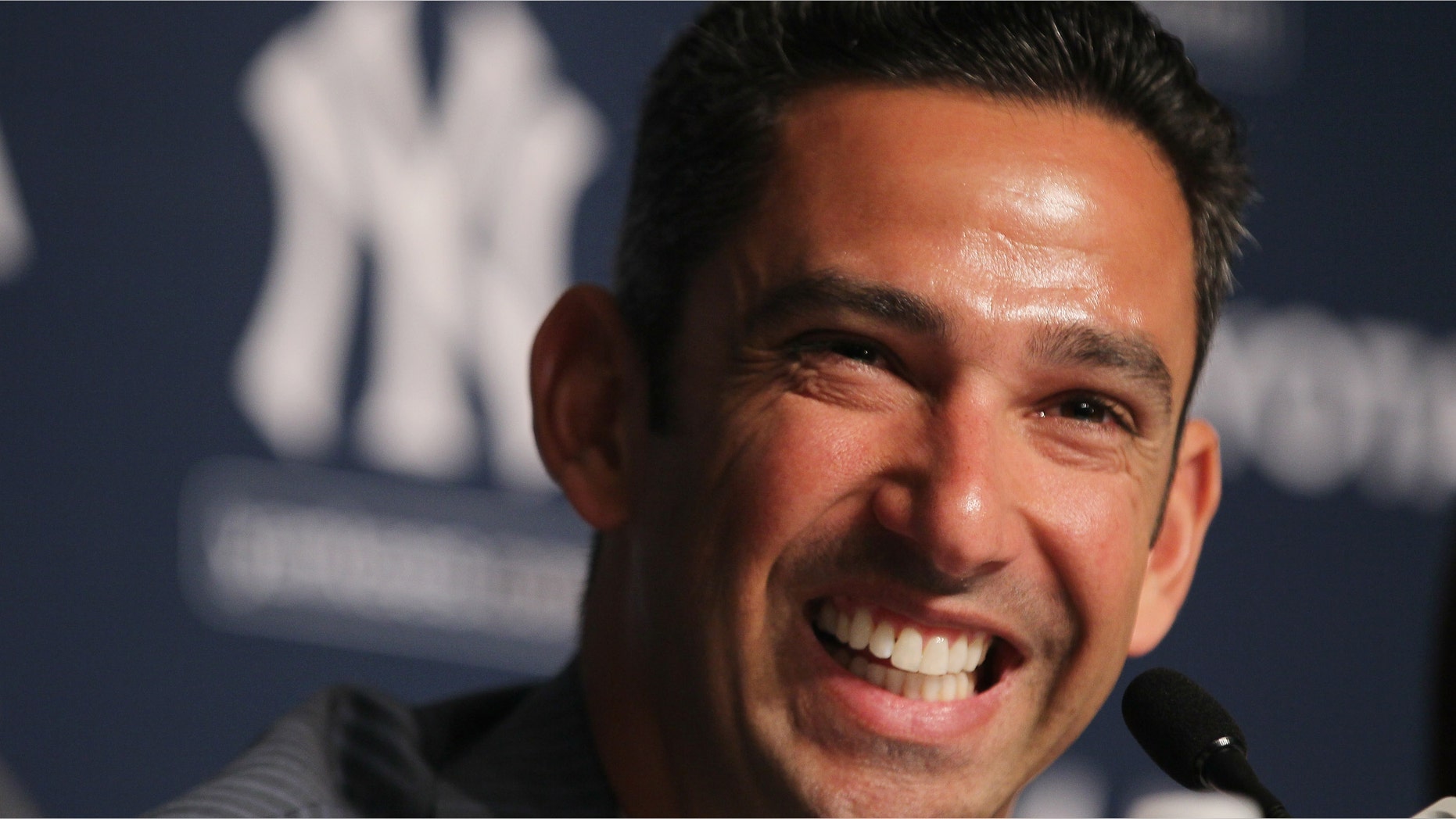 Jorge Posada recalled those days when as a kid he would play catch with his father behind their house back in Puerto Rico.
On Friday afternoon, Posada took a walk into his past and delivered the first pitch of the New York Yankees home opener to his father, Jorge Sr.
It was Posada's first time stepping on the Yankee Stadium grass since a Game 5 elimination loss in the American League Division Series to the Detroit Tigers last October. Gone were those pinstripes he donned over the years, replaced by blue jeans, sneakers and a Yankees windbreaker jacket as the fans welcomed one of their beloved players back.
Posada tried to wave off his former teammates out to their positions, but they waited and clapped as his son, Jorge Jr., led him to the mound where he threw the game's ceremonial pitch that other Yankee greats of the past had previously delivered to the plate.
After 17 years with the Yankees mostly spend behind the plate, Posada has now gotten acclimated to a normal life as a husband and a father, stepping away from the rigorous demands of life as a baseball player that saw him spend a good portion of nine months out of the year on the road.
Stopping by his old job for the day was "difficult" but at the same time special because his father was there with him.
"It was like old times playing catch with him again. They told me that they wanted Mariano (Rivera) to catch it and I was super excited to have Mariano catch, but I think for me to have my dad out there was a little bit more important. I wouldn't be here, I wouldn't have the career I had if it wasn't for him. I wanted to share that moment for him… I wanted him to be a part of a special day," Posada said at a press conference after the pregame ceremonies."
Posada admitted to having some butterflies prior to walking up a mound he trotted out to whenever his battery mates needed words of encouragement throughout the battles.
"Today (I) was really nervous to be up there, all eyes on you and please don't bounce it," said Posada, referring to the pitch from son to father. "I'm warming up in the cage and my dad is looking at me warming up, he says "'You're throwing it too hard. Throw it a little softer so I can catch it.'"
While a lot of players sometimes stay away from the game after their retirements, Posada didn't have any second thoughts about coming back to the ballpark after stepping away from the game for good in January, although it's still fresh in his memory.
"It wasn't difficult to come back so soon because I think I'm enjoying home and enjoying the retirement but it was difficult to come back period, just to be here," Posada said.
So what's a normal day like for Posada, who was sporting a tan from the Florida sun while living in Miami?
"The first thing, I get up every morning, take the kids to school. Then me and my wife would go have a little workout at the gym. That doesn't happen every day," said Posada as he laughed, "for her it does but for me it's just enjoying the family at the house and then picking up the kids."
Jorge Jr., who last year went through his ninth and final operation to correct the life-threatening illness that he was born with, Craniosynostosis, is now putting on the uniforms and cleats for the first time ever with kids his age in a league. The youngster finds himself playing the outfield, roving from left to center to right while the proud father helps out in any possible way he can.
"Jorge's been doing baseball. So I have been helping out a little bit with him. Paulina's got something, (so) I'm there everyday. Enjoying the house, enjoying the time at home."
As Posada now finds himself "relaxed and unplugged" from the day-to-day baseball activities despite watching some games, he will still work on the Jorge Posada Foundation, which is dedicated to helping those stricken by Craniosynostosis. He said that he will be uniting his foundation with the National Foundation for Facial Reconstruction, whose sole motive is to provide funding, research, and support for children with facial birth defects.
Posada jokes that since it took former teammate Andy Pettitte a year away from the game to decide come out of retirement, it would be just as right to do the same and come back next year. But all jokes aside, it's not something he's considering. Posada did admit that he'd like a job in the game but not this year but definitely next if there are any offers.
He's found time to do things at home he's never normally ever done and thought he wouldn't be doing. Living off a suitcase is not an option as the summer will be all about his wife, son and daughter.
"Right now I'm completely dedicating myself to the kids, my family, my house and God willing next year I will have a job somewhere," Posada said.
"Right now I don think I could be 100-something games outside of the house. I feel comfortable at home. I'm happy with the decision I made. I don't want to lose more time that I have done so away from my children. I want to be there."
Follow us on twitter.com/foxnewslatino
Like us at facebook.com/foxnewslatino