Jerry Jones says he's 'not giving up on Randy Gregory' after failed drug test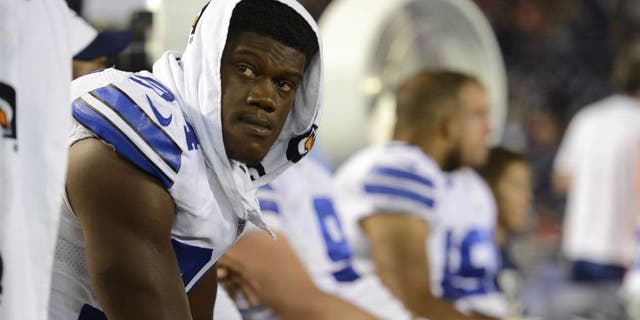 NEWYou can now listen to Fox News articles!
After 10 weeks, the Dallas Cowboys have emerged as the best team in the NFL. Dak Prescott is the starting quarterback going forward, Ezekiel Elliott is a candidate for just about every award, and the defense is playing well enough to win football games.
The Cowboys have played about as well as they could have expected thus far, but they've also overcome some adversity. Randy Gregory has been suspended all year, as has Rolando McClain. Demarcus Lawrence was also suspended for the first four games of the season, but none of those absences deterred Dallas from winning games.
Gregory now faces a year-long ban after news came out last week that he reportedly failed another drug test. The Cowboys knew his drug problems before drafting him in the second round in 2015, and they're not going to give up on him yet -- at least Jerry Jones won't.
"I know the details of his situation, and I can't and I won't comment on details about it," Jones said, via the Dallas Morning News. "But I am not giving up on Randy Gregory for the Cowboys and certainly not giving up on him as a person in life. At all. Not that it makes any difference that I do, but I do not dismiss him from our future."
Gregory has played just 12 games in two seasons and has yet to record a sack in the NFL. While Jones won't rule out a return for the troubled defensive end, it's hard to imagine him playing in a Cowboys uniform anytime soon.