Jacksonville Jaguars players arrested after London 'nightclub brawl,' $64K bar bill
Four Jacksonville Jaguars players were arrested at a London nightclub early Saturday after allegedly refusing to pay a $64,000 bill, The Sun reported.
Authorities arrested Barry Church, Ronnie Harrison, Jarrod Wilson and D.J. Hayden around 4 a.m., according to ESPN.
The team was in London over the weekend to play the Philadelphia Eagles at Wembley Stadium on Sunday. The four Jaguars players were reportedly accused of leaving the London Reign Showclub without paying their bill.
Other team players and staff attended the private members club, featuring burlesque and circus performers, The Sun reported.
"The total bill was in the region of ($64,000) and some of the lads tried to leave the club but were prevented from doing so by security," a source told The Sun.
Witnesses told the paper the players scuffled with bouncers outside the club.
"Things got pretty heated and there was a lot of swearing and shouting and things became physical. In terms of preparation for their match, you couldn't think of anything worse," said one.
The four players were taken into custody by the Metropolitan Police and released nine hours later. The club dropped the complaint after the team settled the bill.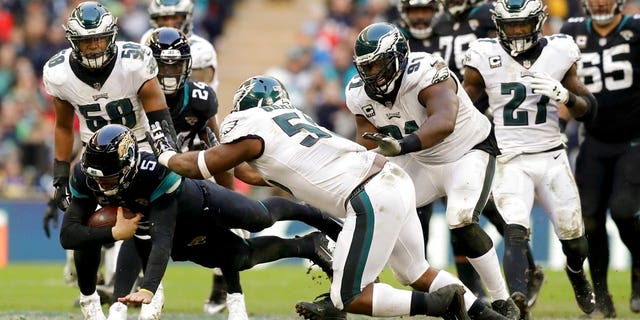 The Eagles beat the Jaguars Sunday in 24-18 victory. The game, played before a record, pro-Eagles crowd of nearly 86,000 fans, was the last of three played at Wembley this season.
Church said late Sunday he took "full responsibility" for Saturday's debacle.
"There was definitely a misunderstanding, but as far as my actions are concerned, I take full responsibility. I don't want to be a distraction or anything like that to my team and my teammates, but we handled it as a private matter within the team and we'll just go from there."
The Associated Press contributed to this report.