It's becoming obvious just how important Robert Lewandowski really is to Bayern Munich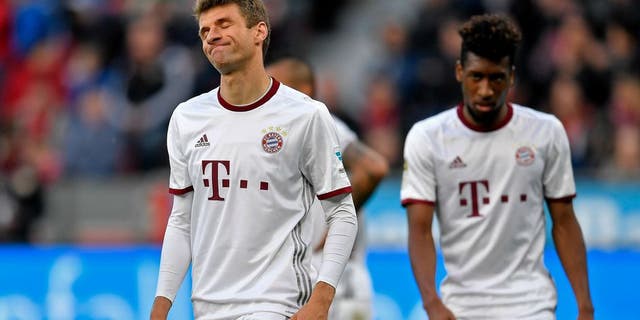 NEWYou can now listen to Fox News articles!
On a results basis, Bayern Munich could afford to drop points to Bayer Leverkusen. Even after the 0-0 draw at the BayArena, Bayern have a pretty comfortable eight-point gap in the Bundesliga. What became clear is that Bayern can't afford to lose Robert Lewandowski for any extended period.
Suspended for the match, Lewandowski wasn't available for Saturday's match even if he'd been fit (he's dealing with a should injury).His absence was palpable, though. Bayern's attack lacked impetus without the Polish striker leading the charge, even if manager Carlo Ancelotti fielded a weakened starting XI.
Even when the hosts went down to 10 men Bayern were still unable to break through. That's not for a lack of chances, there was just no final product. At one point, Thomas Muller had a breakaway and didn't manage to get a shot off.
As a backup, Muller has proven to be little more than unreliable, at best. The 27-year-old remains an enigma, his talentseemingly sapped away from him this season. He pumped in 28 goals in the Bundesliga and Champions League combined last season. He's managed just seven goals this term across both of those competitions, with comparable appearance totals. There's little explanation for the disparity, to boot. No lingering injury to point to, no massive positional change. It looks like there's little to point to but a lack of confidence.
Lewandowski, on the other hand, has been incendiary. He's followed up last year's 30-goal Bundesliga Golden Boot campaign with 26 goals in 26 league appearances thus far. He's kept pace in Europe, as well, scoring seven goals in eight Champions League appearances compared to last season's nine goals in 11 caps. It's a rate that could help explain Muller's dwindling statistics, except he's performed just fine in the past with Lewandowski in the team.
Yet with no other recognized strikers on the roster, Ancelotti has no choice but to turn to Muller when Lewandowski is out.
And there's where the real problem lies. Without Lewandowski, Bayern arevulnerable. The gulf in talent is undeniable at the point. For a team so deep at so many positions, it's incredible to think they don't have a backup forward that can carry the water.
Fortunately for the German side, Lewandowski's shoulder is supposedly healed and he'll be fit for their midweek Champions League quarterfinal date against Real Madrid. Long term, though, where do Bayern turn if their go-to forward misses time?
Maybe Muller will regain the form that made him one of the most sought-after forwards in the world. Maybe he won't. It's a question Bayern will have to address, though. Seeing how they've played with Lewandowski, it's a definite issue for Bayern.
MORE FROM FOX SOCCER: