Indians Closer Strikes Out at Cleveland Fans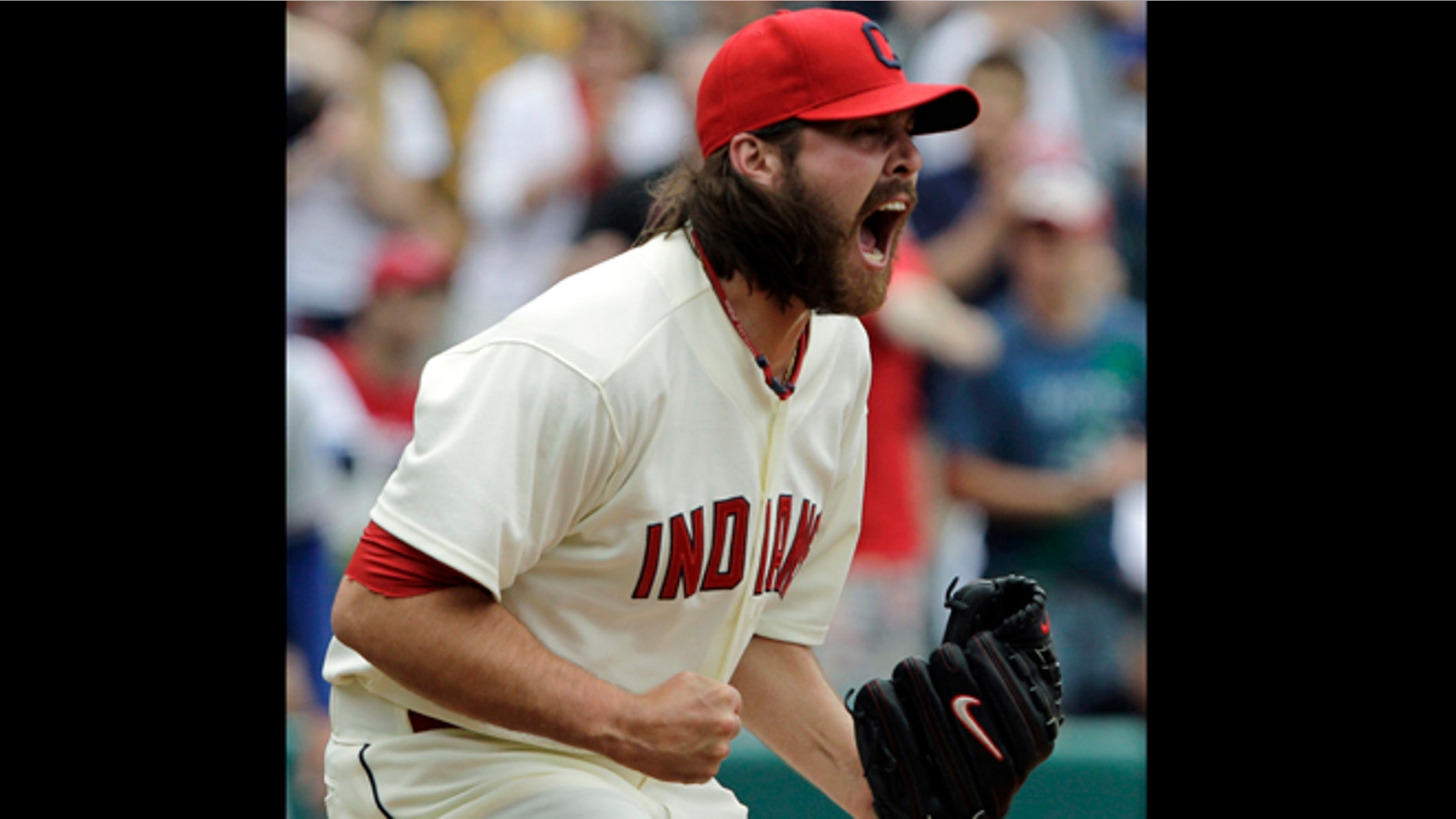 Chris Pérez is done keeping quiet about the apathy in Cleveland, and he's letting the fans know it.
The All-Star closer didn't back down Sunday from comments made Saturday questioning why fans are not turning out to see the first-place Indians.
"The fans are going to come, I know that," Pérez said. "It's just a slap in the face when you're in first place and last in attendance. Last. Not 25th or 26th. Last."
The right-hander said he has been frustrated by small crowds for a long time and that it came to a head Thursday when he was booed because two men reached base while he eventually saved a win over Seattle.
"That was the last straw," said Pérez, an outspoken, gregarious team leader who regularly uses social media to interact with fans.
"I got a lot of messages and some of it was funny," Pérez said of overnight reaction by fans.
While the Indians encourage Pérez's aggressive style of challenging opposing hitters, the confrontational comments did not sit well.
Team president Mark Shapiro said the organization differs with the way Pérez spoke, adding that the Indians do get fan support. Shapiro said the reliever's words come from a desire to win and get more fans to come to the ballpark.
"We clearly disagree with him about our fans," Shapiro said. "We appreciate our fans. We respect our fans."
Shapiro said the 26-year-old's comments were likely borne from frustration combined with a desire to succeed.
"He's been one of the more dominant closers," Shapiro said. "What drives him to succeed in that role are emotion and competitiveness and passion, and I think a lot of that was behind what he said.
"It's clear that what's behind the emotion is how great he feels our situation is — how incredible he feels the team is, the ballpark is, and his desire for more people to experience it.
"He's saying, 'Pay attention. Look what we've got here.' "
After earning his 13th save Saturday by striking out the side on 10 pitches to clinch a 2-0 win over the Miami Marlins, Pérez criticized fans who boo the home team and said negative vibes are a reason big-name free agents such as Carlos Beltran don't sign with Cleveland.
It came after a game that drew the season's second-largest crowd, 29,799.
Including a sellout of 43,190 for the April 5 opener, the Indians' 15,188 average through 22 home dates is a far cry from the team-record 455 consecutive sellouts in the late 1990s.
"Nobody wants to play in front of 5,000 fans," said Pérez on Saturday. "We know the weather stinks, but people see that (low attendance). Other players know that."
"You had a choice of playing in St. Louis, where you get 40,000 like Beltran chose to do, or you can come to Cleveland."
Pérez said Sunday he hadn't spoken to Beltran or others who signed elsewhere, adding that in conversation with teammates, opponents and a few former Indians, he drew the consensus that Cleveland is not now a popular place to play.
"Baseball is supposed to be fun," Pérez said. "It is like that in Philadelphia every day. It helps you. You draw energy from the fans."
Shapiro countered by pointing out that several current Indians enjoy the city and have signed long-term contracts to stay. He thinks the current controversy will blow over and, hopefully, not impact Pérez or the ballclub.
"I really feel like it's a moment in time, a story for right now," Shapiro said. "If you polled our players, by and large, what you'd see is a largely universal appreciation for our fans."
Pérez said he had no ulterior motive for his comments and he isn't trying to draw attention to himself.
"It's just so frustrating," Pérez said. "I've been here since 2009, was one of the first guys in the (rebuilding) trades. If this was 2010, I wouldn't say anything. We deserved to be booed, we were bad."
Cleveland went 65-97 in 2009 and 69-93 the next year, then spent much of last season in first place until fading to finish 80-82. They entered play Sunday 23-17.
Pérez has done his part to boost sagging attendance. He has bought six season tickets to give away, understanding how the area has been hit hard by the economy and that some fans can't buy tickets. He doesn't, however, comprehend the overall apathy.
"I don't understand the negativity, in general," Pérez said. "Why? We have a first-place team. How many teams in the country would want that right now?
"You think the Tigers are happy? The Tigers are in third place. We're in first place. Enjoy it."
Based on reporting by the Associated Press.
Follow us on twitter.com/foxnewslatino
Like us at facebook.com/foxnewslatino