Indians blank Blue Jays again to seal first AL pennant since 1997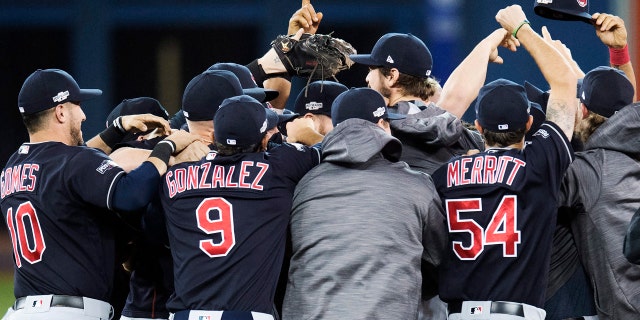 TORONTO – A most unlikely pitching performance helped put a most unexpected team into the World Series.

Rookie Ryan Merritt coolly delivered a lead to the Andrew Miller-led bullpen and the Cleveland Indians won their first pennant since 1997, blanking Toronto 3-0 Wednesday in Game 5 of the AL Championship Series.

Cleveland, which has never hosted a World Series opener, will play Game 1 at Progressive Field on Tuesday night against either the Chicago Cubs or Los Angeles Dodgers.

The Indians will try to boost what's already been a magical year in Cleveland after LeBron James and the Cavaliers earned the city's first sports championship since 1964. The Indians' title drought dates to 1948.

The Dodgers led the Cubs 2-1 going into Game 4 of the NLCS on Wednesday night. Cleveland didn't play either team this season.

With all of 11 major league innings under his belt, Merritt took the mound and looked just like a seasoned vet. The 24-year-old lefty retired the first 10 batters and allowed only two hits before being pulled after 4 1/3 innings.

Then it was up to Cleveland's tireless relievers to hold a three-run lead.

Miller again did most of the heavy lifting, pitching 2 2/3 innings, and Cody Allen pitched the ninth for the save. Winner Bryan Shaw worked an inning before Miller came in.

Carlos Santana and Coco Crisp homered for the Indians.