Historic Champions League Soccer Final Pits Hermano Vs. Hermano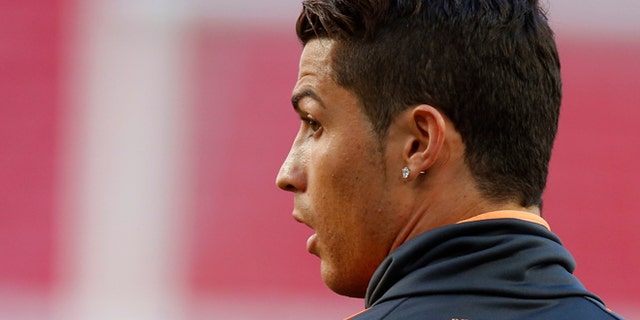 NEWYou can now listen to Fox News articles!
There are a lot of never-befores about Saturday afternoon's Champions League final showdown between Real Madrid and Atlético Madrid scheduled for 2:45 p.m. Eastern time in Lisbon's Estádio da Luz:
1. Never before has the Champions League come down to a battle between rivals from the same city.
2. Never before has the Champions League come down to a battle between two clubs from Spain. (It has happened twice before with clubs from other countries—in 2008 with teams from England and last year, with Bayern Munich and Borussia Dortmund from Germany).
3. Never before has a team won 10 Champions League or European Cup—as the competition was known before 1993—titles. Real Madrid currently has nine, the most of any team. The club's faithful have been talking about a tenth ever since Real's last title in 2002.
4. Never before has Atlético won a Champions League title. The only time they reached the final, in 1974, they were hammered by Bayern Munich, 4-0.
The match is also a classic confrontation of the sort experienced by sports fans around in the world: The haves vs. the have-nots.
In April, ESPN reported that Real is paying its players, on average, $7.6 million a year, compared with Atlético's $2.6 million per player.
Traditionally Real Madrid has been portrayed as the team of the Madrid elite, of those in power in the government, while Atlético fans are perceived as blue-collar, working-class types.
Orfeo Suárez, a journalist with El Mundo, told the England's Guardian newspaper [http://www.theguardian.com/football/2014/may/18/madrid-one-city-two-teams-atletico-real-champions-league-final], that those stereotypes don't hold so much anymore.
"Sure, if you look at the richest in Madrid, there are more likely to be Real fans than Atlético," Suarez said. "Real Madrid [fans] have always been perceived as close to government power.Atlético, on the other hand, their power comes from the people."
But Suarez pointed out that that is less true than it used to be. Many rich Madrileños are Atlético fans, including Spain's crown prince, Felipe.
It is also a classic confrontation in another sense: Offense vs. defense.
Mariano Trujillo, the former Mexican league star, who is in Lisbon covering the final for Fox Deportes, told Fox News Latino, "The numbers say it all. This is the top scoring team in Champions League play [Real] against the toughest defense [Atlético]."
A number of the two team's top stars have been nursing injuries, most notably the strikers Cristiano Ronaldo and Karim Benzema of Real and Diego Costa of Atlético.
Trujillo, for one, doesn't believe any of them will sit out such an important match.
"The teams had a light training session [Friday]," he said. "Nothing very demanding, but they were all taking part. I think the Real Madrid guys will start. You may see Costa come in as a substitute, but all of them should be available to play."
Atlético experienced a magical season, winning the Liga championship in the final weekend.
During the course of the year, they defeated Real 1-0 last September and played them to a 2-2 draw in March.
The two teams also met in the semifinals of the Copa del Rey tournament in February, with Real Madrid winning two games by an aggregate score of 5-0.
"I think Atlético really learned from those games," Trujillo said, "that is one of the strengths of this team."
Atlético will try to clog the midfield in an attempt to slow Real's potent "BBC" attack (named after forwards Gareth Bale, Benzema and Cristiano Ronaldo), while Real is likely to play somewhat conservatively, hoping to capitalize on a counterstrike.
"Neither side will want to make the first mistake," Trujillo said. "It should be a very entertaining match."