The Cruelest Cut: Landon Donovan Left Off U.S. World Cup Roster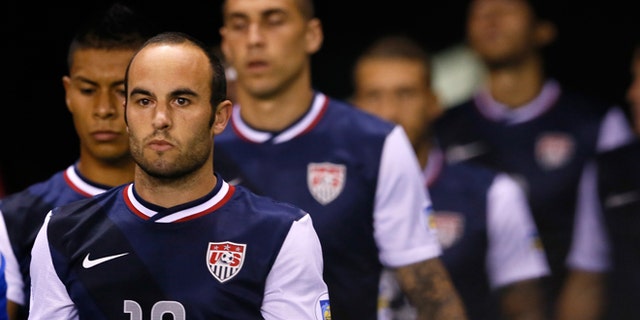 NEWYou can now listen to Fox News articles!
At 5:33 p.m. Thursday, U.S. Soccer tweeted out a message announcing the final 23-man 2014 World Cup roster. Absent was the greatest player to ever don the American uniform, Landon Donovan.
The final roster cuts weren't due until June 2, but many teams pare their rosters earlier in order to start training in earnest.
A statement released by Coach Jürgen Klinsmann explained, "For the players, it is very important to know that they are now part of it and they can relax and know they are going to Brazil… We thought the point had come to make that decision."
On his Facebook page, Donovan said, "I was looking forward to playing in Brazil, and as you can imagine, I am very disappointed with today's decision."
For weeks, Klinsmann has been telling reporters that the 32-year-old Donovan, Team USA's all-time leading goal scorer with 57, would have to earn a roster spot at the team's training facility in Stanford, Calif. But few analysts believed that the coach would actually leave Donovan at home.
Klinsmann and Donovan have never seemed to connect since the former star striker for the German national squad was hired as U.S. team coach in July 2011.
Their relationship appeared to actually sour when Donovan chose to take a sabbatical from competitive soccer in December 2012. He spent four months traveling to places like Cambodia while World Cup qualifying matches were going on. Klinsmann was visibly nonplussed by the decision. Ever since Donovan returned from his sabbatical, Klinsmann has expressed concern about his commitment and enthusiasm for the game. He has also questioned his conditioning in recent months.
Former national team defender and current ESPN analyst, Alexei Lalas, was critical of Donovan's omission from the roster, tweeting last night, "No problem with [Donovan] out of [the men's national team], but you do it after Cambodia. Don't name him to 30 in May '14 and then tell me he's not one of best 23."
Also present at Stanford but left off the 23-man roster were Brad Evans, Terrence Boyd, Joe Corona, Maurice Edu, Clarence Goodson and Michael Parkhurst.
Donovan has been the face of U.S. soccer since he was named the Best Young Player of the 2002 World Cup, a tournament in which he scored the decisive goal in a Round of 16 2-0 win over Mexico.
Donovan was 20 years old at the time, just one year older than Julian Green, the young winger who turns 19 in two weeks and who did receive a roster spot.
There are many people who believe that Klinsmann was only able to convince the Bayern winger—who was born in Tampa but moved to Germany when he was only 2 and played on that country's national youth squads—to play for the U.S. by promising him a spot on the 2014 Cup roster. A conspiracy theory that apparently has been borne out.
Green is part of a Germanifacation trend that's starkly clear in Klinsmann's roster choices.
As recently as last year, the coach was talking about what a great resource the Liga MX was and what a great tactical proving ground it was for American players like Michael Orozco Fiscal, Edgar Castillo and Hercules Gómez.
In the end, however, only one Liga MX player made it to the 23-man World Cup team, DaMarcus Beasley.
Klinsmann may be upset over the refusal by Liga MX team, Puebla, to make Beasley and Orozco Fiscal available for a friendly against Mexico in April.
One result of the Liga MX absence is that there are just as many German-Americans on the World Cup squad (Green, John Brooks and Timmy Chandler) as there are Hispanics (Omar González, Alejandro Bedoya and back-up goalie Nick Rimando, who is of mixed Mexican and Filippino descent).