Heard seeks counsel for poor performances from the player he replaced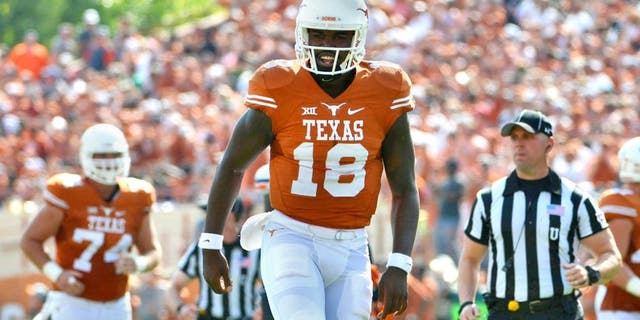 Junior quarterback Tyrone Swoopes has been helping his replacement Jerrod Heard deal with rough outings. Brendan Maloney USA TODAY Sports
If you need help coping with failure for really the first time in your life, might as well seek counsel from someone with a little experience. Redshirt freshman Jerrod Heard is doing just that.
Tyrone Swoopes had his share of tough outings and sharp criticisms during his time as the Texas Longhorns' starting quarterback last season. Heard replaced him after this season's opening loss at Notre Dame. Swoopes has stayed involved by taking advantage of a goal-line package and, apparently, serving as something of a mentor.
"I went through a lot of that last year, and there wasn't an older guy to talk to and keep me moving forward," Swoopes said Tuesday during the team's weekly press conference. "Just giving him what I would have wanted last year."
Swoopes was forced into the starting role early in 2014 when starter David Ash opted to retire due to recurring concussion issues.
Heard was a star at Denton Guyer High School where he didn't do much losing in his career, winning two state titles.
"He's a young guy, so everyone has some things to learn, but overall I think he's doing really well with it," Swoopes said of Heard. "He's had some good games, and, of course, he's had some not-so-good games, but that comes with any level of quarterback."
(h/t Austin American-Statesman)
MORE NEWS: Want stories delivered to you? Sign up for our College Football newsletters.