Hank Aaron says he won't watch NFL because of how Colin Kaepernick was treated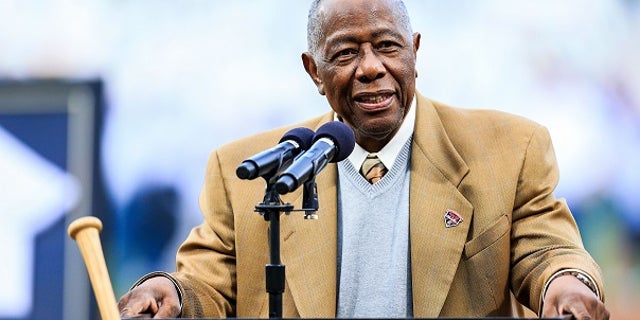 NEWYou can now listen to Fox News articles!
Baseball legend Hank Aaron said he won't watch any NFL games this season because of how the league treated former quarterback Colin Kaepernick after Kaepernick's national anthem protest last season drew widespread scrutiny.
Aaron spoke to Roland Martin of the Tom Joyner Morning Show in Atlanta after the Braves held a weekend in honor of the baseball great and one-time home run king. Aaron told Martin he wished the NFL would give Kaepernick a chance and was also upset the team he roots for, the Baltimore Ravens, did not sign the former San Francisco 49ers quarterback.
ESPN'S DECISION TO PULL ANNOUNCER ROBERT LEE FROM GAME SPARKS OUTCRY
"I think he's getting a raw deal," Aaron said. "If you look at all the quarterbacks in the league right now, he is one, two, three, four. I don't think anybody can do the things he could do. I wish somebody would open up and give him a chance to do his thing."
Kaepernick, 29, became a controversial figure last year after he refused to stand for the national anthem before NFL games, instead choosing to kneel in what he called a protest against police oppression of people with color.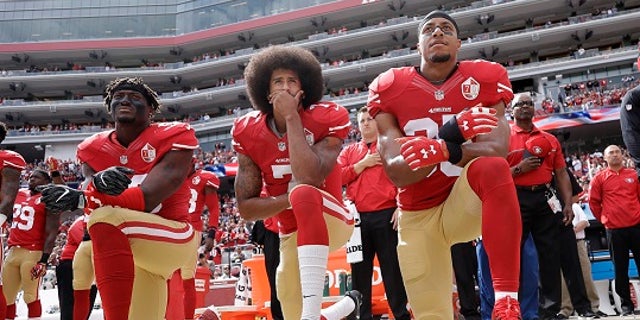 Aaron also said he would "love" to see other players stand -- or kneel -- with Kaepernick.
"I'd love to see some other players stand up," Aaron said. "I would love that, I think it would give him incentive, I think it would help him."
KANSAS CITY CHIEFS PLAYER RESCUES PREGNANT WOMAN FROM FLOODWATERS
Aaron added: "The thing that bothers me about this whole situation is the fact that he is going to all these camps and nobody seems to think he stands a chance of being number one. This is a young player who almost carried a team to a championship, to a Super Bowl -- but I was a Ravens fan."
The Kaepernick-led 49ers lost, 34-31, to the Ravens in Super Bowl XLVII. Kaepernick was signed to a six-year contract extension following the Super Bowl appearance, but his play took a hit afterwards. Kaepernick opted out of his contract with the team in 2017, becoming a free agent in March, but he has not yet been signed.
Aaron told Martin he believed the reason Kaepernick isn't signed is due to the wishes of the team owners -- though Aaron didn't elaborate on the point.
"I just hope somebody can find a way to give him a chance to play," Aaron said.
Aaron faced racial discrimination during his playing career, and particularly in 1974 when he broke the career home run record set by Yankees legend Babe Ruth. Aaron said he received "death threats and hate mail" following the achievement and had to hire a bodyguard, according to MLB.
On Wednesday, a few civil rights groups were slated to crowd outside NFL headquarters in New York City to show support for Kaepernick. The NAACP, Women's March and Rev. Jesse Jackson were all scheduled to attend the rally, dubbed "United We Stand."
The Associated Press contributed to this report.