Giants' Donnell closes in on return and honor Daniel Fells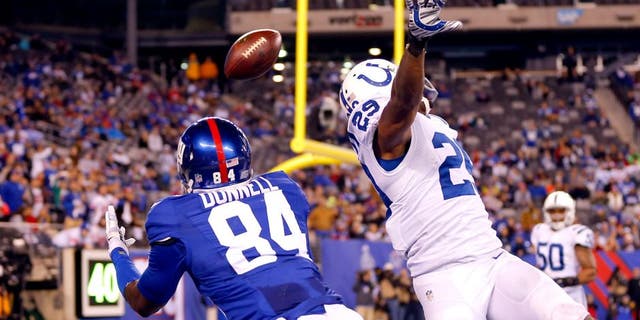 Giants tight end Larry Donnell (84) was wearing someone else's jersey at Wednesday's practice. Jim O'Conner USA TODAY Sports
New York Giants tight end Larry Donnell missed Week 9 with a neck injury, but he showed up to Wednesday's practice in surprising fashion -- wearing teammate Daniel Fell's No. 85 jersey instead of his own No. 84.
Fells was placed on injured reserve earlier this season after spending three weeks in a hopsital last month while fighting off a MRSA staph infection. Fells was honored with a game ball earlier this season, and Donnell wanted to honor his fellow tight end in his own way too.
Donnell said that he did it as a joke to make Fells feel better, but he confirmed that it might not only be a one-time stunt.
If he wants to use Fells' No. 85 in a live game, however, Donnell has a few hoops to jump through first.
Donnell began running at Wednesday's practice, but his status for this Sunday's Week 10 game against the New England Patriots is still up in the air. The team doctors will have the final say on that depending on how much progress Donnell makes. If it were up to Donnell only, he would probably be out there regardless.
"I can't stand on the sideline anymore," Donnell said, per ESPN. "It's terrible."