Gennady Golovkin talks grappling and 'maybe' making a UFC debut one day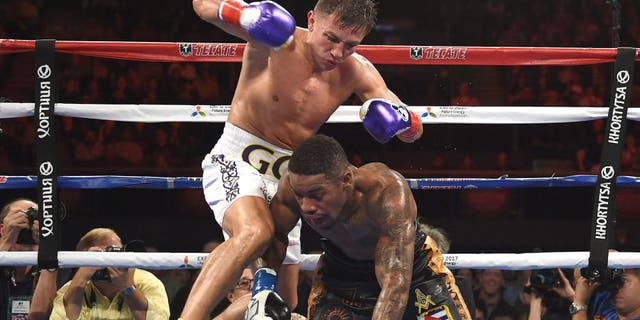 Gennady Golovkin is more than an undefeated middleweight boxing champion -- he's also a former grappler who is a fan of MMA and the UFC. According to Kazakhstan-born fighter, he grew up with a lot of wrestler friends who brought him along to the gym when he was a youngster.
"Yeah, I can [wrestle]," he recently told FightHubTV.
"A lot of my friends wrestled. [I trained grappling for] five, seven years. Just a little bit of practice. I just went with my friends to the gym -- grappling, just wrestling.
"I love judo, I love grappling, I love jiu-jitsu."
As an elite boxer with an appreciation for grappling, Golovkin's choice of a favorite UFC fighter seems fitting.
"Cain Velasquez," he said, when asked to name some of his favorite MMA athletes. "He is a good puncher. He is very compact. He's strong. He's very smart. He's a good fighter. He's a warrior."
Golovkin, 33, says he also admires former bantamweight champion Ronda Rousey, though the Rowdy one may not be a good training partner for the boxer. "Ronda is too strong for me," he said, with a smile.
"She's powerful."
Given his top-notch boxing and at least passing familiarity with grappling, Golovkin wouldn't rule out his one day competing in MMA and the UFC. "Maybe," he concluded.
Golovkin next fights April 23 against Dominic Wade at The Forum in Inglewood, Calif.