From one retiring sports icon to another, Tony Stewart praises Peyton Manning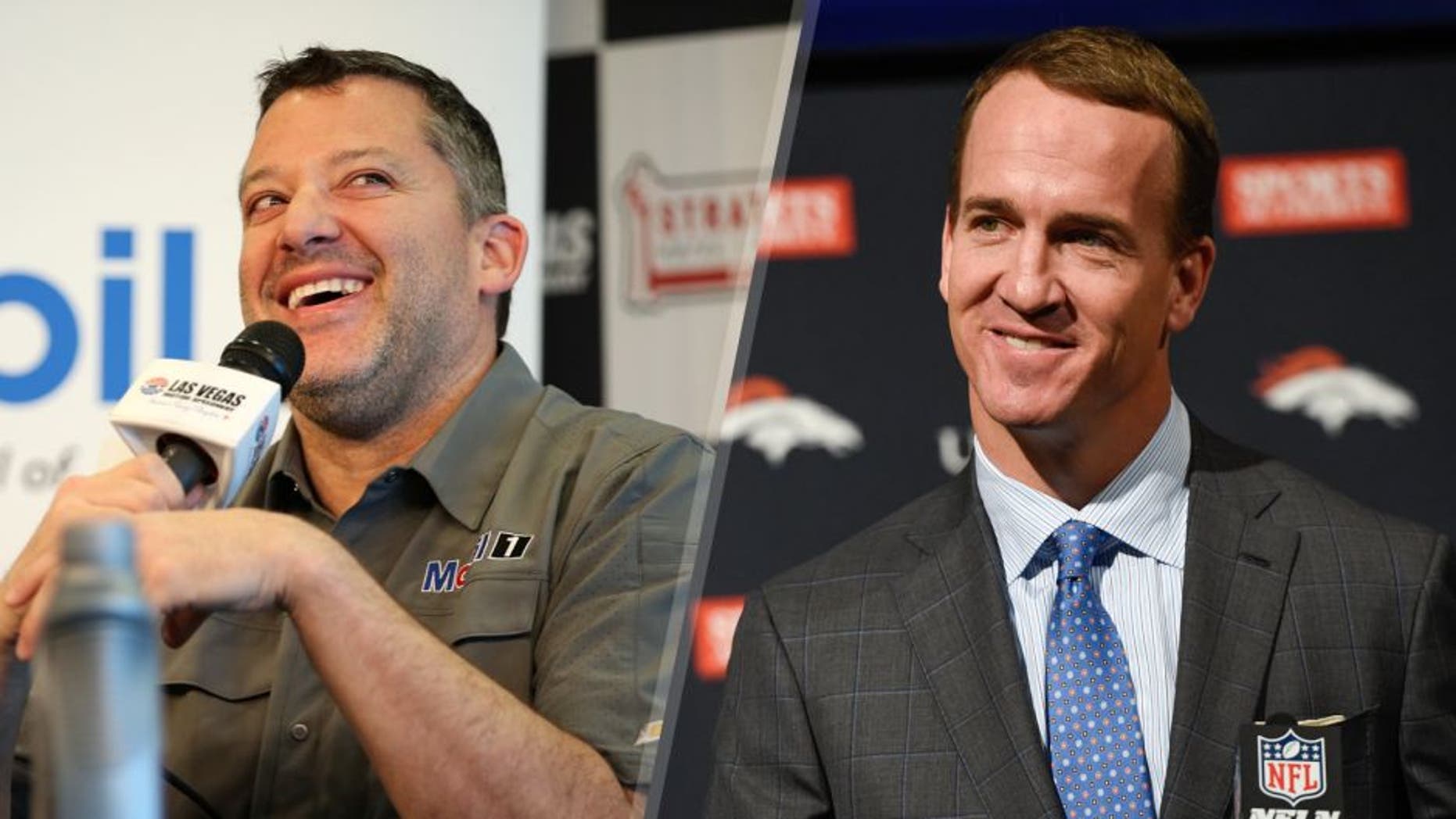 From one retiring superstar -- an icon, really -- to another retiring icon in his own respective sport, Tony Stewart talked emotionally about how much he admired Peyton Manning on Sunday at Las Vegas Motor Speedway.
Manning, 39, made his retirement from the National Football League official on Monday, ending an 18-year career that concluded with his second Super Bowl win last month when the Denver Broncos beat the Carolina Panthers in Super Bowl 50. A five-time NFL MVP, Manning retires as the only player in NFL history to win Super Bowl championships with two different teams, having won his first with Indianapolis in 2007 (following the 2006 regular season).
Stewart, 44, knows more than a little about winning himself. He is a three-time NASCAR Premier Series champion -- also with two different organizations in Joe Gibbs Racing and Stewart-Haas Racing, which he co-owns with Gene Haas. Stewart is a winner of 48 races in NASCAR's top series over a career that also will span 18 years if he is able to get back on the track this season.
Stewart, who already had announced that this would be his final Sprint Cup season before it even started, currently is sidelined by a back injury sustained when he suffered a burst fracture of a vertebra while driving an all-terrain vehicle during a vacation on the West Coast in early February, just before the 2016 NASCAR season was set to get underway.
Of Manning and the way Manning was able to retire, Stewart said: "I think it's awesome. I think probably pretty much everybody knew this was coming -- but I think that's what made this year's Super Bowl so special was to see a guy is not only the consummate professional on the field but such a great person off the field, to see him battle through adversity and injuries and go out and win the Super Bowl in his final year in the sport.
"I think what, to me, is so impressive about it is I would just about bet whatever amount that he knew going into the Super Bowl that is was his last Super Bowl, win or lose. To go into that situation, knowing it was your last time doing it, being able to win a game like that with that kind of composure shows what kind of professional he is."
Stewart, whose nickname is "Smoke," added that what he really admired about Manning's retirement was that Manning did it his own way.
"I think the thing that impresses me most about him is that he probably knew at the end of the regular season that he was going to retire," Stewart said. "Then to not draw attention to it and to celebrate with his team and to acknowledge that they all did it together as a group and as team, and to not make the highlights (immediately after the Super Bowl) be about him retiring, to wait until this moment to do that, I think that shows how much class he has.
"So he's somebody that I really admire and look up to and have the utmost respect for. I'm glad he did this on his own terms."
Stewart was not alone in the NASCAR community in expressing his deep-felt admiration for Manning. Many took to social media on Monday to offer their thoughts and congratulations to Manning as well. That included unabashed Denver Broncos' fan and defending Sprint Cup champion Kyle Busch, driver of the No. 18 car for Joe Gibbs Racing.